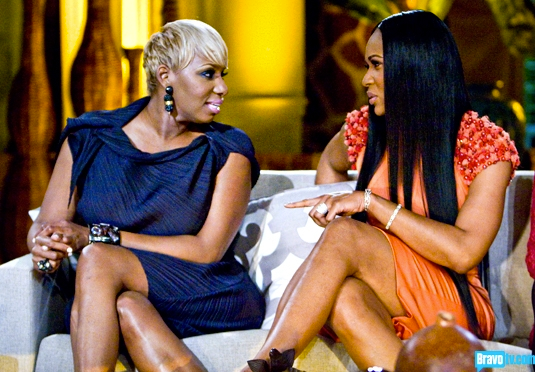 Well isn't this an interesting convo?  On part 2 of last night's "Real Housewives of Atlanta" reunion show, newbie semi-cast member Marlo Hampton joined the ladies.  And made it her job to read the pregnant for a fourth time Kim Zolciak about her alleged ho-ness.  So the two went at it about who the bigger ho really is.  Class at its finest.
Check it inside...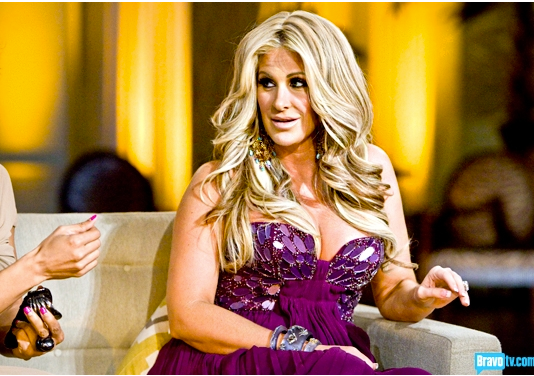 Kim may have 3 kids with 3 baby daddies (+1 on the way) and works what she has (and we're not talking about brain cells) to get the mula and lifestyle she needs.  But she wasn't about to let Marlo...of all people...tell her about it.  Seeing that Marlo is well known for being superficial and buying any and everything that walks down the runway with money that's very likely and allegedly not hers, but belongs to her rich "snowflake" of the moment.  And if it is her money, there's a big chance she got it illegally, allegedly, based on her umpteen arrests for bad checks and stealing.
So...
Kim pointed out that Marlo uses her "hole" to get places.  Marlo snapped back saying that she and Kim were "cut from the same cloth". Then said "I take that back. You're a whore."  Ha!
Marlo continued, speaking about Kim's long relationship with the very married Big Poppa, "You ruined a happy home. I've never dated a married man. Next time you talk about the whole between my legs, measure yours."
Kim responded by calling Marlo an escort. "First of all, I didn't ruin a happy home....That's a lie No. 1. No. 2 I'm not a whore. No. 3. I' m not an escort. You are. Big difference."
Marlo then insulted Kim's husband, Atlanta Falcon Kroy Biermann, by claiming that he couldn't afford the ring Kim is wearing, so Kim sold the ring Big Poppa gave her to help pay for the ring Kroy got her.  Womp.
 
While this is pure hilarious satisfaction to watch, arguing about who plays their ho-role best is really a lose-lose for everyone.  I mean, really.
Check out video from the face-off:
And a preview of the third and final part (airing this Sunday) where Marlo talks about Kandi being a sugar mama to her new man: