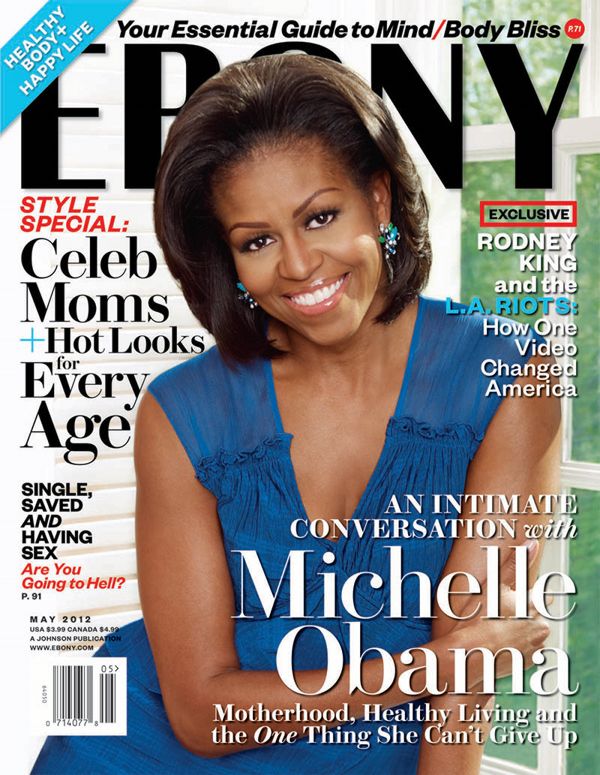 As one of the most fabulous YBF women in the public eye, it's no surprise that First Lady Michelle Obama is looking amazing while dropping nuggets of wisdom in the May 2012 issue of EBONY magazine.
Check out a few quotes on how Mrs. O views raising her daughters into proper young women inside...
Our nation's First Lady graces the cover of EBONY magazine with the perfect hair fresh faced yet elegant look she pulls off so effortlessly.  During an intimate conversation, she spoke on fitness, motherhood, and more.
And inside the May 2012 issue, President Obama's better half reveals what's important to the couple in raising their two daughters, Sasha (10) & Malia (13):
"Barack and I feel that our greatest responsibility is to raise two productive, respectful, kind empathetic young women.  My husband talks to our girls about how he expects men in their lives to treat them, and he offers examples by how he treats me and how he treats them."

Powerful.
She also dished on the perks of having her own mother, Marian Anderson, in the White House.  And why Mrs. Anderson is always there for moral support and to tend to the kids taking them to their rehearsals, birthday parties, and more:
"Anytime I need to go and plop on her couch and just talk, she's always there," Michelle said.
The issue hits stands April 17th, and also will feature Tina & Solange Knowles with Julez & model Beverly Johnson's family as part of the Mother's Day issue.