We told you about the possible cast joining the upcoming season of "Celebrity Apprentice". And now the official cast has been revealed along with the premiere date. Deets inside…
Donald Trump is back with a brand new season of "Celebrity Apprentice." And today, the official cast was announced.  And it's filled with YBFers.
We already told you of possible cast mates…and we were right! "RHOA" star Kenya Moore, "Sharknado 2" star Vivica A. Fox, former "Cosby" star Keshia Knight Pulliam and fromer NFL baller Terrell Owens will be joining the cast.
They will be joined by former talk show host Geraldo Rivera, "RHOBV" star Brandi Glanville, "Jon & Kate Plus 8" star Kate Gosselin, "Sharknado 2" star Ian Ziering, "Deadliest Catch" star Sig Hansen, Olympian Jamie Anderson, actor Lorenzo Lamas, baseball outfielder Johnny Damon, comedian Gilbert Gottfried, retired Olympian gymnast Shawn Johnson, former talkshow host Leeza Gibbons and singer Kevin Jonas of the Jonas Brothers.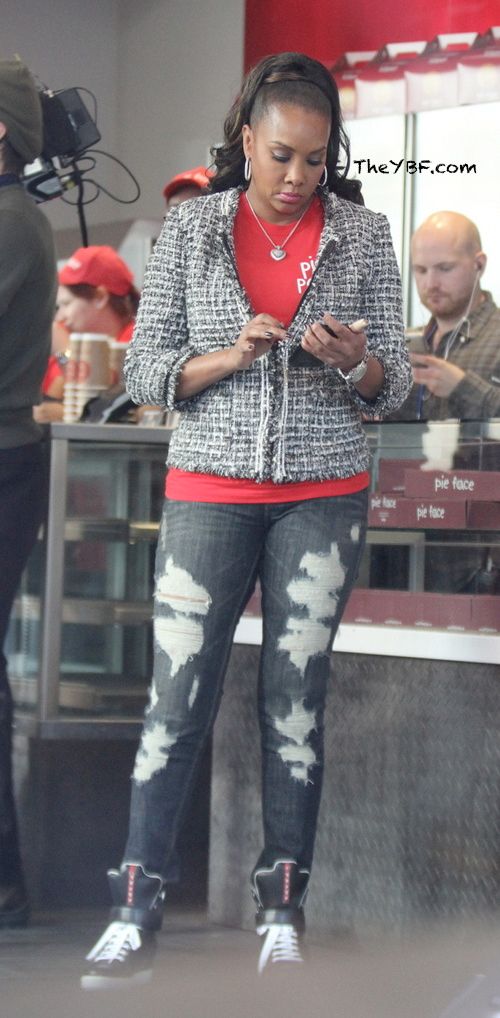 Back in March, We spotted Kenya, Keshia and Vivica (above) serving up pies at Pie Face Restaurant in Manhattan. It looked like they were competing during an episode of the show. And now we know for sure it was.
The upcoming 7th season will kick off on NBC with a two-night premiere starting January 4th at 9pm and will continue on January 5th at 8pm.
Donald revealed the cast on the TODAY show this morning saying,
"This season of The Celebrity Apprentice is on point to be the best yet. With 16 extraordinary contestants bringing their energy to the boardroom, it is sure to be a hit, as always."
Will you be tuned in?
BONUS: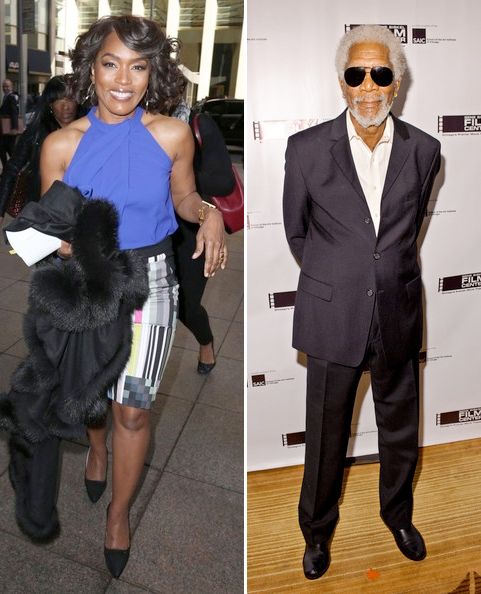 In other tv/movie news, Angela Bassett and Morgan Freeman have recently started filming for a brand new project. The Golden Globe and Academy Award winners will be starring in a new film titled, London Has Fallen, which is the sequel to the worldwide hit Olympus Has Fallen.  Angela will play Secret Service Director Lynne Jacobs, while Morgan will star as Vice President Trumbull.
In a press release describing the film it says,
The story begins in London, where the British Prime Minister has passed away under mysterious circumstances. His funeral is a must-attend event for leaders of the western world. However, what starts out as the most protected event on Earth turns into a deadly plot to kill the world's most powerful leaders, devastate every known landmark in the British capital, and unleash a terrifying vision of the future. Only three people have any hope of stopping it: the President of the United States, his formidable Secret Service head (Gerard Butler), and an English MI-6 agent who rightly trusts no one.
Hmm...sounds interesting. Will you be going out to see this film?
Photos: Pacific Coast News