And the Tank's social media drama continues. Find out what he said to a commenter who shaded his girlfriend Zena Foster saying she looked like a man inside….
After shaking up Twitter last month asking dark skinned women why they would "hate" on light skinned women (i.e. his girlfriend), R&B singer Tank is back for another social media showdown. He feels he catches alot of flack over his girlfriend, so we guess he felt the need to speak on it. That surely didn't go over well.
Now he's back to battling it out with his social media followers. A few days ago, Tankposted a nude pregnancy snapshot of his girlfriend/children's mother Zena Foster. SIDE NOTE: The shot is hot by the way.
 
He praised his woman saying:
Followers gawked over her pregnancy beauty, but THEN one commenter came at Zena from left field. The Instagram commenter wrote:

After catching heat from other followers, she tried to justify her shade. She posted:

Known to not bite his tongue on social media, Tank then claps back at the chick who said his woman looks like a man in the face saying:
"@abundant_splendor the I'll express myself. What is this chiapet hair wig you have on? Totally ill advised! Your chin! Think we can get that shaved down? I know a few doctors that do great work. I'm sure that outfit sucks too so I won't even ask the designer! After all these things get taken care of then maybe just maybe someone will get you pregnant and you too can do a pregnancy shoot AND everybody can talk crazy about you! God Bless..."
After a few hours, he decided to handle the troll in a different way, thanking all of those who made postive comments rather than focus on the negativity. He said: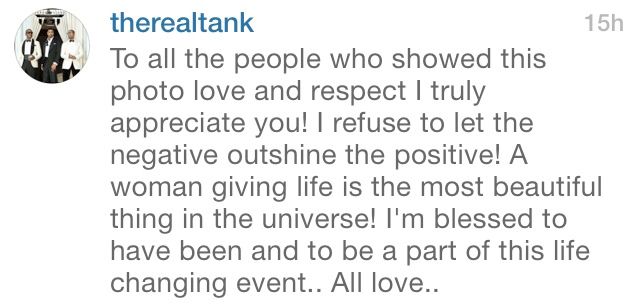 "To all the people who showed this photo love and respect I truly appreciate you! I refuse to let negative outshine the positive! A woman giving life is the most beautiful thing in the universe! I'm blessed to have been and to be a part of this life changing event.. All love.." 
Sighs...we just wished he put more of his time in some new R&B music rather than popping off at commenters on Instagram. Just sayin'....
Photos via MadameNoire/Tank's IG/Getty