They fighting! On Twitter that is…Soulja Boy is clapping back at K. Michelle for blasting him during a recent interview. Meanwhile, Amber Rose is serving cake on Instagram and it appears Tae Heckard and Brandon Jennings are back on. More inside…
K. Michelle and "Love & Hip Hop Hollywood" star Soulja Boy are going AT IT via social media. And it all stems from K's recent interview with The Breakfast Club.
During her chat with the NYC radio hosts, K went IN on Soulja Boy for insinuating in a previous interview that he had sex with her.
The "Love Em All" singer was clearly ticked off about Soulja's comments and used the Breakfast Club's platform to set the record straight. She popped off saying,"I watched an interview and Soulja Boy was on this interview and they was asking him like, asking all the men of Love & Hip Hop LA, who would they bang. And hey said me… ok great…but Soulja Boy implies that he had slept with me."
Then she goes IN: "He's giggling, he's like 'Nah I ain't say that' and then he's giggling. You can giggle on these nuts! Let me tell you something Soulja Boy, cause I know you gone hear this, what you not gone do is lie on my hot pocket. When I do something, I say I did it. And that's what it is. So that giggling, we don't want to giggle about the transgender in Atlanta, giggle giggle, now crank that, crank that!"
 
The "LAHH Hollywood" star got wind of her comments and blasted her on Twitter, making claims her "hot pocket" isn't fresh. He tweeted:
K Michelle pussy smell like shit

— Soulja Boy (@souljaboy) September 23, 2014
"Hot pocket"

— Soulja Boy (@souljaboy) September 23, 2014
This shit so petty. She go and make false claims on Live radio to millions on something i never said now she mad when I check her ass

— Soulja Boy (@souljaboy) September 23, 2014
Known not to hold her tongue, K shot back at Soulja Boy saying she has never met him and that he pulled this PR stunt to help raise ratings for the show (y'all know "LAHH" came on last night). In a series of tweets, she said:
Listen here u dick sucker @souljaboy you've never met me a day in your life. GO talk to the transgender in Atlanta you been fucking

— K.Michelle (@kmichelle) September 23, 2014
Also tweet @souljaboy tweet the dudes that ran you out if Atlanta. Tweet ur life away 2night. I'm gonna pay u N dust just like Vh 1 does.

— K.Michelle (@kmichelle) September 23, 2014 
Smh @souljaboy you are obsessed with some1 you've never met. Sad. Scary. But the whole industry know you like the boy pussy :-)

— K.Michelle (@kmichelle) September 23, 2014
Attention needed tonight I see.

— K.Michelle (@kmichelle) September 23, 2014
You shot somebody and you tweeting about it. You on Instagram Fake jewelry and fake money. Nope, I'm good on This beef. I ain't gone do it.

— K.Michelle (@kmichelle) September 23, 2014
Love and hip hop Monday nights get the ratings up.

— K.Michelle (@kmichelle) September 23, 2014
Look @souljaboy u had a transgender GF, u dont know how I smell cause YOUVE never met me,u dont know my net worth,period.Nite little Richard

— K.Michelle (@kmichelle) September 23, 2014
These two....
Over on Instagram....
Amber Rose felt cakey this afternoon, so she posted a naked black and white shot of her laying across white sheets. 
Funny she post this pic as many celebrities are currently being outed by a hacker via their iCloud accounts. Yesterday, reports stated she was the latest victim, when in actuality it was all a joke. She posted a picture of a bald man and his bare behind with the caption, "Well before anyone tries to hack me I figured I'd release a brand new pic of how I actually look from the back. It's only right...Enjoy"
Then she quickly deleted it. Good one Amber.
And in break-up to make-up news....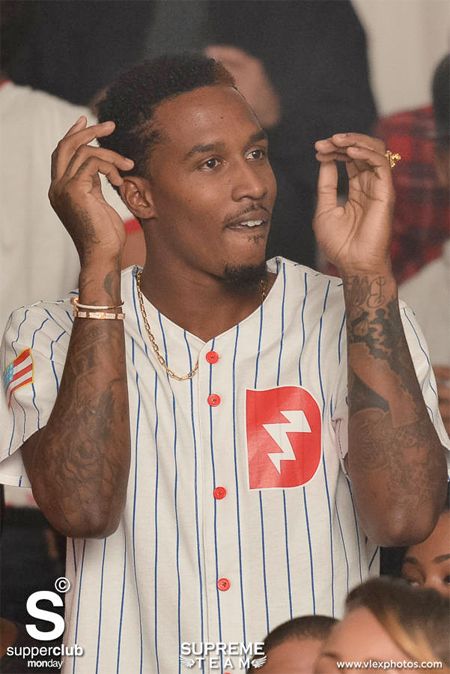 Tae Heckard and Brandon Jennings were partying it up together at Supperclub in L.A. last night. And they were celebrating the Pistons point guard birthday (which is today)!
You'll recall almost a month ago, these two had called it quits. Brandon confirmed (via Twitter) that he was the one who called off their engagement and made a joke asking about Ashanti's whereabouts. Shots….fired.
 
But, it looks like they have put that behind them. Tae even gave Brandon (whom we haven't seen on her IG in a good minute) a birthday shout out (above), posting a picture of the NBA baller with the caption, "....the birthday boy #andmaaannnnyymooorrrreeee"
We guess....
Also in the building: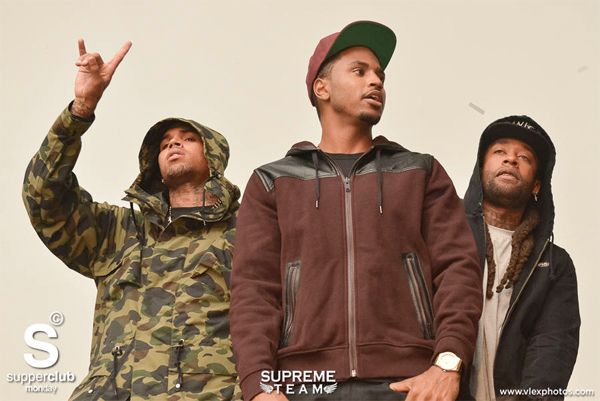 Chris Brown and Trey Songz (who are gearing up to head out on a joint tour) were spotted chilling in VIP with rapper Ty Dolla $ign.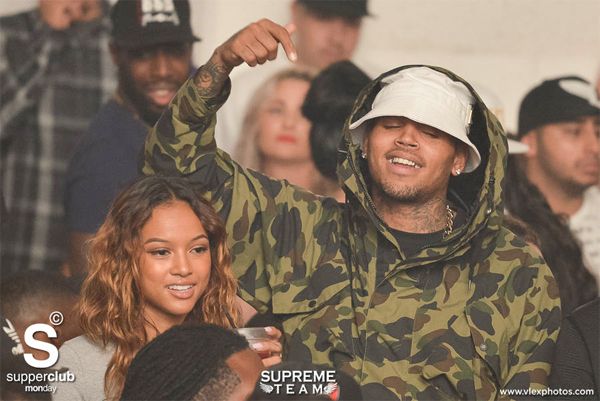 And of course, Karrueche was not too far from her man.
After presenting at the 2014 BET Hip Hop Awards and performing in Detroit later that day, Keyshia Cole rocked the mic during the party. Seems she isn't letting her recent assault arrest for allegedly beating up a female Cash Money employee put a stop on her grind.
Photos: VLEXPHOTOS/K's IG/Soulja's IG/Tae's IG/Amber's IG