CNN anchor Don Lemon got his life handed to him when Talib Kweli confronted him about inaccurate mainstream media coverage.  Watch the confrontation unfold inside and hear the rapper describe his chilling encounter with the police during the protests.  Also, Attorney General Eric Holder arrived in Ferguson, MO yesterday where he met with the parents of Michael Brown. More inside... 
Earlier today, CNN anchor Don Lemon and Talib Kweli engaged in a heated debate about mainstream media coverage of the Ferguson protests.  While Talib REALLY hands Don Lemon his a$$ during the confrontation, the anchor is able to defend the network and give us all (false?) hope that they are really trying to give an accurate picture of what's happening on the ground! 
The funniest part was when Talib accused Don of throwing shade by not even realy knowing his name...and not acknowledging him until the cameras started rolling.  Classic.
In another highly charged cable tv appearance, Talib Kweli gave a harrowing account of the antagonistic actions of the police towards himself and other protestors which he says included having guns pointing in his face and throat, being threatened with physical violence and verbal abuse.
"I was told that I was going to have my head blown off, I had guns pointed in my face, I was put on the ground," he says."I was there to show people that there was no looting. There was women and children out there protesting peacefully and the police acted aggressively."
Also…
For another perspective on the protests, rapper Killer Mike told CC:  "No one could go to bed comfortable that a child had been shot up to or more than six times in a defensive position."
In other protest updates....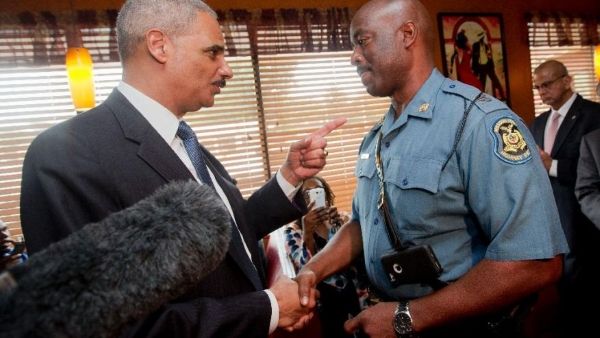 As we informed you earlier this week, President Obama and the Department of Justice have opened an independent investigation into the killing of Michael Brown and Attorney General Eric Holder landed in Ferguson, MO yesterday.  During a press conference held today, he spoke about his trip to Ferguson which included a meeting with the parents of Michael Brown.... 
While in Ferguson, Attorney General Eric Holder also attended a meeting organized by the Community Relations Service (CRS) that included over 50 members of the Ferguson community. He assured the group that he had assigned the Justice Department's "most experienced agents and prosecutors" to the investigation of the shooting of Michael Brown.
AG Holder later met with Missouri State Highway Patrol Capt. Ron Johnson (photo above), who's been assigned the task of coordinating law enforcement agencies, where he was told things were "getting better" (according to a DOJ press release).
Stay locked for developing details....
Photos via Associated Press