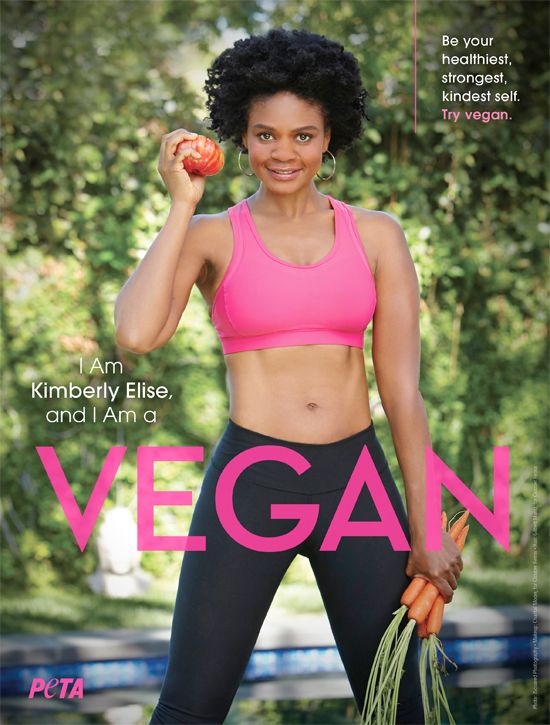 Actress Kimberly Elise is all about not eating meat, dairy or seafood. And to prove it, she puts her toned physique on display in a brand-new ad for PETA. Peep the editorial and find out why Kimberly decided to go vegan 15 years ago inside…
"Hit the Floor" actress Kimberly Elise has been an advocate for veganism for the last 15 years. And in a brand-new ad for PETA (People for the Ethical Treatment of Animals) she shows off her toned body she proudly credits to not eating meat.
Shot by celebrity photographer team JSquared, the 47-year-old For Colored Girls actress strips down to a pink sports bra and black spandex pants as she clutches a tomato and a handful of carrots for the "I Am Kimberly Elise, and I Am a Vegan," campaign shot. Putting her toned abs on full display, the fab actress encourages others to start trying vegan meals.
In a video interview (which you can check out here) with PETA, Kimberly reveals why she decided to become a vegetarian (and soon after going vegan) 15 years ago. She explained,
"[A]s I learned more about the abuses to animals and the way meat was brought to the table and everything that these creatures were going through," she says, "it was just another motivation and reason for me to live the lifestyle that felt true to my soul and my spirit."
The health conscious actress credits veganism for her extra energy, youthful look and the detailed the many benefits from eating a non-meat diet.
She added,
"My energy is fantastic. It's helped me stay youthful-looking and [have a] certain energy and vibrance that you get when you're eating food that's fresh from the earth."
Nice!
Kimberly is currently filming for a starring role in a new movie titled, Back To School Mom. The flick follows the story of a 41-year-old woman who goes back to college to finish up her last year of school. While there, she becomes good friends with a classmate, who turns out to be the son she gave up 20 years earlier. Loretta Devine, Garcelle Beauvais and Rick Fox are also starring in the film, slated to be released in 2015.
Photo: JSquared/PETA