Chris Brown and Karrueche Tran shared an affectionate moment courtside at Team USA's basketball game against the Dominican Republic last night. Meanwhile, Lauryn Hill has released a tribute to slain teen Michael Brown titled, "Black Rage." Peep their pics and listen to L. Boogie's track inside…
As they continue to show the world they're clearly back together, Chris Brown and Karrueche Tran hit up Team USA's basketball game against the Dominican Republic in Madison Square Garden last night.
As you can see, Chris tried to go incognito when they first arrived, wearing a gray hoodie, sunglasses and a red bandana.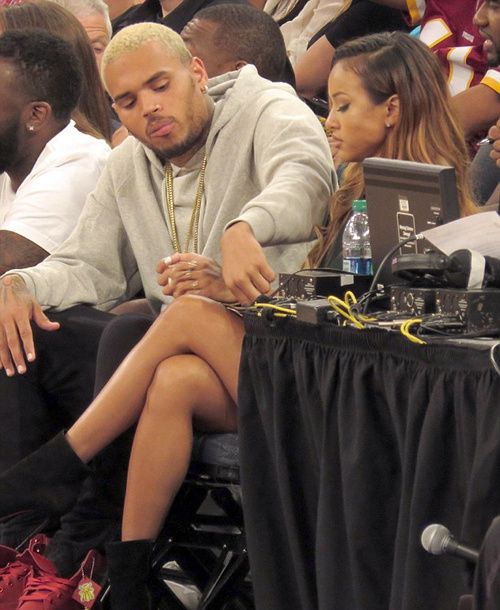 Dude must have gotten hot by halftime (after his seats were upgraded to half court) because he took off his hood, bandana and sunglasses and flirted with his girlfriend Karrueche who was sitting by his side.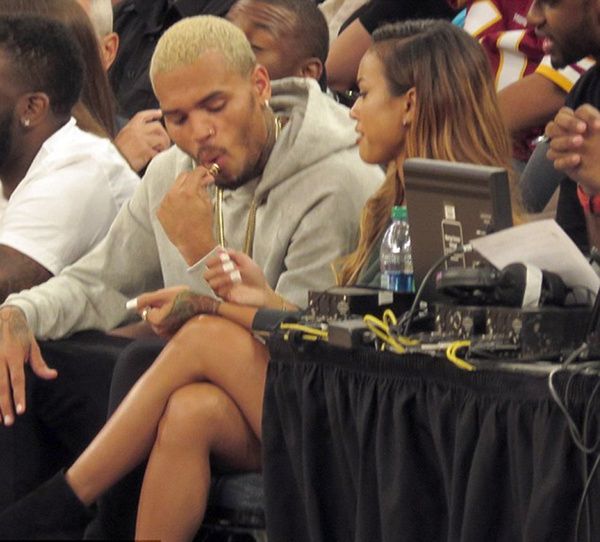 The two didn't try to hide their love and affection as they viewed the game courtside. Looks like they were more interested in smiling at each other with googly eyes rather than watch the game. And it looks like Breezy keeps Kae on "grillz" duty as he was spotted pulling his diamond encrusted gold grill out of Kae's bag before putting them in his mouth. Wet nap anyone?
After the game, the couple hit up VIP Room in the Meatpacking District and hung out with VA homie Trey Songz. We hear they partied it up until 4:30 this morning. Chris and Trey are gearing up for ajoint tour they recently announced on Instagram. And they're going to let their fans come up with the name of the tour.
Wonder if Chris & Kae have started working on those babies Breezy is yearning for.
And in other news...
As tensions are still erupting in Ferguson, Missouri after the tragic killing of unarmed teen Michael Brown, Lauryn Hill is taking a stand in a newly released track titled, "Black Rage (Sketch)."
Set to the tune of the Sound of Music's "My Favorite Things," L. Boogie sings about the many injustices faced by African-Americans that fuel "black rage". Lauryn shares she wrote the "sketch" years ago in her living room and is now dedicating the track to Ferguson, MO. Crazy how it still remains relevant today.
 
Below are the lyrics:
She released the track via Twitter tweeting,
An old sketch of Black Rage, done in my living room. Strange, the course of things. Peace for MO. - MLH https://t.co/47v9BEDoN6

— Ms. Lauryn Hill (@MsLaurynHill) August 21, 2014
Take a listen to how L. Boogie breaks down what causes "Black Rage" below:
Photos: Splash News/LH's Website