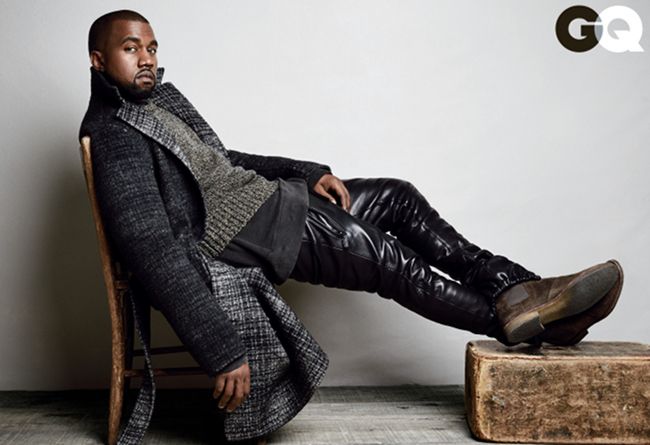 You've seen his cover, now see one of Kanye West's GQ editorial shots....and plenty of what he had to say about his wife, why she's so important to the world, why celebrities need more respect and yes, a new album....
Kanye has lots to say in his new GQ magazine August 2014 cover.  Lots. In the editorial shot above, 'Ye shows off his fashionable threads, rocking a tweed Bottega Veneta coat and boots, a Calvin Klein Collection sweater, a Levi's Vintage Clothing sweatshirt and black shiny En Noir pants.
Ten days after his wedding to Kim Kardashian West, he sat down with GQ and explained how only Kanye can, those rumors about him ripping apart the bar at his wedding an hour before walking down the aisle, butting heads with the wedding planner, his 45 minute wedding toast to himself and more.  And yes, it's all true.
He also explains in depth, why Kim is so important to him, why their relationship inspires the world...and why EVERYONE needs "Kim K skills" to win in life.  Oh....
Kanye also tells GQ why the respect level for celebrities needs to be raised, and he speaks on his contradictory lifestyle of hating celebrity, but voluntarily marrying into a celebrity family. 
And he's got a new album on the way.  Check out the parts we think you should know below:
On his feelings about certain "glum" pics of him going viral on the net
My feelings don't matter anymore..... No. One of the things that I said at the speech was, anyone that's at this table has had to defend me or Kim or both of us at some point in their life. Ask a boxer: "In the third round, when he hit you from the side on your ear, how did that specifically feel?" You wouldn't ask a boxer that. Because you know they're there to fight. Meaning now you know I'm here to fight. I'm here to fight for the re-education of what celebrity is. To say, "Yes, we are celebrities, but yes, we're also innovators, we're also inventors, we're also thoughtful."
On his constant fight for...everything
Yeah. I'm sitting right here, it's a fight. I'm fighting with the way I line my words up together and the way I place a sweater on top of a T-shirt. At this point, people know what's up. People know I'm smart. And people know that, whether it's SNL or Jimmy Kimmel, it's a trend to take the piss out of celebrity—just as much of a trend as wearing a gray hoodie or driving a Prius.
On voluntarily marrying into a celebrity family, yet having issues with "celebrity"
In the speech, I talked about the idea of collaboration and all the people involved working together and being able to change things. Meaning there was a time for two or three years where fashion designers wouldn't give Kim dresses. There was a time they wouldn't even let me be at shows. Now the idea that Kim is in a Givenchy Couture dress is raising the communication. Because people would be more apt to be like, "Celebrities don't really have style. Celebrities can't dress. Celebrities are less educated." But they haven't had the chance to be able to break through and have Carine Roitfeld sitting right there. Carine Roitfeld is the Walt Disney of what Tumblr is today. She is the Kanye West of what Tumblr is today. She's the single most important person to what street style is today. And she was at the wedding seven seats down from Kim, who is one of the number one fashion plates of today. So I said, "Wow, Carine is seven seats down from Kim. Farnaz [Farjam], the producer of the Kardashians and the producer of The Real World, is four seats down from [director] Steve McQueen. And four seats, because in between them is Hosain [Rahman] from Jawbone." This is what I talked about. That was not a forty-five-minute speech to myself. Do you realize what that means for those people to be in that close of a proximity to each other?
On the rumors behind why Jay Z and Beyonce didn't show up to his wedding
All that, I wouldn't even speak on. It doesn't even matter to me whatsoever, who would show up. Because the most important person to show up there, to me, was Kim. And that's all that matters to me. I had to fight for that for seven years. But the fact that these other people showed up that are from such different worlds but have done such dynamic things—they're all, in a way, equal to what Kim has done in TV or what I had done in music. I was so moved that I just wanted people to stop and think they weren't sitting at a table full of fashion people, they weren't sitting at a table full of celebrities, they weren't sitting at a table full of movie directors. It really was a representation of the way we receive information today, post-Internet. And so Page Six can't overshadow the main point: Carine Roitfeld was sitting next to Kim Kardashian. That alone to me is like the same moment when I brought Mos Def to the studio with Jay Z. It's about the people, and the fact that they're from different walks of life, and that they're working together and not discriminating against each other. There was a class system, and now there's a creative class system, and I think that's what you were talking about a bit—the class system of creativity.
... And my point is, they were all at her wedding.
On his 45-minute wedding toast to himself and the respect of celebrities
And what I talked about in it was the idea of celebrity, and celebrities being treated like blacks were in the '60s, having no rights, and the fact that people can slander your name. I said that in the toast. And I had to say this in a position where I, from the art world, am marrying Kim. And how we're going to fight to raise the respect level for celebrities so that my daughter can live a more normal life. She didn't choose to be a celebrity. But she is. So I'm going to fight to make sure she has a better life.
On why his wedding pic got so many Instagram likes
It's because of Kim. Meaning there's no photo that I would have put up by myself, or next to one of my smarty friends, that would have got that amount of likes. So now you take this photo that has that amount of likes, and it has a flower wall from the same guy who does the Lanvin shows, and it has a couture Givenchy dress and Givenchy tuxedo in it. That's the point. Now the thing that is the most popular is also communicating the highest level of creativity. The concept of Kimye has more cultural significance than what Page Six could write.
On why he decided to get married and why his and Kim Kardashian's marriage is so inspirational
Saying "Hey, I like Kim" isn't as inspiring to people as us getting married. And anyone that's in a relationship knows that in order to get to the point to get married and then to be married and to then carry on, it needs that work put into it. Right now, people look at it and it's like, "Wow, that's inspiring." Meaning that love is infectious. You know, God is infectious—God flowing through us and us being little-baby creators and shit. But His energy and His love and what He wants us to have as people and the way He wants us to love each other, that is infectious. Like they said in Step Brothers: Never lose your dinosaur. This is the ultimate example of a person never losing his dinosaur. Meaning that even as I grew in cultural awareness and respect and was put higher in the class system in some way for being this musician, I never lost my dinosaur.
Kim is this girl who fucking turns me on. I love her. This is who I want to be next to and be around. And then people would try to say, "Well, you know, if you're a musician, you should be with a musician, and if you want to design, you need to be with a girl from the design world." I don't give a fuck about people's opinions. Because when a kid falls in love with an airplane or a bike or a dinosaur—especially if you're an only child and it's not because of the book that the sibling was reading—it's like, fuck, you mean to tell me that the dinosaurs walked the earth and stuff like that?! That's amazing! You mean to tell me that these giant multi-ton crafts can fly that fast and that loud, and they can flip, and there's danger, the possibility of them exploding? That's fucking cool! You mean to tell me that this girl with this fucking body and this face is also into style, and she's a nice person, and she has her own money and is family-oriented? That's just as cool as a fucking fighter jet or dinosaur! And just as rarely seen.
On new music
for the new album, one new thing could change everything. I had an idea of the way I wanted to do the album. And then I got a new song that's so good that the album has to be balanced against it. This song is a song that can be in the club like "Don't Like" or "Niggas in Paris." Whereas before I was working on the album and I had these beautiful songs, they were just more songs. They weren't saying, "Okay, tuck your whole summer in." They were just saying, "Hey, I'm a great musician, I make these beautiful songs, and they have all this meaning, and nobody can make anything that means this much."
On why people are actually mad at Kim
...when people try to spoof or talk shit, it's like: But you're mad because basically Kim is the type of girl that, her entire life, if you were in school with her, most people would be studying and up late nights, but for some reason she would have the skill set to go and grab the one book, turn to the exact page, and just magically say, "That's the exact answer." Or she could wink at the person who had done all the work and get it done anyway. And the point of life is getting shit done and being happy.
On Why Kim K is so powerful in his life
One of the reasons why I think that me and Kim are very powerful together isn't just the concept of celebrity or this mega rap star and this mega-beautiful pop star. It's something I explain to my girl: She is who she is. I am who I am. We have advisers and friends and everything, but those people are who they are and we are who we are. And what I had to learn from Kim is how to take more of her advice and less of other people's advice. There's a lot of Kim K skills that were added. In order to win at life, you need some Kim K skills, period.
On what makes Kanye happy
But what makes me happy is land, and we're on a boat now. This is Christopher Columbus. This is uncharted waters we're on. We'd be super happy to be on land, and also a little bit like, "Ah, the journey's over!" But I feel like, we got the Vogue cover, Steve McQueen won the Oscar, we finally got married… You know? We have a child. We're a family now. I am an arbiter of taste, and people think that I have the ability to make things cool—or if I'm doing it, it should be cool. And I feel that this stuff's starting to be cool. And that feels good to me. Because I don't like walking around with people thinking I'm doing uncool shit, because there's nothing I'm doing that's uncool. It's all innovative. You just might not understand it yet. But it's cool. Family is super cool. Going home to one girl every night is super cool. Just going home and getting on the floor and playing with your child is super cool. Not wearing a red leather jacket, and just looking like a dad and shit, is like super cool. Having someone that I can call Mom again. That shit is super cool.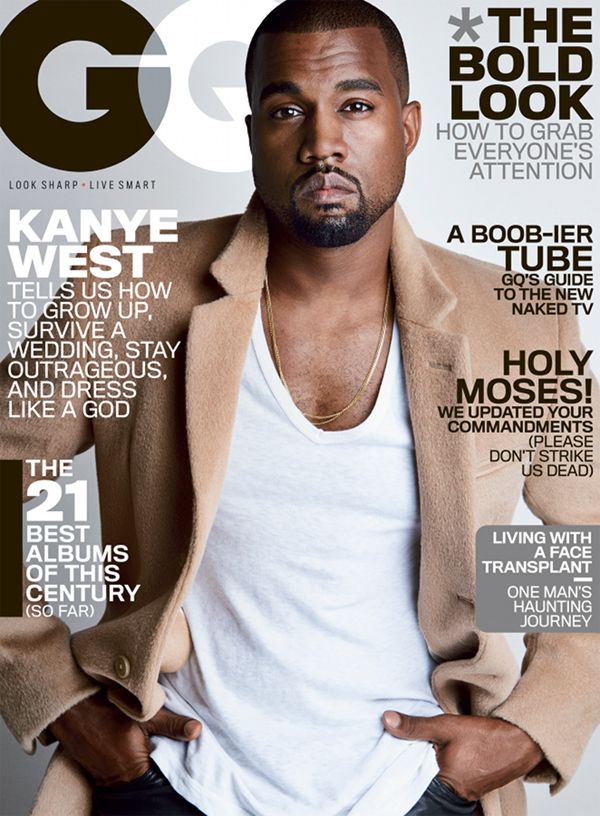 For the cover, Kanye opted to wear his staple nude Calvin Klein Collection coat, a plain white v-neck Balmain t-shirt, gray Michael Kors pants paired with Timberland boots.
Check out the entire interview over at GQ and view more pics from his cover shoot HERE.
Photos: GQ