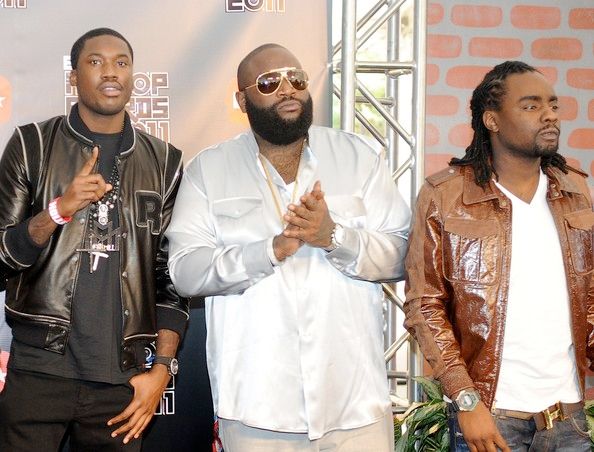 MMG honcho Rick Ross is addressing the public feud between his two artists Meek Mill and Wale, while Dwyane Wade confirms he will be playing for the Miami Heat next season. Deets inside….
There's tension brewing inside the MMG camp after Meek Mill called Wale out on Twitter for not supporting his upcoming album, Dreams Worth More Than Money (dropping Sept. 9th).
Once Meek announced his album's release date, he realized his MMG labelmate Wale didn't acknowledge his album's release on social media. So he called him out for it, saying:
Wale just ain't gone tweet a thing about my album.... He's been hating on me long time now ...don't even text me cornball! #UNOTMMG

— Meek Mill (@MeekMill) July 8, 2014
Everybody can see it! None of y'all dudes don't call me text me nothing it is what it is!

— Meek Mill (@MeekMill) July 8, 2014
I don't really want no suckas in arm reach of me.... My hands might lose control! That's how I'm rocking

— Meek Mill (@MeekMill) July 8, 2014
Wale clapped back in an Instagram post which read:
"Few weeks ago. (7w) I posted this .but ok. Movin along . My Avi always changed when it's THAT time .. Ok that's not enough y'all see "razor ramon" post on his no. But I don't care.. I wrote a long ass post day before his single dropped .. Mariah record dropped nobody said a word I didn't care .. I still don't... I carry myself with confidence and humility ., I always try to have a lighter side to MMG.. Cuz I understand I don't "fit the mold" so if I'm tryna spruce an interview up to show that we not tryn be "serious tough guys" on the red carpet Or try to be a bit more engaging to broaden our audience forgive me . I never wanted anybody to think we take ourselves THAT serious. (Were rappers )I don't need to take anybody shine.. Or hate on anybody . I walk in a completely different world .. Where I look for slp jeans and Shanghai dunks online and know what "kayfabe" means. I check nbadraft.net daily . I'm on whatculture allll day I enjoy shyt like that. I play fuckin Zelda and fuck wit bitches who teach yoga and paint... I get it . I'm different . I always embrace that shyt.. I encourage y'all to embrace what y'all like or the person y'all wanna be.. I text niggas happy Father's Day and get no reply .. I laugh it off .. I laugh at how I write songs about "chain music" and y'all get lost or "600benzz" i like to have fun with our culture. Because I beleive I add THAT to a "gangster rap" faction. I made my opportunity work for me that way. I write poems . I watch wwe . I collect kicks. I'm sensitive ok. Maybe bi polar. But one thjng I'm not is a hater.. I see Daquan jokes all day yesterday and patted myself on the back that I'm regarded as the aforementioned adjectives and not "Daquan". I'm me and I'll be me and do this shyt wit my "dew" till I don't wanna do it. I encourage you to wake up soon as you find time. This was a post about #nothin"
Now the MMG captain Rick Ross is addressing the drama in his camp for the first time. During an interview with Bullett Media at one of his Wing Stop restaurants in Brooklyn, Rozay revealed he hopped on the phone with both of them right after shots were fired.
Here are the highlights:
On the way here, something was going on with Meek Mill and Wale. As the owner of the label, how do you handle when there's conflict between two of your guys?
It's a misunderstanding. As soon as the tweets went out, I spoke to both of them on the phone. Those two guys, they're brothers. At the end of the day, they're brothers and it's time to turn up right now. It's time for all of us to turn up and stay turned up, you know what I mean? But it's all love between those two and everybody knows that.

The fact you got on the phone though shows how much you care.
Of course! That's why you seen whatever was said, the little brotherly jabs and then that was it. That's all you're going to see. They're two real dudes, two successful dudes, and we all came from the same place. When I first brought them on the team, we all drove to our first video set together. It was just us three, and I felt we all was at the bottom at the time. You know, Wale was in his new situation, Meek in his first situation, and me in my very first situation being a CEO, being a bawse with my own label deal. So we all was on the same flow, and once we mention that, it's all good.

It's just a testament to how you handle beef, because you're pretty laid back about conflict, and when it's done it's done.
Of course! That's how it's supposed be, because we're not here for that. What we're here for is this, the culture! Fashion, the clothing, sneakers, sending that message – that's what it's about. You know certain things will occur; that's just the nature of the game. There's going to be dust kicked up at every arena, and you should all expect that. But at the same time, we're focused on what we came for.
 
That's right Ross...keep these young brothers in line.
And in sports news....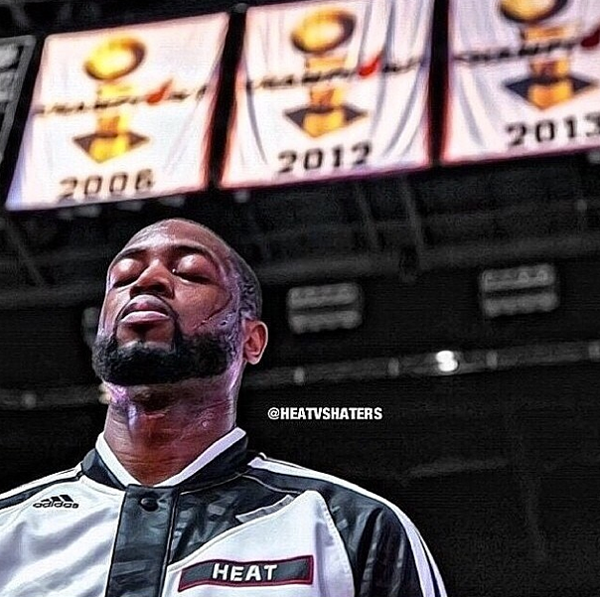 After news broke that LeBron James was leaving Miami to return to Cleveland and Chris Bosh would be returning to the Heat, free-agent Dwyane Wade has finally broken his silence about where he will be playing for the next NBA season.
D. Wade (who has played his entire career in Miami) took to his Instagram today to reveal he will be playing with the Miami Heat for yet another season. He posted the picture above with the caption,"Home Is Where The Heart Is... My Home,My City,My House..#HeatLifer"
Now D. Wade and Bosh will need to conjure up an impeccable post-LeBron plan if they want to see the playoffs or an NBA title again.
 
Photos: Getty/Dwyane's IG