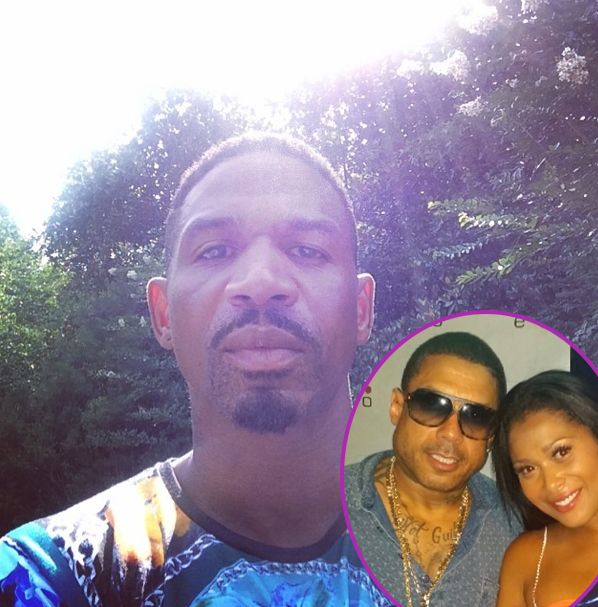 Stevie J and Benzino are securing their jobs on "LAHH ATL" for the next season. The two are "beefing" on Twitter after Stevie leaked a photo of Benzino's girl Althea in a compromising position. Meanwhile, Joseline did a show in Dallas and got boo'd during her performance. Get the deets and peep the video inside…
So if you've been keeping up with the shenanigans carried on by "LAHH ATL" star Stevie J, this new "beef" should come as no surprise. In the latest episode of "LAHH ATL," Karlie Redd tipped off Joseline Hernandez that her husband slept with Zino's new chick Althea Heart back in the day. Not only that, Mimi's boo Nikko also revealed he slept with her once before as well.
Zino seems to be head-over-heels in love with Althea because he pushed all of that aside and still put a ring on it. Since then, Zino has been going hard on social media dragging Joseline with memes and Twitter rants after she and Stevie broke up recently (and got right back together). Guess Stevie was feeling some type of way over Zino's disrespect for his girl, so he decided to blast his girl Althea on social media.
Stevie took to his Twitter account and posted:
Apparently, Stevie posted a picture of Althea on her knees in front of a man with his pants down….but it seems it was a pic of her in front of her man Benzino.
Althea caught wind of the tweet and responded:

Hmmm...how did Stevie even get his hands on this pic in the first place?
Stevie then says: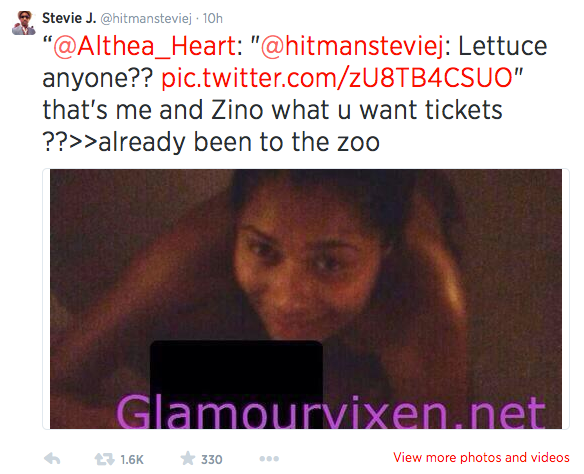 Benzino then jumps in to defend his soon-to-be-wife, making claims that his former friend is not really married to Joseline and has the receipts to prove it. He said (read from the bottom up):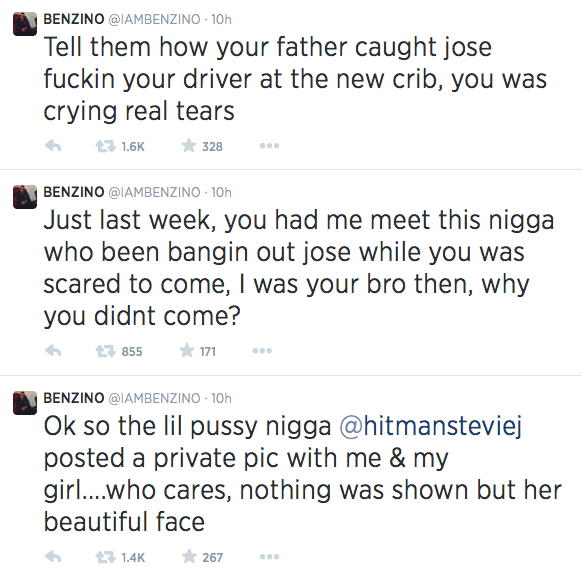 And to further prove this is all a PR stunt, Stevie tweets:
Yup...just like we said...manufactured drama. Bet Mona Scott-Young is loving this.
Meanwhile....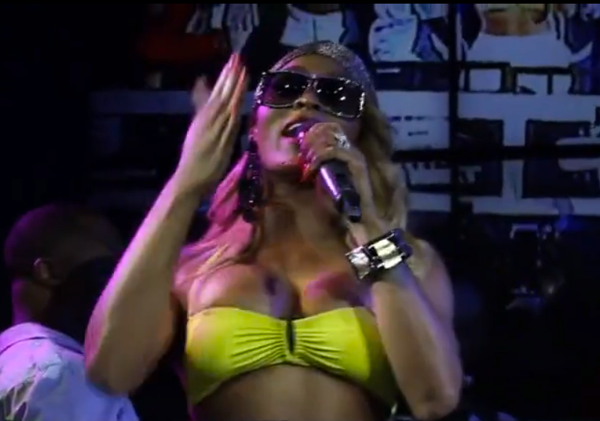 Over the weekend, the Puerto Rican Princess hit the stage for a performance that didn't end quite like she wanted it to.
After breaking up with her husband Stevie J, then making up days later, the couple took their "talents" to a rap club in Dallas, TX. Joseline gets on the mic and starts…rapping (if you want to call it that) only to be bum-rushed with boo's from the crowd.
Luckily for her, Stevie wasn't too far away. He hopped on stage, grabbed the mic and the crowd went wild.
Check it:
Sighs…
Photos: Stevie J's IG/Benzino's IG/Missy Wright's FB