Master P's wife claims she's on welfare while N.O. Saints running back Darren Sproles' wife is bashing the Saints organization.  Find out why Master P's wife is on public assistance and what Darren Sproles' wife had to say about her husband getting cut…
Master P's estranged wife, Sonya Miller, says she's on welfare while her husband is reportedly worth $200 million.  P and Sonya are still legally married but Sonya filed for divorce last year after nearly 24 years of matrimony.
TMZ reports Sonya moved in with her oldest son, Lil Romeo (seen above with two of his little brothers), and has been forced to get public assistance to get by. She claims Master P isn't helping her at all financially and that she and her 4 minor children are impoverished.
Sonya's resentful for the way her husband is handling their situation because she helped him build an empire including clothing manufacturing, sports management, toy manufacturing and production for film and TV projects. She even helped him start an adult phone chatline.
A judge fined the "No Limit" rapper $10K for not responding to the divorce petition but that seems to be the least of his worries.
And in other wife woes news…
New Orleans Saints running back Darren Sproles' wife, Michel Sproles, went on Instagram to express how furious she was after she found out  her husband was traded to the Philadelphia Eagles. Following a backlash, Michel deleted the profanity-laced rant, which included a few praises to God, but we have it for you!
She said: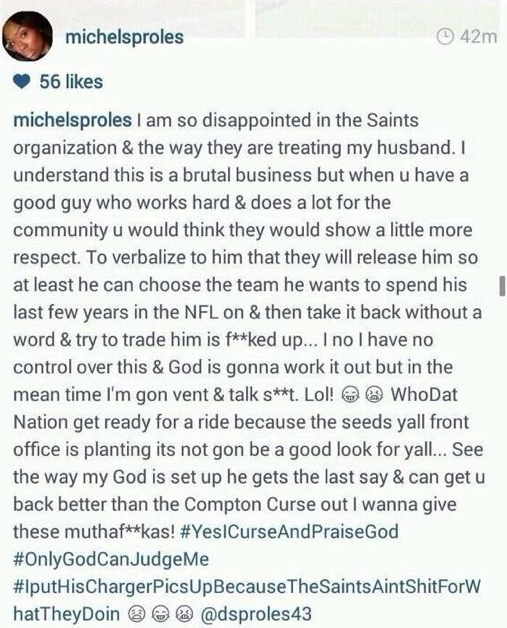 If you follow football at all, you KNOW NOTHING is guaranteed. There is no such thing as loyalty in professional sports.
Photos: Lil Romeo's IG/Michel Sproles' IG/Rolling Out