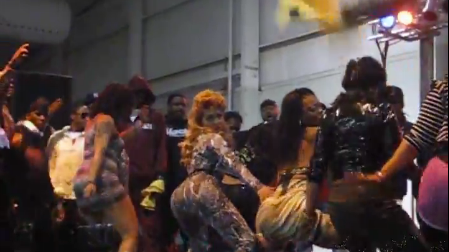 Apparently everybody loves to dance to Rihanna.  Lil Kim was caught on video twerking in the club to the "Cake Remix" and Chris Brown was spotted dancing and singing every word to "We Found Love" down in Orlando in the club.
Vids inside...
At Club Vain in Orlando during All Star festivities, the DJ put on Rih's "We Found Love."  And Chris looked more than excited to dance and sing every word to his ex's track.  He tweeted lyrics to the track a while back.  So clearly he's letting everyone know he's a fan.  Gotta love it.
Power 105.1 DJ Self's annual Winter Fetish concert went down recently.  And Kimmy and her girls hit the stage to twerk it up with booty flying everywhere.  That's a whole lotta Cake Kimmy...