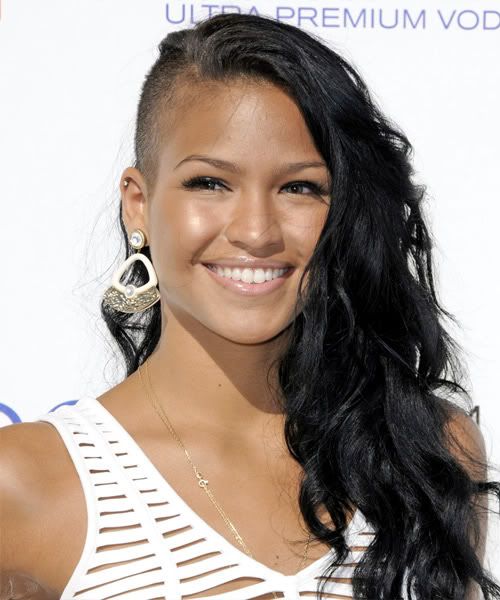 Cassie stopped by the MTV offices recently where she dished about Whitney Houston and shares lessons learned from her sometimes-boo and Mr. Bad Boy Diddy Combs.  Read the highlights inside and find out which member of "The View" is headed to "DWTS."
Cassie stopped by MTV recently to promote her single "King Of Hearts." Here are the highlights.....

BUZZWORTHY: What are some of your favorite Whitney Houston memories or moments? Had you ever met her?
CASSIE: I've never met her, but that would have been amazing. "I Will Always Love You" has been stuck in my head for the past four days, and "Waiting to Exhale" is one of my favorite movies. And that soundtrack... She was such an amazing, legendary human being, and her voice just brought so much to the music industry and inspired so many people. And when it happened on CNN and they were playing all of her videos and performances and everything, I was just like, "Wow, this career is just like... out of this world."
BUZZWORTHY: What can fans expect to hear on your new album?
CASSIE: My new album is just a little bit of stuff for everybody. On "King Of Hearts" I worked with a producer named J2, and it's got that jungle/dance/pop vibe. And then on what might be my second single I worked with Jean Baptiste [Black Eyed Peas, Rihanna] on a song called "Money On Love," and it's a little bit funkier. And then I also have my R&B ballads, and I have a ska record called "Mr. Valentine." It's kind of a little bit of everything, and that's who I am. I change my clothes five times a day!
BUZZWORTHY: What do you think is the biggest lesson you've learned working with Diddy?
CASSIE: To be patient. You know, your time comes when you're ready and the world is ready to see. He's always like, "When you're ready, they'll be ready." So, I'm finally ready.
BUZZWORTHY: Who are some of the artists you most want to collaborate with?
CASSIE: I would love to collaborate with SBTRKT! And I don't know who the artists are on it, but I've been listening to the "Drive" soundtrack. It's amazing! I loved the movie! The soundtrack is--anybody on there! I've been obsessed with it. Listening to it nonstop.
I'm sure here are a few more lessons Diddy taught...
BONUS:
Fans of "The View" co-host Sherri Shepherd will get to see a lot more of her as she reportedly will be announced as a contestant on next season of "DWTS" next Tuesday.  Congrats if true Sherri!
The Randomness:
1.  Andre 3000 says there are no plans for another Outkast album.  And he's working on a solo project. Story.
2.  Juvenile says he takes care of his kids and will deal with the arrest warrant for missed child support.  Story.