Rihanna is up to her bad girl antics again.  Check out the pop princess giving Santa a ride...with no sleigh...and cutting up with Katy Perry...
Give a girl some wine and a life-sized Santa, and ish may get frisky.  Rih posted the above pic of herself provocatively straddling Santa Claus near the Christmas tree saying:
"We tried to convince Santa that being a naughty girl isn't so bad after all!!....making the list or nah?"
ANd her girl Melissa got in on the antics too:
She said, "@mforde11 on her Santa 69!! #phuckyoNorthpole #gimmedatsouthpole"
These two...
Rihanna also caught up with her industry bestie Katy Perry.  The twosome snapped some fun IG pics: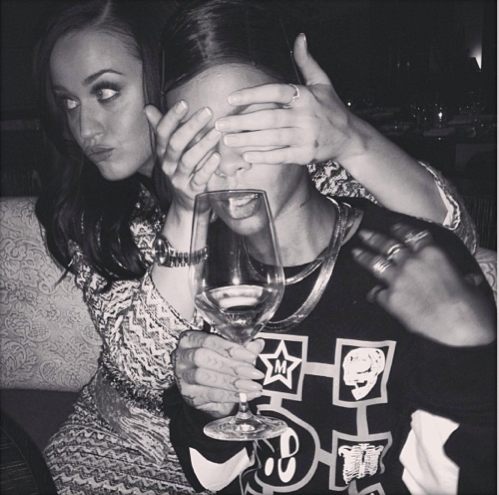 Cute.
But RiRi knows how to set off her bad girl behavior with good girl behavior.  The recent recipient of the American Music Award ICON Award recently donated $100K to Typhoon Haiyan relief efforts, according to a report.
In a statement, Rihanna said:
'Emergencies make headlines, but the recovery continues long after the news cameras leave. Having been a fan and supporter of UNICEF's work over the years, I am honored to join them in helping children who have been impacted by Typhoon Haiyan.

More than five million kids in the Philippines need our help. UNICEF is there for them today, and for the long road ahead, and so am I.'
On her UNICEF page, the star said,"Millions of kids are struggling in the aftermath of Typhoon Haiyan. Together, we can help them rebuild their lives. I'm there for the children of the Philippines. Are you?"
 
Check out how to get involved here.
Photos: Rihanna's IG