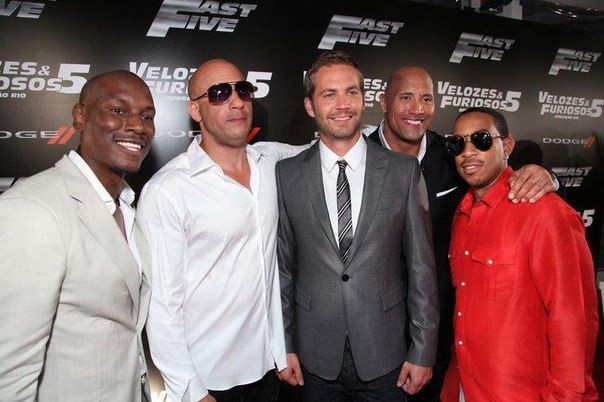 In absolutely shocking news, actor Paul Walker died Saturday afternoon in a car crash near Los Angeles.  Details inside...
40-year-old Paul Walker, the devastatingly handsome star of the Fast & The Furious franchise and Takers, has passed away after a horrific car explosion near L.A., his reps confirm.
In a message posted to his verified & official Facebook & Twitter accounts, Paul's team confirms he was a passenger in a car that exploded upon impact during a charity event hosted by his organization that was raising money for the Philippines: 

While his close friends and co-stars like Tyrese, Vin Diesel, and Ludacris have not yet commented,Eric Heisserer, the writer for Paul's upcoming movie (out December 13th, 2013) called The Hours expressed his devastation saying:
I am beyond devastated. What a generous and kind soul. My heart goes out to his daughter. You will be missed, Paul. Every day.
TMZ was the first to report the tragedy, saying that the fatal single car accident occurred in Santa Clarita and a Porsche GT was involved.  They also reported the other unnamed person in the car died as well.
Paul and the cast were still filming Fast & The Furious 7 as of last week.  He often had his 15-year-old daughter, his only child, on set with him. 
We'll update with his co-stars' responses about this incredibly sad tragedy as they become available.
R.I.P. Paul Walker. 
Words from his co-stars and celebrity friends:
Tyrese (Fast co-star): My heart is hurting so bad no one can make me believe this is real Father God I pray that you send clarity over this cause I just don't understand My heart hurts it's broken no one can convince me that this is real.... Prayer warriors please pray real hard for his only child, his daughter and family... #HeartOfAnAngel13YrsFamilyForeverWeJustCelebreatedYour40thBirthday..... My God... My God... I can't
Will Packer (producer of Takers): We lost one of the rare really truly good guys. Rest in Peace my friend. It was an honor to know you. My heart aches. #RIPPaul
Vin Diesel (Fast co-star): Brother I will miss you very much. I am absolutely speechless. Heaven has gained a new Angel. Rest in Peace.
Hill Harper (Skulls co-star): When Paul & I shot The Skulls, had a great time. He was one of the nicest, generous of spirit actors I've ever worked with. RIP Paul Walker
Ludacris (Fast co-star): Your humble spirit was felt from the start, wherever you blessed your presence you always left a mark, we were like brothers & our birthdays are only 1 day apart, now You will forever hold a place in all of our hearts @paulwalker legacy will live on forever. R.I.P.
 
Dwayne "The Rock" Johnson (Fast co-star): All my strength, love & faith to the Walker family during this heartbreaking time. We find our strength.. in his light. Love you brother.
Kevin Hart: "I'm a devastated right now. My prayers & condolences go out to Paul Walkers family & friends. He was a amazing talent & will truly b missed"
T.I. (Takers co-star): I'm shocked & saddened to find that the world has lost such a great spirited person. Paul Walker was not only a passionate, talented actor, he was also a sincere man with a genuine personality, that filled a room immediately upon introduction. My family's hearts & prayers is extended to his family, especially his daughter. He will never be forgotten. May he rest in peace. #RIPPAULWALKER
Michael Ealy (Takers co-star): My heart is crushed by the news that my friend Paul Walker passed away today. Prayers and light to his daughter and family right now.
Zoe Saldana (Takers co-star): A very sad day indeed. R.I.P. Paul Walker. Our prayers are with you and your family.
Tyson Beckford (Into The Blue co-star): "RIP Paul Walker,loved working with you on "Into the Blue". I Will miss you."
Jessica Alba (Into The Blue co-star): #RIPPaulWalker -he was a lovely person -so sweet and grounded. My heart goes out to his family.
Idris Elba (Takers co-star): I'm Heart broken Paul Walker, he was a mate of mine, very sad. My heart goes out to his daughter.