In our final installment for our Opening Weekend Exclusive Interview series for Best Man Holiday, we had a little sit down with one of our fave on screen couples.
Check out what Morris Chestnut said about and Monica Calhoun's fave moments...
Hallelujer! 44-year-old Morris Chestnut is bringing his ridiculously sexy body back for us to gawk at for the Best man Holiday sequel.  We talked to arguably the sexiest star of the movie, along with is on-screen wife, Monica Calhoun, about their fave moments and the hardest ones.  Getting that chiseled bod was probably hard for Morris to get, but was that lip-syncing performance even harder?
YBF:The Best Man Holiday is definitely going to be another classic. Tell us about the chemistry of the cast and the plot twist with your characters.
MORRIS: Oh wow, it was just like riding a bike getting back together again. We all came, we had to rehearse a couple of weeks prior to. And then a week before filming we all got together and watched the original film. That brought back memories and put us back in that mode so the chemistry was great, like riding a bike.
MONICA: I have several favorite moments! The dinner scenes when we were all sitting around the table. Those were some long nights but a lot of good laughs.
YBF: Why do you think Malcolm Lee wrote your characters as he did? Audiences are going to be surprised when they see this movie compared to the original?
MORRIS: Why do you say that?
YBF: Because it's so real! There are real moments, it's real life that is happening and the cast put it down with regards to the portrayal of these characters. How did it feel for you to come in with such a different flare this time around?
MORRIS: I think the one thing about this movie is that these characters have been around for 14 years. When you are doing the original you are creating the backstory. Now, we were able to fill in so many different layers to our characters; what's going on? Have we had the conversation? Why haven't we had the conversation? What did we do? How did we not deal with it? And myself with Harper…it's just layering the characters more and more. Then our characters [Lance & Mia] have some pretty great arcs and some secrets and all that stuff to deal with. It made it a lot more fun!
YBF: You listen to Mia, when she talks, Lance listens is that true to life?
MORRIS: Oh YEAH, without a doubt! [Laughter]
YBF: There are a couple of funny scenes between Shelby and Candice and Lance you had to break one up.
MONICA: Faith was being tested!
MORRIS: Yeah I had to break it up, I think I caught one on the chin. I'm just playing.
YBF: They didn't bring any stunt doubles?
MORRIS: They did, there was a stunt double there but they didn't really need them.
MONICA: They executed WELL!
MORRIS: They do a good job getting at it themselves!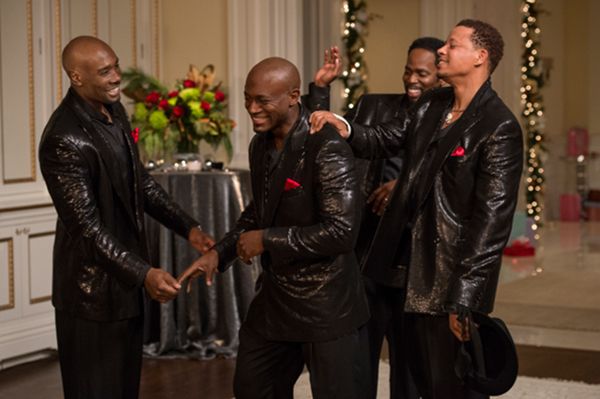 YBF: Morris I hear you wanted to rehearse a whole month for the dance scene??
Morris: I did! Cause look, you have Harold coming from Alvin Alley, you have Taye doing Broadway and Terrence just don't care. I wanted to get it right and get it down!
MONICA: Going through all that, you know what, he was fine, they were fine! I mean they were sharp! Those arms, spins, hat tosses, just on cue and right!
 
That's a wrap for our interview series witht he best Man Holiday cast.  Check out all of our chit chats HERE.
The movie is in theaters now!
Photos: Universal Pictures, YBF L.A. Correspondent: Kalia Silva