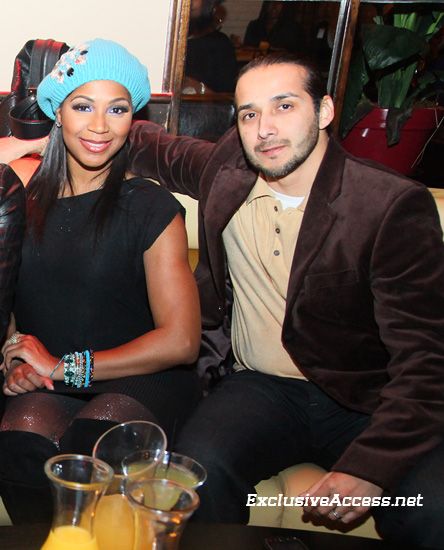 News broke yesterday that Gabe Solis, the husband of Trina Braxton whom we see every week on We's "Braxton Family Values" reality show, was allegedly involved in an affair with a transgendered woman Julisa Abadshian.  Now, Gabe claims it's all false and he is a victim of photoshopping.  And confirms he has a sex addiction.
His statement inside...
Gabe claims THESE pics posted yesterday are not what they seem.  After the story broke, Gabe reached out to TheYBF.com to explain that he has never met this Julisa person, and he in fact had to download the application in order to find out who she was.  He said he did discover a request pending from her.  Which means, to us, that he did use this site at one time.  But he claims to have never engaged in any type of communication with her.  His statement says the whole story is inaccurate:
"First off I want to apologize from the bottom on my heart to my Wife Trina who deserves NONE OF THIS. I have done many things that I am not proud of that I'm sure will all unfold in the coming weeks on the show, on the blogs, the newspapers and any other way it can unfold. I canNOT undo the past. However, I am NOT into Trannies!!!! I am very heterosexual. I have no clue who the ladydude woman posted on the web is and I have never spoken to her/him/ or whatever they are claiming."
He continued his statement with his admission of sex addiction:
"Yes, I know I will be the target of many gossip bloggers because of my past record. Like I said, I have NEVER Resorted to same sex affairs or any physical affairs. I know that cheating is cheating and I am in no way making excuses. I am currently in therapy because I have a SEX Addiction Problem. I very much want the help that it will take to restore my family." Gabe Solis.
Well...
Photo via ExclusiveAccess.net