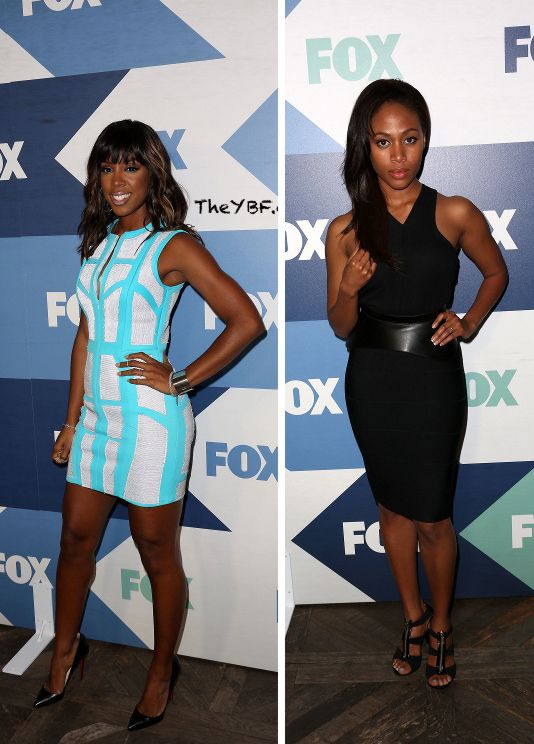 Gorgeous alert!  YBF chicks Kelly Rowland & Nicole Beharie hit the 2013 Fox TCA Summer Tour event in L.A. yesterday.  And both ladies kept it fab as they promoted their upcoming shows.
Check out their fabness inside....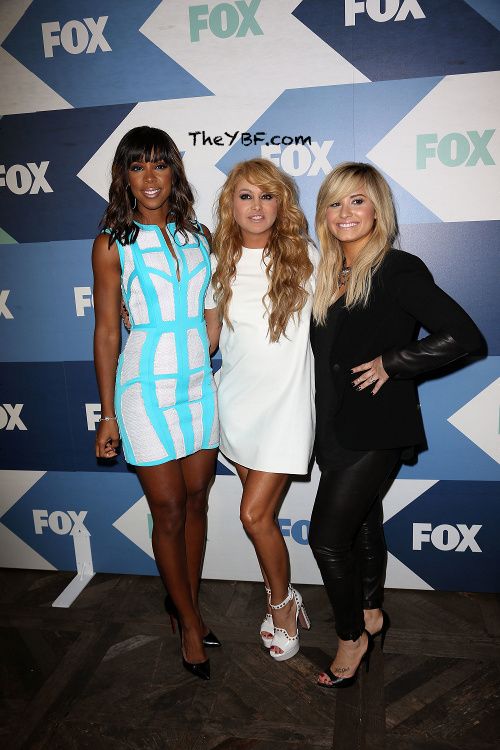 Kelly Rowland is the newest "X Factor USA" judge.  So she posed it up at SoHo Hose in L.A. with fellow judges Paulina Rubio and Demi Lovato for the Fox TCA Summer Tour conference last night.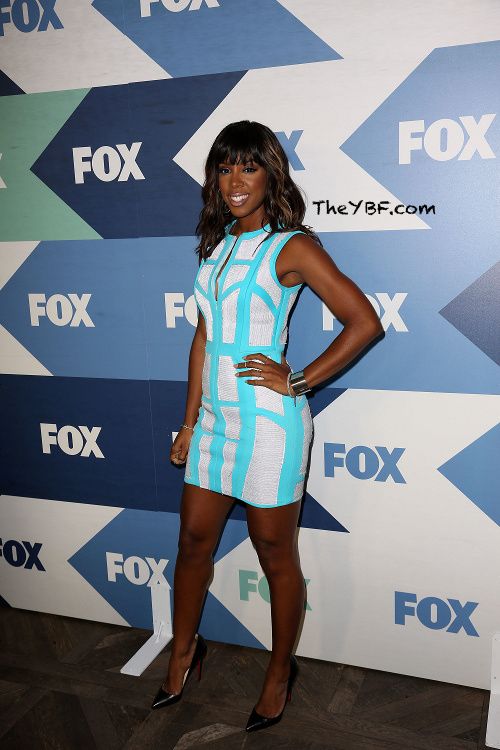 The "Kisses Down Low" singer kept it sexy in a turquoise & white geometric striped dress with her black Louboutin pumps.  Loves this summery look on her.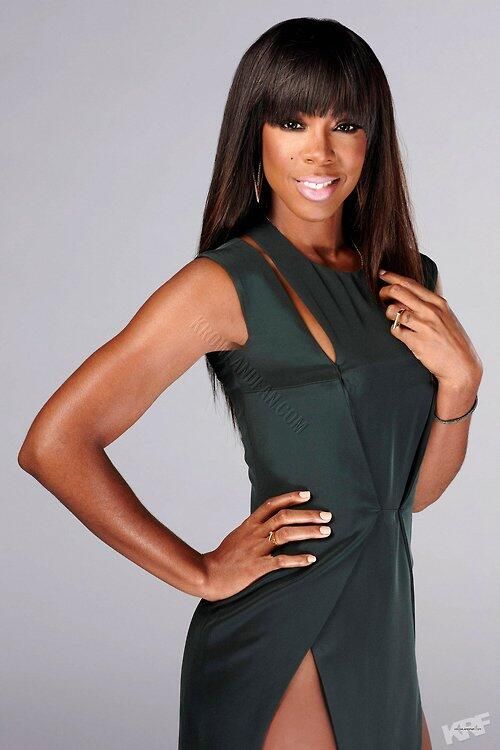 And her new promo pic for "X Factor" is also out.  Chick is WINNING with her flawlessness these days.   The third season of "The X Factor" U.S. will have a two-part premiere on Fox on Sept. 11 (1 hour) and Sept. 12 (2 hours) at 8 p.m. EDT/PDT on both dates.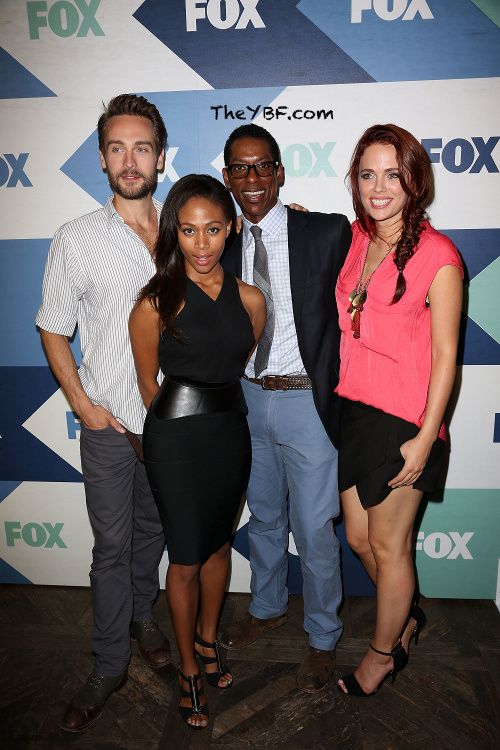 Also at last night's Fox TCA conference, up and coming actress Nicole Beharie posed with her co-stars Tom Mison, Orlando Jones, and Katie Winter for their upcoming Sci-Fi show "Sleepy Hollow".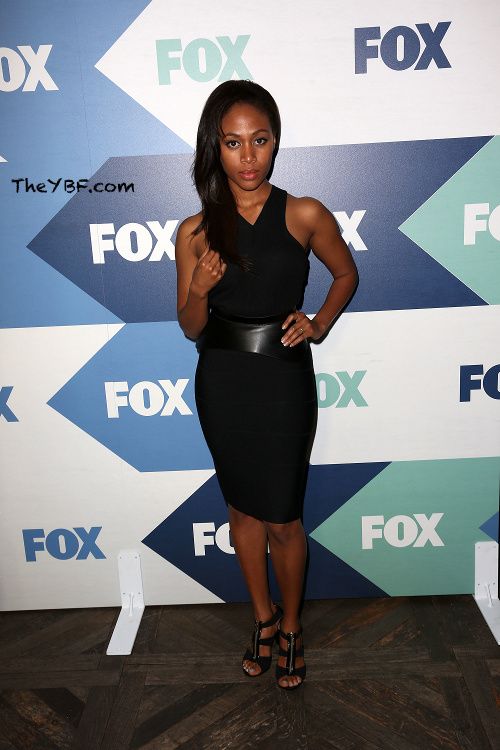 She kept it simple yet cute in a black pencil dress with a leather fitted peplum belt. 
Nicole plays the lead role in the thriller as Detective Abbie Mills as the show premieres Monday, September 16th.  Here's the synopsis:
In this modern day twist of Washington Irving's classic, ICHABOD CRANE (Tom Mison, "Salmon Fishing in the Yemen") is resurrected and pulled two and a half centuries through time to unravel a mystery that dates all the way back to the founding fathers. Revived alongside Ichabod is the infamous Headless Horseman who is on a murderous rampage in present-day Sleepy Hollow. Bound to the Headless Horseman by a blood spell cast on the battlefield of the American Revolution, Ichabod quickly realizes that stopping Headless is just the beginning, as the resurrected rider is but the first of the Four Horsemen of the Apocalypse.

As this re-invented Ichabod finds himself in present-day Sleepy Hollow, he discovers a town and a world he no longer recognizes. All that is brutally familiar are Headless and Ichabod's determination to annihilate this immortal being. It's a mission he must complete quickly, as Headless already has viciously slain Sheriff AUGUST CORBIN (guest star Clancy Brown, "Cowboys & Aliens," "Carnivale"). Grey served both as mentor and father figure to Detective ABBIE MILLS (Nicole Beharie, "Shame," "American Violet"), a young cop whose own supernatural experiences help her form an unlikely bond with Ichabod. But Sleepy Hollow's head of police, Captain FRANK IRVING (Orlando Jones, "The Chicago 8," "Drumline"), isn't buying any of this.

In fact, the only person who is on Abbie's side is Ichabod. His extensive first-hand knowledge of our secret American history, coupled with her superior profiling and modern threat assessment skills, will make them a formidable duo as they work together to triumph over evil. The complex pasts of Ichabod and Abbie, from Ichabod's inclusion in the powerful and secretive Freemasons Society and the ghostly appearance of his late wife, KATRINA (Katia Winter, "Dexter"), to Abbie's childhood visions, will help them solve the intricate puzzles of Sleepy Hollow in order to protect its future.
We're keeping our eye on the 42 actress as she looks like one who may make a surprising stamp on Hollywood soon...
Photos: WENN