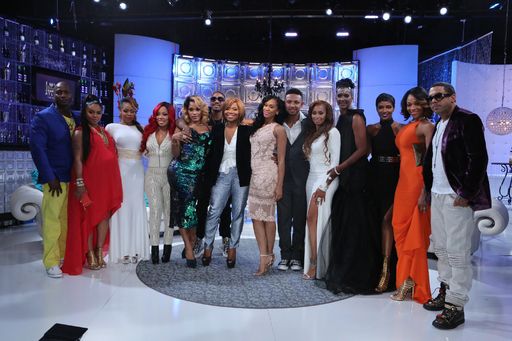 The "Love & Hip Hop: ATL" reunion is right around the corner.  And now, we've got a preview of what to expect.  Remember when we told you a few days ago a shoe went flying upside someone's head at the reunion and a fight broke out?  Well, peep the preview inside involving MiMi Faust & Joseline Hernandez.  Plus, Stevie J. gives details on how he & Joseline got married at the Justice of the Peace....
In case you care, Joseline & MiMi had an unsurprising fight at the "LAHH: ATL" reunion.  TheYBF.com was there at the taping so we already let you know about what went down.  But here's the first preview (above) of what that fight was about. 
When creator and moderator Mona Scott-Young pointed out MiMi's boob job and instigated the situation by asking Joseline what SHE thought about it.....all hell broke loose.  "You just mad because I took yo baby daddy" is the type of ghetto-tasticness was said before Joseline's large shoe went flying at MiMi.  She tried it.
Check out the foolishness above and see what we define as foolywang material.  VH1's "Love & Hip Hop: Atlanta" two-part reunion airs Monday, August 5 & August 12 at 8PM ET/PT.
Meanwhile, Stevie J. did an interview withHip Hop Weekly where he describes just how he and Joseline got married.  Here's an excerpt:
HHW: Now that you've gone to a Justice of the Peace, will you do another ceremony?

STEVIE J: When the show permits, we'll do it on the show or something, or have our own show and have some kids on the show.

HHW: How are you going to deal with Mimi now that you and Joseline are a solid couple?

STEVIE J: There's some jealousy there but I don't believe there's enough to where there would be a problem. Joseline is my wife now, and Mimi is the mother of my child. Not a whole lot can be done. But I can make sure that Mimi will always be good. That's not going to change. But I'm married now — I'm married now!

HHW: How does it feel?

STEVIE J: I feel great!

HHW: How does Joseline feel?

STEVIE J: She's got the best f—— man in the whole world.
Let us pray....
Photos via Robert Adam Mayer