Big artsy moves!  Jay Z is set to debut "Picasso Baby" on HBO.  Watch the preview inside.......
On August 2nd, Jay Z will premier his new performance video "Picasso Baby" on HBO, the same network his wife debuted her Life Is But A Dream documentary. Filmed at the Pace Art Gallery in NYC, the entire experience is being called "Picasso Baby: A Performance Art Film."  Watch a preview of Jay's 6-hour performance made into a film above.....
In other Jay-Z news....
Famed actor Harry Belafonte has expressed an interest in sitting down with Beyonce and Jay Z to discuss comments he'd made about their political activism (or lackthereof).  And Jay's snapback comments in a recent song.  During a recent interview with MSNBC, Mr. Belafonte said, 
"I would be hard pressed to tell Mr. Jay Z what to do with this time and his fortune. All I can be critical is of what he is not doing," the entertainment and Civil Rights icon said. "This conflict that is emerging was not from me as a direct attack on Jay Z or Beyonce. I was at a press conference in Switzerland. Questions were raised by the international press. They asked about the artists and the social engagement of the past based on a film we were watching…and how artists responded earlier in my life and how they responded today."

"And I made the observation that the highly powerful voice that our community has – Black America has – there is so much celebrity power that it was sad to see that the collective of the celebrity power had not been applied to bring consciousness to the inequities that we face,"

"Having said that, I would like to say to Jay Z, to Beyonce: My heart is wide open and filled with nothing but hope and the promise that we can sit and have a one-on-one. And lets understand each other rather than try to answer these questions and these nuances in a public place.
Watch the clip above.
BONUS:
Mr. Belafonte has also become one of the most vocal celebrities to join the "Stand Your Ground" protest in Florida.  On Friday, he spoke to the Dream Defenders who completed their 11th day of a sit-in at Florida Gov. Rick Scott's office. The sit-in is their response to the 'not guilty' verdict in the trial of George Zimmerman. Story.
ANOTHER BONUS: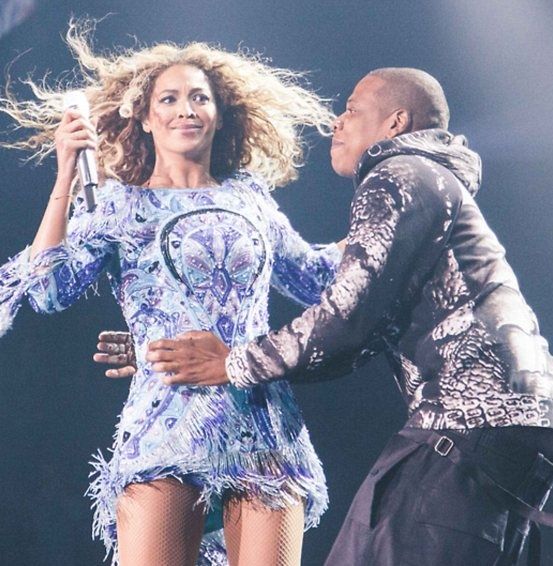 Jay Z popped on stage to surprise Beyonce on stage during her Mrs Carter World Tour show in Philadelphia this week.  He caught her off gaurd as she was just about to wrap it up. Watch the PDA below...
Photos via Beyonce's Tumblr/AP