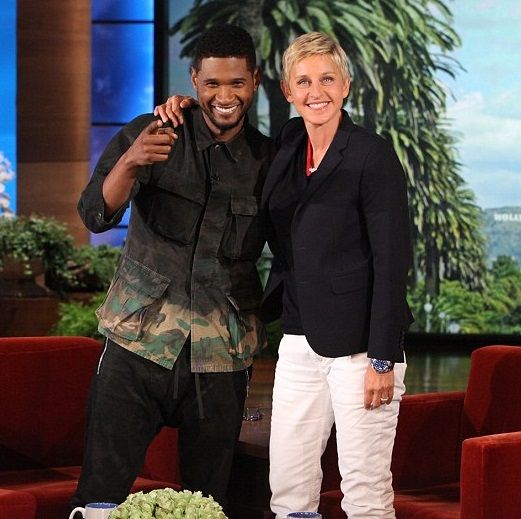 Pop star Usher confirmed his return to "The Voice" will Ellen Degeneres. Get the deets on his return inside and see why Will Smith says he and his family are not like the fame-seeking Kardashians.
During an appearance on "The Ellen DeGeneres Show" Usher answered the question many in the tv industry have been posing, "Will he return to "The Voice"? When asked about his status as a judge on the hit program, he told Ellen,'I plan on coming back.'
But in the meantime, he revealed that he's focusing on his role as boxer Sugar Ray Leonard in the upcoming film Hands of Stone.
Ellen also questioned him about his troubled protege, Justin Bieber. When asked about the young pop star's woes, Usher said,
"...I think all of us in some way have humble beginnings that pan out to be incredible and we hope...that he'll continue to just mature but you know in this days age of social media. There is no privacy and that kind of trail and elimination period is kind of done in front of a camera. I am hoping for the best. I don't look at as a negative though. I look at it as a teenager. A teenager having to live his life in front of a camera. Imagine if you had to do that as a teenager."
When asked if he remains in contact with Justin, he told Ellen, 'Obviously when I can be of help I do so. Reach out and stay connected.'  Maybe he should reach out and take Justin's toys (meaning his cars and segways) from him too.

Watch Usher's interview here:
In other entertainment news.....
Awww like daddy like son.
In an interview with NY Magazine to promote After Earth, his upcoming action film with son Jaden Smith, Will Smith seemed to take issue with a comparison being drawn between the Smiths and the Kardashians.  Though both families are very friendly, with both Willow and Jaden spotted hanging out with the younger siblings of the Kardashian clan, Kendall and Kylie Jenner, Will explained that the Smiths don't seek out fame. 
"For our family, the entire structure of our life, our home, our business relationships—the entire purpose is for everyone to be able to create in a way that makes them happy.
'Fame is almost an inconsequential by-product of what we're really trying to accomplish,' explained the Fresh Prince Of Bel-Air star.
'We are trying to put great things into the world, we're trying to have fun, and we're trying to become the greatest versions of ourselves in the process of doing things we love.  So the idea of fame or exploitation or orchestrating the media is sometimes even less than desirable for us."
So that clearly means we'll never see the Smiths doing a reality show!  But he doesn't mindthe kids being beasties with the likes of the Kardashian-Jenner clan.  And for people who think that Will and Jada are pushing the younger Smiths towards careers in Hollywood...he says that's not true.
'It may seem like we have pushed our kids into the business, but that is absolutely insane,' he said. 'I would never, ever, push somebody to have their face on a poster that's going be everywhere in the world."
You catch Will and Jaden in After Earth when it hits theaters on May 31st. 
Read the full interview here.