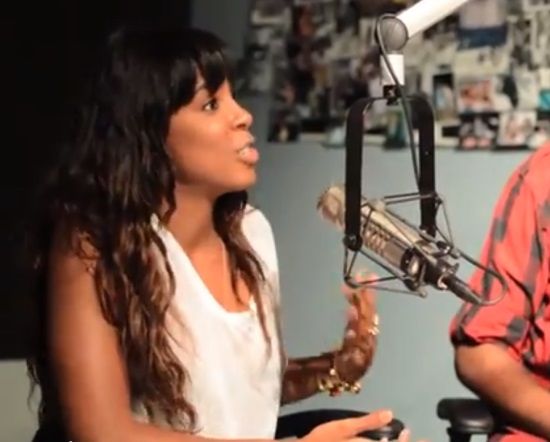 Following her emotional tour stop through Washington, D.C., Kelly Rowland talked with 93.9 WKYS about her tearful rendition of "Dirty Laundry", her sisterly bond with Beyonce and Michelle and how she finds sexual empowerment through her songs.  Watch the interview inside...
It's going to be a big summer for Kelly Rowland and her "Rowland Stones" fan club.  Between her new role on "X-Factor", a highly anticipated appearance at the GMA Concert Series (June 19th), the release of Talk A Good Game (June 18th) and the summer tour with The-Dream, we'll all have our fill of Miss Kelly.  
After her concert performance in D.C. where she broke down during "Dirty Laundry", the "Kisses Down Low" singer chatted it up on 93.9 WKYS about her album, her bond with her Destiny's Child bandmates and what it felt like to be vulnerable before to her audience.  And no, we don't feel like she was acting.
Here are the highlights: 
On "Talk A Good Game"

The album takes you on a journey through my thoughts.  It's me being very open...which for a second, was a little hard on certain songs.  I remember for "Dirty Laundry", I was saying I didn't want to put that on the album.  It was a form of therapy.  You're supposed to grow and learn from it.  

On what Beyonce thought of "Dirty Laundry"

It was the place that I was in...I was so young.  My head was completely gone.  That's what happened with my sister.  What matters to me most is what we have.  I'm so grateful for what we have as sisters...away from Destiny's Child.  I played it ("Dirty Laundry") for her and Michelle.  Beyonce said, "I never left".

On breaking down during "Dirty Laundry"

It's really weird when you take yourself in front of a crowd.  Even in that moment of when I put my feet up, I felt like I was in therapy.  I was singing and talking about what happened, and for a moment, it was like that crowd wasn't even there.  And then when the music stopped...I was like "You are live Kel.  Calm down."  And I had to calm down, and then I had to breathe.  You get lost...and it's nothing wrong with getting lost.  But that was weird.  I felt like I could do that with D.C.  

On being empowered sexually through song

I felt empowered. And the first time I had a moment like that was with Rico Love ("Motivation)".  Singing the song just made you feel womanly.  

On signing to "X-Factor"

Yes. I'm doing X-Factor.  When I did it in the UK...I really enjoyed that process.  I enjoyed the auditioning process, I enjoy watching the artists' development.  Because I went through that phase.  And you want to be there....You want to be a voice of reason or knowledge.  I think it's important to be honest and give constructive criticism.  I'm not a dream crusher.  
Watch the interview here: