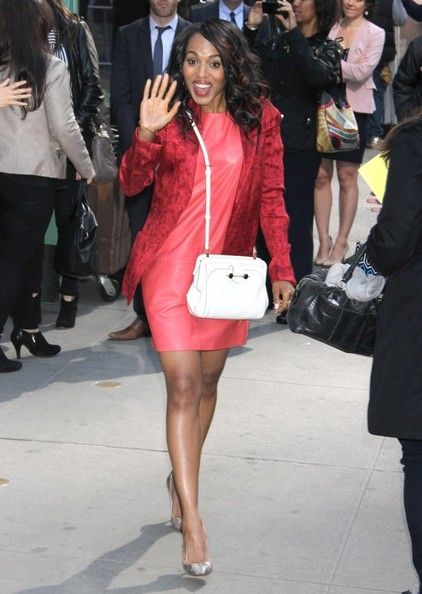 As they prepare for this week's season finale, the cast of ABC's hit show "Scandal" made some daytime TV appearances including jaunts through "GMA", "The View" and Kerry Washington appeared on "Wendy".  Watch clips from each show inside...
Earlier this morning,"Scandal" star Kerry Washington was spotted in New York's Time Square.  Kerry was up bright and early to join the cast of her hit show on "GMA" to dish on this season's many secrets and to promote the season finale, which airs Thursday.
Following her "GMA" appearance, Kerry switched gears and went over to the "WENDY" show where was joined by her Peeples co-star David Allan Grier to play a few games and promote their latest forray onto the big screen.  
Then, the lady in red linked up with the "Scandal" cast again to appear on "The View" which was co-hosted by Judy Smith, the well-connected Washington powerhouse who inspired the "Olivia Pope" character.
Though we enjoyed seeing the cast make their rounds, actor Columbus Short was suspiciously absent...and no one bothered to explain his absence.  Hmmm....we wonder if he's going to get killed off on soon (hope not!)....
Watch highlights from each show here.....
On "Good Morning America:
The entire cast appeared on GMA and revealed that off-camera, they're all good friends.  They watch the show as a group on weekends so they can cheer each other on.  Nice! 
On "Wendy":
Kerry told Wendy that she doesn't like it when people say that Olivia Pope is the President's side piece because it objectifies women.  When asked about the relationship between the President and Olivia, Kerry reminded the audience that POTUS has offered to leave his wife for Olivia, but she told him not to. She then asked the audience if Olivia was truly the side chick,  or if she remained "on the side" simply because she was afraid to be "all in." 
Later in the segment, she was joined by her Peeples co-star David Allan Grier to promote their movie (which is in theaters now). 
On "The View":
At the (6:31) mark, Tony Goldwyn, who plays President Fitzgerald Grant, re-enacts the scene (with co-host Sherri Shepherd) where the President tells Olivia that he will leave his wife and the White House.  He tells Sherri--in that sultry ass way he does--to sit down and says, "Watch me choose you...Watch me earn you!"  Then, he kisses her.  *fans self*
The season finale of "Scandal" airs May 16, 10p ET.  We're SO there.