Solange Knowles knows her body, and knows how to flaunt it.  The "Looks Good With Trouble" chick is featured on the cover and pages of COMPLEX magazine's newest issue in one pieces and high heels.  And she also just announced her brand new music label that she can call her very own.
Check the pics and deets inside...
In some summery & hot photos for COMPLEX magazine, Solo is showing us exactly how a 26-year-old mom of one can slay the game on her own terms.  In the fashion and non-mainstream music worlds, she's pretty much the perfect peach everyone loves.
And we're going to be getting a lot more of those chill vibes as Solo just announced she'll be releasing her own music through her very own record label, Saint Records.  She tweeted this afternoon:
Super stoked to announce I've started my own label, SAINT RECORDS,where I'll be releasing my music & other projects distributed through SONY! Through Saint Records I will have 100% creative/artistic control & continue to passionately pursue my footing in this new musical movement.
Congrats!
Now check out her vintage (remember ya mama and grandma's couch with the plastic cover?) & bold style photoshoot, rocking Gottex, Louboutin and more, with those big curls we love below: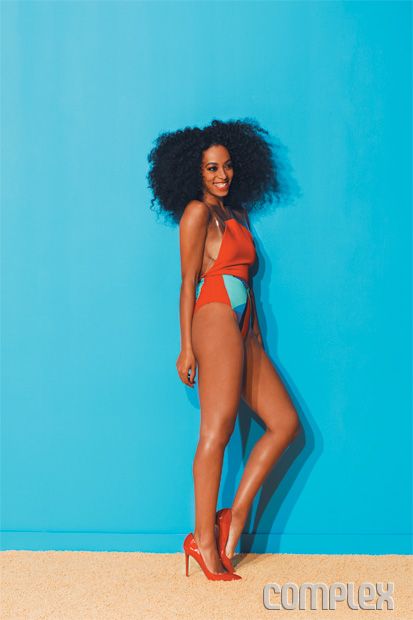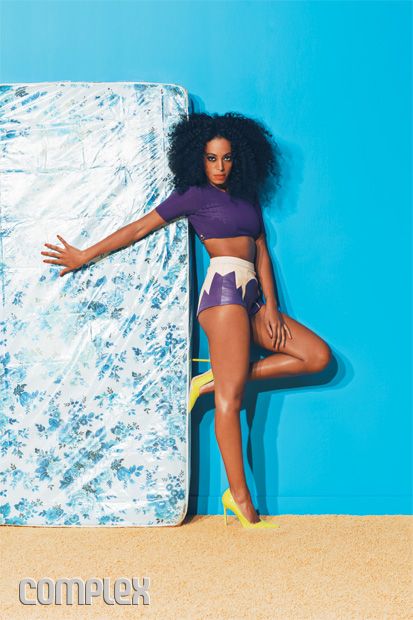 Stunning as usual.  Highlights from her cover story:
On how she first started her rebellion against the industry: "I wanted to make all of the creative artistic decisions but I wasn't the one paying for it. And they didn't fully trust me to make them," she says. "Every decision was a battle. It was exhausting. I wanted to be in a position where not only was the music fully my body of work, but everything thereafter was also my body of work. I knew that meant I had to leave and that I had to struggle."
On being so ambitious in her own way:"I have a mother who never took no for an answer when it came to her creative pursuits," Solange says. "She started a hair salon in her spare bedroom and four years later had 30 employees. I have a father who was the first black student at his junior high and high school and had to do a lot to get to that point. So it's really in my bloodline when it comes to having an idea and making it happen."
On the writing/recording process with producer Dev hynes for her newer music: "We were either staying in a rented house or he was staying with me, my boyfriend, and my son. Everything that happened on this record was literally waking up, him usually before me, going and creating the bones to the track and then me rolling over and hearing it while I'm fixing breakfast. When you're making music like that, where it's a natural extension of your day, it's so much more enjoyable," Solange says. "I remember being in writing sessions and having to put disclaimers out every time I was about to share something. You need to be in a space where you can just say, 'All right. This is what I'm feeling.'"
On her home life: "When I'm home, I'm just straight mommin' it," Solange says of life in Brooklyn, which revolves around 8-year-old Juelz. "School runs, play dates, soccer games, etc. You have to constantly fight for that balance and now I kinda got it under control." After a hectic few weeks on tour, she's looking forward to leaving town with Juelz later today for a two-week vacation—a week in L.A. and a week in New Orleans, where she feels very, very at home. "I go to crazy bounce clubs," she says. "I eat crazy po' boys, drink daiquiris. I ride my bike a lot."
Check out the full cover story over at COMPLEX.
Photog: Photographer team JUCO for Complex