The filming of Think Like A Man 2 kicked off yesterday and co-stars Gabrielle Union and Kevin Hart posted pics from their first day on set.  See the photos inside and the jokes Kevin made about Dwyane Wade's polka dot suit!
The filming of the Think Like A Man sequel began yesterday and the film's stars shared a few pics from their first day on set.  Star Jerry Ferrara posed with his on-screen partner Gabrielle Union saying, "So glad to be reunited with my onscreen love @gabunion #thinklikemantoo goin strong!"
Meanwhile, Gabby added,"Day 1 antics with @jerrycferrara #moviebeau #ThinkLikeAMan2 #TheCheckCleared"
Gorgeous Gabby, who just wrapped up shooting her BET series "Being Mary Jane" headed over to her trailer and posted some "shady" pics..."Day 1 "Think Like A Man 2"... #trailerlove #shadesfortheshade".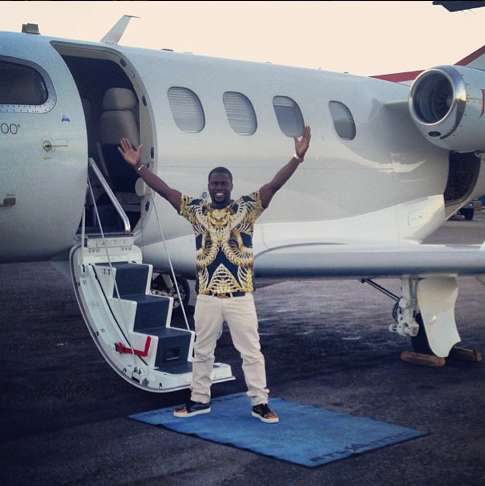 Funnyman Kevin Hart arrived in Las Vegas for the shoot via private jet (of course).  He tweeted from the ground,"Just touched down in Vegas....We are filming "Think Like A Man 2" out here!!! #ImFocusedMan #CallMeMrBigScreen #MakingHistory"
And Mr. Hart isn't letting that embarassing DUI slow him down as he's prepared to take over the big screen again with his stand-up film Let Me Explain, which hits movie theaters on July 3rd. 
BONUS:
In case you missed it.....Gabby's man, Miami Heat baller Dwyane Wade, has the sports world on fire right now.  But it's not because of his performace.  D Wade has EVERYONE talking about his polka dot suit with capri pants form last night.
And Kevin had a few jokes for the baller on IG, even joking that he borrowed HIS suit."Major shout out to my man @DwayneWade for rocking my personal suit to the game LMFAO #WTFdoYouHaveOnMan #YourAnklesAreEmbarrassed #SwagGoneWrong LMFAO"
Ha!