Fashion guru and Jay-Z's long time stylist, June Ambrose, was spotted Thursday arriving to the rapper's downtown NY home he shares with wife Beyonce (and new baby Blue).  All to prep for his upcoming Carnegie Hall gigs.
Pics and deets inside...
June skated (literally--her shoes are the high fashion version of ice skates) to the home of The Carters Thursday afternoon.  And though some thought all the Saks bags, garment bags, and bottled water were just Beyonce's workers doing chores--we actually spotted Ms. Ambrose herself amongst the pictures. 
And when Roc Nation & Jay-Z's DJ, Young Guru, tweeted about June's arrival, we put two and two together.  And Young Guru & June's twitter exchange spilled the beans as well:
Carnegie is Calling RT @young_guru: Getting fitted by @juneAmbrose. She is skating on you ladies with these shoes!!!!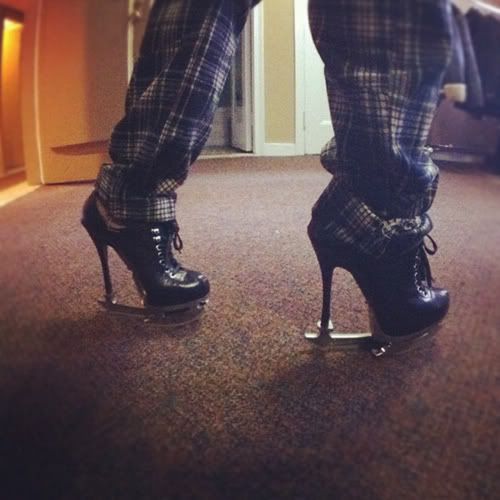 These shoes!  They're the DSquared2's 'Skate Moss' boots ($1,485).  Jay is set to perform two charity concerts at Carnegie Hall on February 6th & 7th via his Shawn Carter Foundation to help NY's United Way charities. 
June, rocking a fab ensemble of plaid pants, a fur stole, a Miss Selfridge studded leather jacket, and a black Birkin, also revealed, "On the Hautehunt for slick kicks fit for a HipHop Sovereign..Stay tuned."
And she had her assistants and residential security help out too: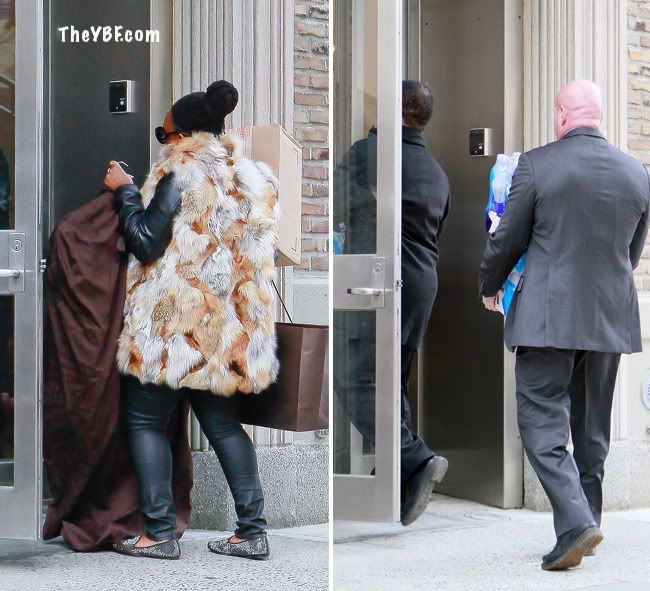 June is still shooting for her upcoming VH1 show "Styled By June," so maybe we'll get to see inside the fitting when the series premieres March 19th.  Fab times. 
Pics via INF
The Randomness:
1.  Lil Kim now owes the IRS over a MILLION dollars! STORY
2.  Drake's response to alleged ex-girlfriend's "Marvin's Room" suit is that the two previously struck an agreement she wouldn't be paid.  Hmmm.  STORY