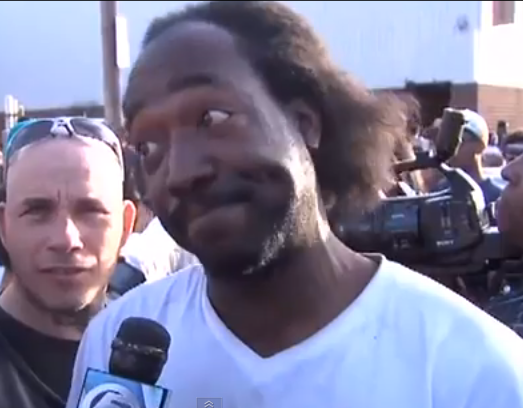 First there was Antoine Dobson, then there was Sweet Brown, now there's Charles Ramsey.  Find out how Charles became a hometown hero and viral sensation all because of one great interview (and rescue) inside.....
The next time some -ish breaks out in your neighborhood, get your best one-liners together because it could be the ticket to internet stardom!  We've all quoted Sweet Brown's "Ain't nobody for that" phrase and now, Charles Ramsey, a local dishwasher from Cleveland, OH might be the next big thing!
Once upon a time, a young Cleveland, OH woman named Amanda Berry, disappeared after her shift at Burger King in 2003. Missing for ten years....most assumed she was dead.  
Fast forward to 2013, Amanda Berry was discovered yesterday....along with TWO other women who vanished in the early 2000s. Though the "rescue" story of three women who'd all been missing for over 10 years seems like it's made for tv news, it's the story of their "rescuer" that has inboxes flooding. 
Like Sweet Brown, there's something about Charles Ramsey.  We don't know if it's the missing tooth, the combed-out hair, or the affable street corner personality....but the interview he did is certainly entertaining.
While describing a play-by-play of the rescue, Charles came up with more than a few quotables.  Although they aren't as catchy as Sweet Brown's one-liners, everyone around the country is talking about Charles Ramsey.  He's HEADLINE news.
Check out some of his best one-liners and watch the interview here:
"I've been here a year. You see where I'm coming from? I barbecue with this dude. We eat ribs and whatnot and listen to salsa music...

"He just comes out to his backyard, plays with the dogs, tinkers with his cars and motorcycles, goes back in the house. So he's somebody you look, then look away. He's not doing anything, but the average stuff. You see what I'm saying? There's nothing exciting about him. Well, until today."


"Bro, I knew something was wrong when a little pretty white girl ran into a black man's arms. Something is wrong here. Dead giveaway."

"She homeless or she got problems. Only reason she runnin' to a black man."
Watch the interview clip here: