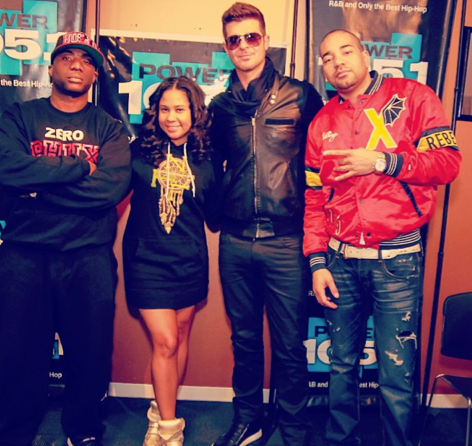 Robin Thicke stopped by Power 105 this morning to promote Blurred Lines and dish on how Paula Patton responds to his sexy videos and if he was mad at Kevin Hart's jokes on "RHOH".  Watch the interview inside....
With his "Blurred Lines" single racing up the charts all around the world, Robin Thicke talked to "The Breakfast Club" about his sixth studio album and some of the controversy surrounding his music and television career.
While discussing "Blurred Lines", Robin revealed that his wife, Paula Patton, gave her thumbs up for making the sexy & slightly dirty video (because she understands the industry).  There was also a completely uncensored version too.  He added that when he comes home from a sexy video shoot, Paula is usual there waiting for him in some booty shorts or something else sexy...just to remind him of what he has at home.
And there has also been controversy about him leaving the "Real Husbands Of Hollywood".  He said he and Kevin Hart remain good friends and he's indeed not doing Season 2 of "RHOH".  He's finishing his sixth album and wants to focus on other entertainment ventures.  He added that he has written a short film called "Mercy" on how the healthcare industry impacts smalls towns, and he didn't want "RHOH" to get in the way.
Watch the interview here:
BONUS: Want to know what sex in a public park with Robin is like?  Check out the crooner on VH1's Big Morning Buzz this AM below to find out: