Hottie "Deception" star Laz Alonso kicks off the debut issue of the lifestyle magazine "FUZION." See his photoshoot inside, plus the fate of his and Meagan Good's new show....
"Deception" star Laz Alonso covers the premiere issue of FUZION Magazine, a new lifestyle magazine offers insight on everything from fashion and beauty to style and music.  In the April/May 2013 issue, which also doubles as their "Inaugural Men's Issue",  Cuban-American cutie Laz's "Definition" spread focuses on how he's mapped out a vision for his life and career and how he stays grounded. 
For his Jennifer Rose Keany-shot fashion spread, the actor channels Daniel Craig's James Bond.  And we are not mad.  Here are the highlights:
On "Deception" and how it relates to his views about the industry:

"In this entertainment business "Deception" happens every single week. One of the definite moments of disappointments and expectation. I always keep in mind that business is nothing guaranteed. I always have to roll with the punches with this business. This business of entertainment is built on "what you see is what you get". And I learned to not believe everything you hear and see. In this business they are always looking for the next big thing.

On dealing with rejection:

"The only thing that's going to keep you pushing and keep you depersonalizing rejection is if you totally love what you're doing."- Laz Alonso

On handling a bad romantic movie scene experience:

"My first scene was a romantic scene with this young actress. As the romantic scene came and we went for the kiss, her tongue was so long (Starts to laugh)it was tickling my lungs. I mean I could not breathe for that moment!"
On the cover (atop), Laz wore three-piece suit from Alexander Nash, shirt from BDG, bowtie from Ike Behar, pocket square from Kiton, and jewelry by Maddaloni Jewelers.
More photos from the shoot....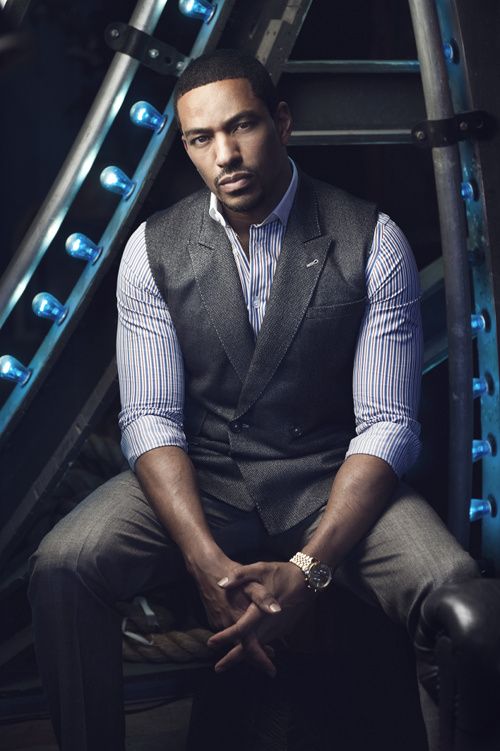 The digital and print versions of FUZION are available now....
And as for the return of "Deception," looks like that piece is about to get the axe.  Last week, NBC released a slew of shows getting renewed.  And "Deception" was not on that list.  No updates have been made yet.  Looks like Meagan Good & Laz are going to have to find somewhere else to flaunt their hotness weekly.

Photos via FUZION