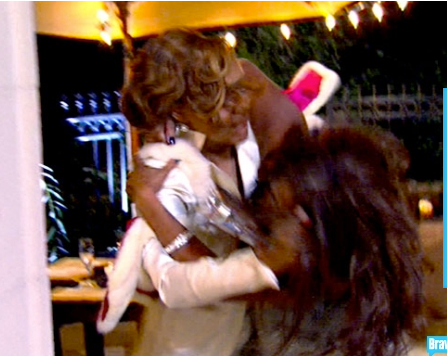 Members of Atlanta's elite class showed there's also a foolywang side of Buckhead after fists flew and weaves were pulled during last night's "Married To Medicine" episode.  And even somebody's mama hopped in it.  Decide if there's ever a "right" time to be "ratchet" inside....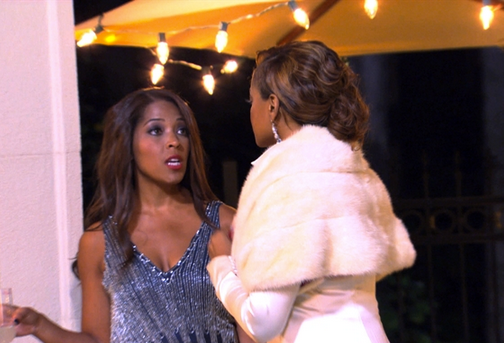 Though BRAVO seemed to maintain an air of dignity (well, as of recently and relatively speaking) while other networks blatantly played up fist-fights among its reality tv stars (see BBW or Bad Girls Club), last night....the game changed.
If you turned on the bourgeoisie doctors and doctor's wives of BRAVO's latest hit "Married To Medicine" last night, you saw several women drinking, cussing, and carrying on...in ball gowns.  To be honest, most of these chicks seemed like they were only one neck snap away from going back to their hood ways they seemed so desperate to cover up for the show.  Like our fave Countess said, money can't buy you class.
So, there was a huge weaving-pulling, table flipping fight on last night's episode which could only be rivaled by the "Real Housewives of New Jersey".  
To make a long story short, there was a major brawl between Toya Bush-Harris and Mariah Huq. Toya was gossiping about the paternity of Mariah's daughter.  She'd been making comments about Mariah's daughter being adopted (although this information HAD NOT been shared with Mariah's daughter).  The "alleged" issue is: Toya and her husband chose to share, for BRAVO's tv cameras, a family secret that Mariah told Toya two years ago.
In her own BRAVO blog, Mariah said,
The sad truth of the matter is, Toya could not find anything else to criticize, so she decided to hit me way below the belt. She and Eugene knew that was the one thing in my life they could use to make me uncomfortable. We were not ready to discuss this subject with Lauren. Toya and Eugene took this option away from us. Telling my daughter with an audience around was the last thing I wanted to do.
For her side of the story, Toya responded to rumors that she gossiped about the paternity of Mariah's daughter by saying "that" conversation never happened....in public.
I will address the lies and slander. I have never discussed Mariah's daughter except for agreeing with my husband, Eugene, in a private conversation (meaning no one but he and I were around) when Eugene complemented Aydin for being a man's man by stepping up and adopting HIS daughter (see Episode 2). I agreed that this statement was true to him in a private conversation.

She continued,

Mariah's venomous overreaction to hearsay and gossip from a salon is not only absurd, but also illegal. You can not assault people for what you "think" they might have said. This speaks volumes to Mariah's character. As professionals we need to hold ourselves in a higher regard than the common street thug that runs rapid within society. Unfortunately, I was forced to defend myself in this situation when I was attacked. As for Lake scurrying to tell Mariah her juicy gossip that she concocted, I will get that to very soon.
So there you have the basic groundwork for the brawl that blew completely out of proportion once Mariah's mother (yes....her mama jumped in!) confronted Toya.
Now here's the question...is there ever a just cause for being ratchet and going off in public?  If someone insults your mother and your child...do they deserve to get their weave yanked & dealt with?  You decide....was this fight ratchet or right?