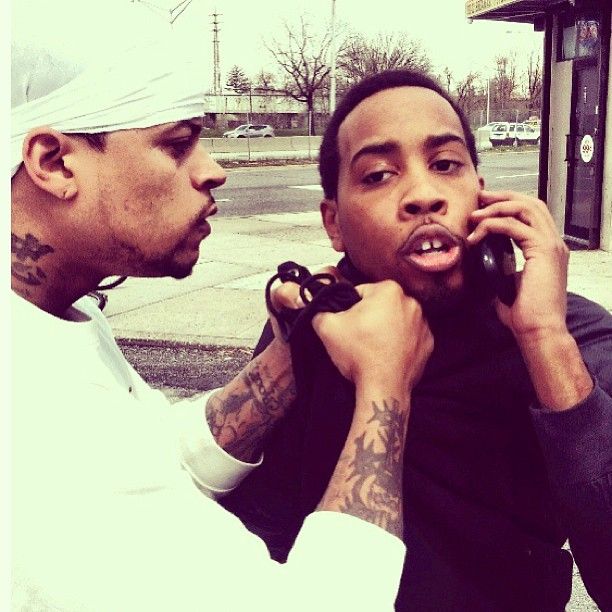 In the "Did you really have to do this ish?" news of the day, JoJo Simmons is speaking out about how and why he got snatched up by a member of Juelz Santana's crew.  And his SNATCHING was caught on camera and blasted on Instagram.
The pic of the shook up JoJo and what the fight that has gone from interview beef to JoJo getting paws put on him in the streets inside...
Is it just us, or is JoJo (Russell Simmons' nephew & Rev. Run's son) constantly catching L's?  First he tries his damndest to embark on a rap career and his little brother outshined him, then he gets caught up with a transsexual, and now, he gets snatched up on the streets by another rapper.
A while ago, JoJo released a diss track called "Holy Water" (But...WHY JoJo?) going in on Juelz Santana for his verse on his song "Soft."  Jo said ont he track:
"Now how you gonna mention my uncle Russell / Then disrespect his nephew / The industry forgot you / Fucker, you nothing special/ These niggas hate to love you / Simmons will not let you / Compare your money to my money, boy that's disrespectful."
So the other day, one of Juelz's Skull Gang (Bloods gang) homies, Hynief, rolled up on JoJo in Queens and snatched him up in the middle of the street and made him call Juelz to apologize.  Hence, the pic of a shook up JoJo above.  Hynief said:
Guess who I caught y'all Lil punk ass Jo Jo that made the diss track look at his face when he ace! #facts shouldn't pop shit if u not bout that life real niggas don't care who u related too fuck nigga

First off 2 everybody hating u can suck my dick 2nd I could of did the boy greasy I let him live its the principles don't run ya fuckn mouth
But...y'all are really mad over a JoJo "diss"?  Really?  REALLY?  Enough to really physically put hands on him?  Boredom and the internet do NOT mix.
There must be something else you fellas could be doing with your time...like Juelz actually being there for his baby mama Kimbella instead of her crying constantly on "Love & Hip Hop" about his trifling ways.
Anywho, JoJo has now spoken out about the incident today in a video... with goons behind him bucking his head up while he "explained" the situation and tried to act as hard as possible. 
Don't feel like this was necessary either.  While one of his goons screamed out JoJo "rolls with the Blue Umbrellas (Crips)", JoJo said he's not with all the violence.  He said he's been around money all his life, so all he does is "count money & f*ck b*tches."  Oh?
JoJo decided to keep up the foolery by posting on his Twitter today:
I was at a video shoot. I answered a question in an interview....
It was An interview at a video shoot. Didn't even wana answer the question. Especially with all those people behind me.Interview was random. And spur of the moment. #Notplanned

I don't really speak on the situation because I don't want to shed light on the negativity....I'm not in a gang nor am I affiliated...media outlets can mix up words and stories. I made a diss record and dealt with the consequences. #MovingOn
Chiiile...
Angela & Vanessa...come get y'all brother!