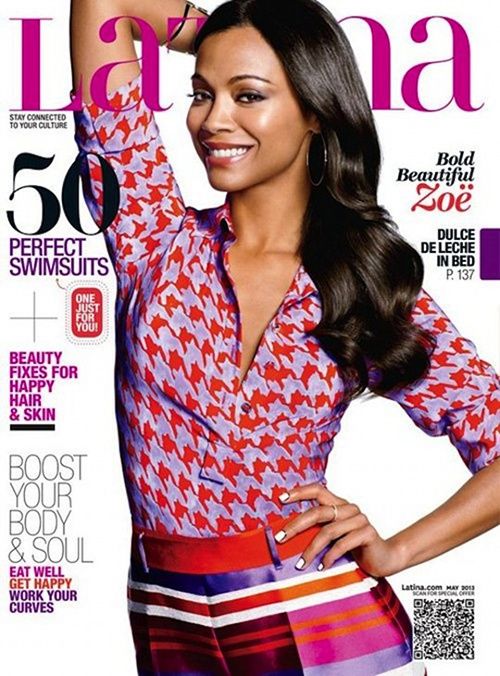 Zoe Saldana is LATINA magazine's fresh new cover girl this month.  And she's looking fabulously colorful for the May 2013 cover.  Pics inside, plus she's got a lot to say about who she is, and why she wants...but doesn't NEED...a man...
In a totally styled out issue of LATINA magazine, Zoe's giving the summer some in a few eye popping bold looks we're pretty much drooling over.  She's known for bringing her A-fashion game to every red carpet, so this shoot was no different.
The 33-year-old upcoming Star Trek Into Darkness actress, pulling off a colorful Hugo Boss dress and pumps by Rupert Sanderson above, tells why it's not all rosey in her world as an actress.  She talked about her coor blind upbringing as a Domincan woman, learning how to not need a man, and those hateful criticsms about her taking on the role of Nina Simone for the legend's bipic.
On Whether the Nina Simone Controversy Affected Her:"Yes, of course. I'm not made of metal. Things will resonate in you and they will move you whether good or bad, but you can't let that define who you are and you can't let that dictate the path that you're going to take in your life. The reality is that nobody knows the story as to why this collaboration came to be—nobody knows the full story—and at the end of the day all I'm going to say is that every person that is a part of this project came together for no other reason than the unconditional love for Nina Simone's music, her persona, her life, what she did, what she left for us, what her music still continues to do not only to women, but to Americans, and African Americans, and also people of color, just everything. On all spectrums, Nina Simone's story is worth telling and with the members that it came to be, like it's just…you have to give it a chance...Watch it and then make up your mind. I'm happy that we all held together and we went for it. No regrets."

On Her Color-Blind Upbringing:"I grew up in Queens and the Dominican Republic. It wasn't easy, s*** was going on. But the kind of world that we had indoors, that my mom created for us, makes more sense to this day than what is out there. I would come home from school and go, 'Mami, what am I? You know, cause I'm getting all kinds of things and people are mean.' And Mami would look at me and go, 'You're Zoe.' And I'd go, 'I know, Mami, but what am I?' and she would look at me and say, 'You're my daughter, your grandma's granddaughter, you're Zoe.' My mom wouldn't go, 'tu eres una mujer de color and always remember it, this world is going to be rough.' My mom never f****** told us that, why would she? Why would she stop my flight before I even take off?"

On Wanting (Not Needing) A Man:"I don't want to need things. I need water, you know what I'm saying? I need to exercise, I need to eat. To be with a man, should be a want. I don't need anybody. And the people that I do need are just family, tu entiendes? But a man is something that I want, I want be with a partner, because this partner is going to add or I'm going to add to this partner."

On Overcoming heartbreak: I feel it. I allow myself to feel it. Of course everyone around me will notice how it made me feel, but I tend to recover very easily. When I lose, when my heart is broken, when I lose a competition, when I don't get something, when something doesn't go my way or I have a hearbreak or whatever, maybe it's just the kind of person that I am, or maybe I haven't really fallen in love yet, had that crash boom bam in my life yet, but I tend to recover, you know, healthy and smoothly. And I've been that way up until now. And if it ain't broke, don't fix it.

 
Check out the rest of the outtakes below: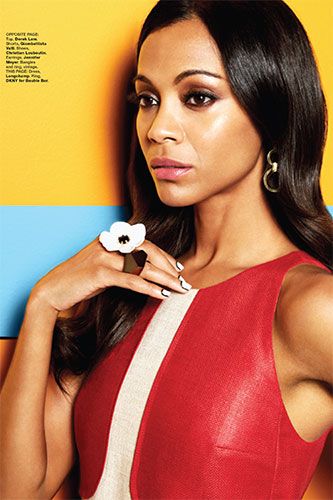 Dress by Longchamp and ring by DKNY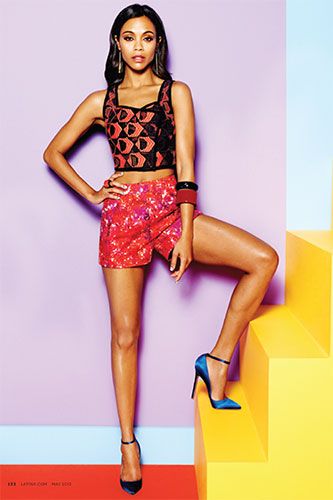 Shorts by Derek Lam, top by Giambattista Vallie, shoes by Louboutin, and earrings by Jennifer Meyer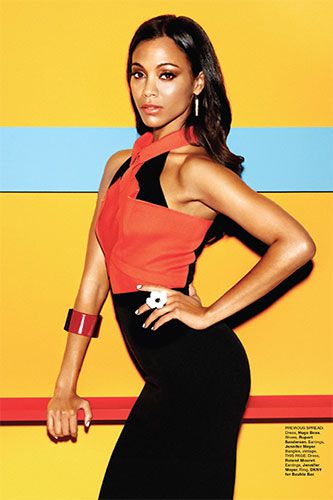 Roland Mouret, earrings Jennifer Meyer, and DKNY ring
Gorgeous shoot.  The full interview is over at LATINA.
Photo Credit: YU TSAI