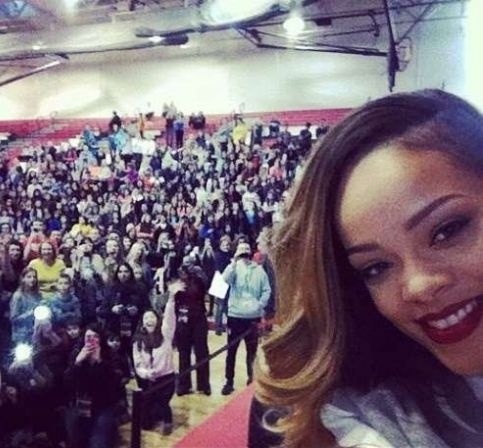 Rihanna made a stop at Barrington High School near Chicago yesterday, just hours ahead of her show at the United Center for her Diamonds World Tour.  And even though she was there to congratulate the students on winning her DIMAONDS video contest, chick showed up over four hours late to the party....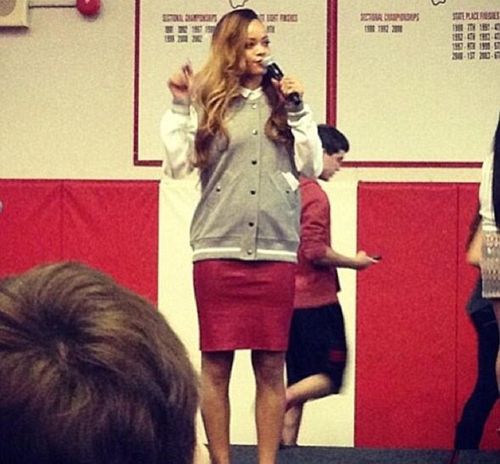 To be fair, anyone who's been to Chi-Town knows Chicago traffic is an absolute beast.  Rihanna learned this the hard way yesterday as she showed up to the winners of her Diamonds video contest, Barrington High School, four and a half hours late.
Rih Rih said she was determined to make it there to congratulate the kids on producing the best fan video using charitable acts as their theme.  And she even Instagrammed a pic of the horrible traffic.
But after she arrived well after 5p (the event was scheduled for 1p), the kids who didn't already give up hope and leave were treated to 12 minutes of Rih's presence.  And they went nuts when she arrived.
Great cause though still.  Check out a cute video below of Rih greeting all the kids...and chasing one little boy for a kiss:
P.S.  Rih's opener A$AP Rocky must have caught her flu bug, because dude cancelled his performances both last night in Chicago and also previously in Detroit.
Photos: Twitter