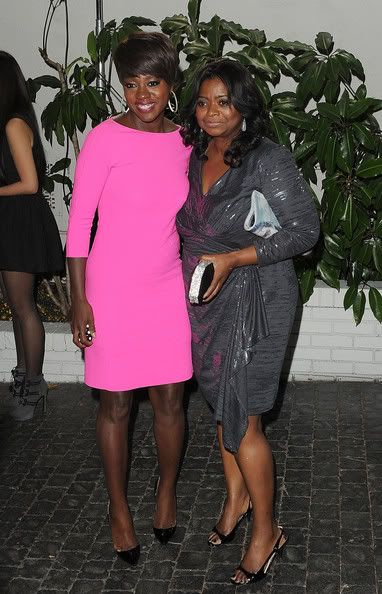 Congrats are in order for YBF chicks Viola Davis & Octavia Spencer!  The fab actresses each landed a nomination for the 2012 Academy Awards.
Deets inside...
It's official.  Viola Davis has been nominated for Best Actress for her riveting role in The Help.  She's up against friend Meryl Streep for The Iron Lady, Rooney Mara for Girl With The Dragon Tattoo, Michelle Williams for A Week With Marilyn, and Glenn Close.
And the other star of The Help, Octavia Spencer, nabbed the Best Supporting Actress nomination.  Her good friend, the hilarious Bridesmaids star Melissa McCarthy, was also nominated in the category.
Funny actress Octavia called in to "GMA" right after the announcement just minutes ago and said, "I am so over the moon, once we're done with all of this I'm going to do a drive by...[rest is inaudible]."
The Help also grabbed the coveted Best Picture nomination, along with the following 9 films: War Horse, The Artist, Money Ball, The Descendants, The Tree of Life, Midnight In Paris, The Help, Hugo, and Extremely Loud & Incredibly Close.
The 84th Annual Academy Awards air live on ABC, Sunday, February 26th at 7p ET.
Congrats to the nominees!