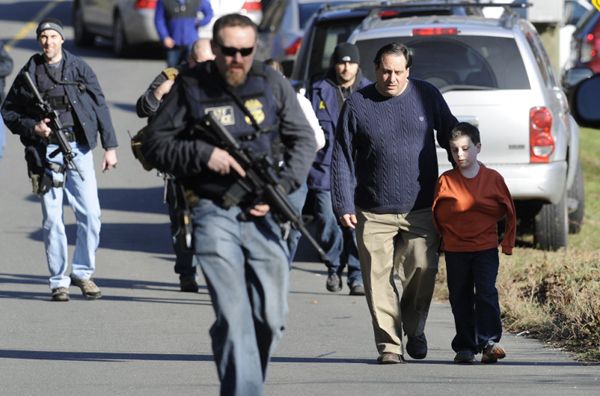 In a horrific scene playing out all morning, at least 26 people were killed today after a gunman (who has now been identified) opened fire at an elementary school in Newtown, Connecticut. More information inside....
According to CBS News and the Associated Press,  a gunman opened fire at Sandy Hook Elementary school in Newtown, Connecticut this morning, killing at least 26 people.  Eighteen of them were children.  Early reports say the mass shooting happened around 9:41AM this morning, and the dead gunman was armed with two semi-automatic weapons (one of them being a 223-caliber rifle) and has ties to the elementary school and New Jersey.   Police have entered a New Jersey residence believing to be tied to the shooter who supposedly drove to CT at some point.
During a press conference held moments ago, Connecticut State Police Lt. Paul Vance said all local police and on and off-duty troopers were called to respond to the scene.
CBS 2 News in New York is also reporting that one person was escorted out of the woods surrounding the school and is currently being held by police as a suspect in the mass shooting. One witness said the man looked into the eyes of parents and said, "I didn't do it" as he was taken to a police car.  
Some reports are saying the incident began with an altercation in the principal's office, with the principal being the first person shot.  One of the school children interviewed on local newscasts said his life was saved as he was in the hallway, headed to the principal's office, when he was pulled into a classroom by a teacher who saw bullets flying.
It's also being reported that President Obama has spoken to Connecticut Governor Dan Malloy and has pledged federal support.
So far we know...
26 fatalities on the scene
18 of the victims are children, 
The school's principal was shot and killed
2 people injured
1 gunman killed (approx. 24 years old) on the scene
1 person in custody
Whether more than one gunman was involved is still yet to be seen
UPDATES (According to ABC News & CBS News telecasts)
2:29p EST
The identity and name of the shooter is known, but news outlets have decided to hold on to the information for now.  The gunman is Adam Lanza and he reportedly grew up in Newtown, CT. His mother still lives there. His family is currently cooperating with cops.
The gunman's mother was a teacher at the school AND found among the dead inside the school.  Many of the children killed were her students.
3:00p EST
On his Facebook page, Ryan said he lives in Hoboken, NJ and is from Newtown, CT.  A family member of Adam's was arrested at his Hoboken apartment following the shooting. 
3:29p EST
CNN reports the principal and school guidance counselor have been found dead.
President Obama just delivered an extremely emotional and tearful press conference in regards to today's shooting.
A brother of the shooter has been found dead in the shooter's Hoboken home, according to ABC News telecast. (early reports)
 3:51 EST
27 persons are dead (20 children, 6 adults, 1 shooter)
At least one body was found at a secondary location, the home of Adam Lanza's mother Nancy in Newtown, CT (some reports suggest there were 2 bodies found, 1 a female on the second floor of the home)
Police are saying the girlfriend of Ryan Lanza (Adam's brother) and another friend are missing in New Jersey.
Ryan Lanza is being questioned by police.
CONFLICTING REPORTS - The Associated Press is still identifying Ryan Lanza as the shooter, ABC News reports that younger brother Adam Lanza was the shooter
All flags have been ordered to half-staff to honor the victims (below, flags pictured today around the Washington Monumet in D.C.)
5:25 EST
Ryan told authorities that his younger brother is autistic, or has Asperger syndrome and a "personality disorder." And neighbors described Adam as "odd" and displaying characteristics associated with obsessive-compulsive disorder.
7:27 EST
The mother of the shooter, Nancy Lanza, was found dead at her home in Newton, CT, not at the school as earlier reported.
7:29 EST
The shooter has OFFICIALLY been determined to be 20-year-old Adam Lanza (he was carrying the ID of his brother Ryan). Ryan, age 24, lives in Hoboken, NJ and was being questioned at a Jersey police station. The Lanza's father lives in Stamford, CT and has been divorced from Nancy for several years.
 
Our prayers are with the families of the Connecticut school as this unimaginably sad event has occurred. We will keep you updated as more news breaks...