Actor and photographer Lance Gross covers the latest issue of ROLLING OUT magazine where he dishes about the attention he gets from female fans...and if fatherhood is in the future. See the highlights inside and find out Tamar Braxton's album release date....
In the latest issue of ROLLING OUT, actor Lance Gross, who's also making moves behind the camera lens as a photographer, opened up about his female fans, being a role model and revealed that he wants kids.    Here are the highlights:

Why is being a role model to children so important to you?

I grew up in Oakland, [Calif.], and I just remember how it was growing up there. I had my father, and he was an amazing man and an amazing role model, so I always wanted to mirror that … So when I got into this business, I told myself that I wanted to be somebody that little kids aspired to be like … I just think it's real important — especially for young black males — because I look at the guidance that my father gave me. I had friends who didn't have that growing up, and I see how they turned out compared to how I turned out, and it's a big difference. So I think that I owe that to my father, because he played his part, he did what he was supposed to do, and he set a great example … I just want to keep continuing to set the example that my father set for me.

Do you ever think about becoming a father so you can pass down all of the things that your father taught you?

Oh yeah, of course! … I definitely want children. That's important to me, so I just want to make sure that I'm completely prepared for it when that day comes.

Have you grown accustomed to the amount of attention that you get from women?

No, it's still a trip to me. It always feels new, and I can never get used to that. I mean, I'm humble … to me, I'm just a regular cat from Oakland, California. The attention is nice, though, and I really appreciate it. I appreciate every compliment, and never let any of it go to my head.
Lance is currently starring in the movie The Last Fall, which he also produced.
In music news....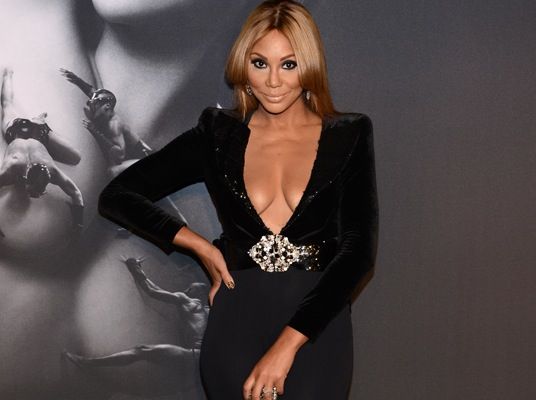 As her "Love and War" single (which we LOVE) climbs the charts, fans are naturally curious about Tamar Braxton's album release date.  And now we have an answer. The still-untitled project will hit the stores on February 12, 2013 via Universal Music Group / Streamline Records / Interscope Records.  Glad Vince finally let this girl LIVE.  Just jokes...
And in addition to her "Tamer & Vince" co-star LaShawn Daniels (who helmed the lead single), other album contributors include The Underdogs, Ester Dean, Stargate, and Rodney "Darkchild" Jerkins.