Photogs ran into Blac Chyna one day after she lost her $140 million defamation lawsuit against the Kardashian-Jenners and sis was all smiles, seemingly unbothered. Meanwhile, Chyna's mother, Tokyo Toni, has launched a GoFundMe to help Chy pay for an appeal. Lordt. Get it all inside…
As celebs were climbing red stairs into theMet Gala, it was announced the verdict in the Blac Chyna vs. Kardashian-Jenners trial had came in.
Just before the Kardashians made their way down the red carpet, a jury reached a verdict in Chyna's $140 million defamation case against the famous family — and they won. Kris Jenner spoke on the decision during a red carpet interview.
Kris Jenner talks emerging victorious from Blac Chyna's $100 million defamation case against the Kardashians: "I'm glad it's over. And I'm glad it's over for the girls." https://t.co/c6aUpEHzrkpic.twitter.com/MNYZSKaD4e

— Variety (@Variety) May 3, 2022
Unfortunately for Chyna, she will not get a dime as the Kardashian Klan came out victorious with no damages awarded to the Lashed Boutique owner.
On Tuesday, photogs ran into Chyna - Rob Kardashian's ex-fiancé and the mother to his 5-year-old daughter, Dream - while she was pumping gas following the verdict.
Interestingly, losing a huge case such as the one she just went through, knowing legal fees are going to be high as the heavens, Chyna didn't seem worried or upset about what transpired. Dressed in colorful leggings and a white skull hat after a workout, she smiled at the camera and told the videographers that she's totally focused on herself right now, building her brand, working on new music and being a good mother to her children, Dream and King Cairo, whom she shares with rapper Tyga.
You can watch the video here. 
In a new IG post, Chyna reminded her fans to tune in to a new show she's starring in.
Chyna is gearing up to star in BET's adaptation of "The Black Hamptons," the book from The New York Times best-selling author Carl Weber.
"From luxury communities to historic beachfront enclaves, this epic story will follow the brewing feud between the 'Brittons' and the 'Johnsons,' where the difference between old and new money is very apparent," the official description reads.
"The Black Hamptons" cast includes Lamman Rucker, Vanessa Bell Calloway, Elise Neal, Brian White, Karon Riley, Mike Merrill, Aaron Spears, Daya Vaidya, Cameo Sherrell, Franklin Ojeda Smith, Jordan Smith, Jennifer Freeman and David Andrews.
While Chyna is focusing on herself, her mother, Tokyo Toni, is focused on helping her daughter continue to fight against the Kardashian-Jenners. Supposedly.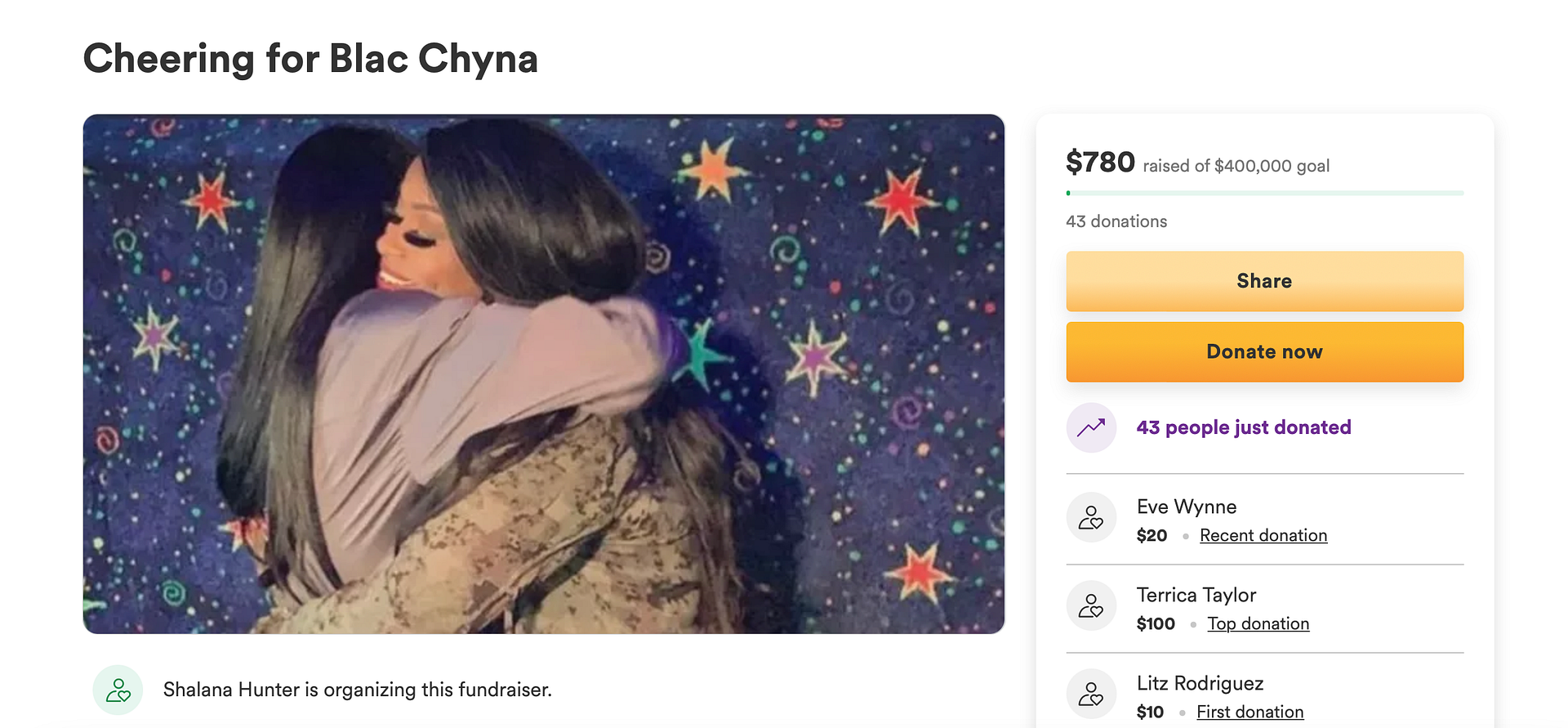 Tokyo Toni created a GoFundMe to raise $400,000, which we assume is for her daughter so she can appeal the judge's decision that ruled in favor of the Kardashian Klan in Chyna's lawsuit. She titled it "Cheering for Chyna" and explained, well, nothing. The description says:
Hey It's Tokyo Toni

Family and friends 

Sincerely,

Momma Tokyo
That's it chile...
Chyna also shared the link on her IG Stories: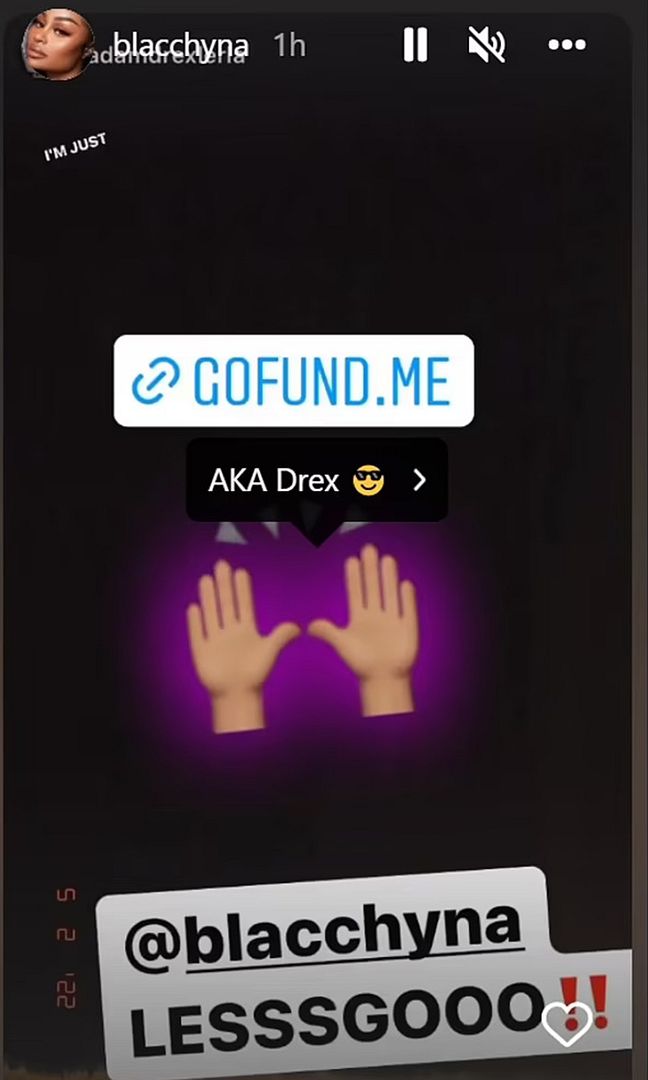 As of the time of this post, 43 people have made donations, totaling $780 raised out of the $400,000 goal.
During the trial, Tokyo Toni was banned from the courtroom by the judge after she popped off about the trial on IG Live.
Blac Chyna (real name Angela Renee White) sued Kardashian-Jenners for more than $140 million with claims that they shut down the second season of her reality show, "Rob & Chyna," and ruined her reality TV career. In the lawsuit (that was filed in 2017) against Kim Kardashian, Kylie Jenner, Khloe Kardashian and their mother, KrisJenner, Chyna alleged they each had a hand in getting "Rob & Chyna" off the air after one season. Chyna also alleged Rob was physically and verbally abusive towards her.
For their defense, the Kardashians testified the show ended because Chyna & Rob's relationship ended. A fight that broke out in December 2016 was highlighted in the testimonies of the Kardashians. Rob and his family accused Chyna of beating Rob with a metal rod, choking him with an iPhone cord, and putting an unloaded gun to his head during an explosive argument. He accused Chyna of being strung out on drugs and alcohol. He also said he never had "real love" for her despite proposing to her and getting her pregnant.
Chyna was seeking $109,635,021 in economic damages, plus an additional $36 million in general damages for emotional distress. She sued the family with accusations of defamation, assault, battery, domestic violence and interference with prospective economic relations. 
Chyna's attorney, Lynne Ciani,told reporters they plan to appeal the judge's decision.
"Two things. Number one, the jury found that Chyna had not physically abused Rob Kardashian. Number two, the jury found that all four defendants intentionally interfered with [Chyna's] contracts with the E! Network. We will appeal the remainder of the verdict."
A separate trial is reportedly set to begin in about a week to address allegations in the lawsuit against Rob Kardashian. He's the only defendant in that case.
Also…
Blac Chyna announced she signed up Celebrity Boxing Match set to go down June 11th in Miami. Former "Love & Hip Hop" star/singer Jhonni Blaze threw her name in the mix. Chyna's expected to announce her opponent via press conference May 14th.
Who you got - IF Jhonni is chosen as her opponent?
EXTRAS:
1.  Barack & Michelle Obama are ending their relationship with Spotify. STORY
Photo: Featureflash Photo Agency/Shutterstock