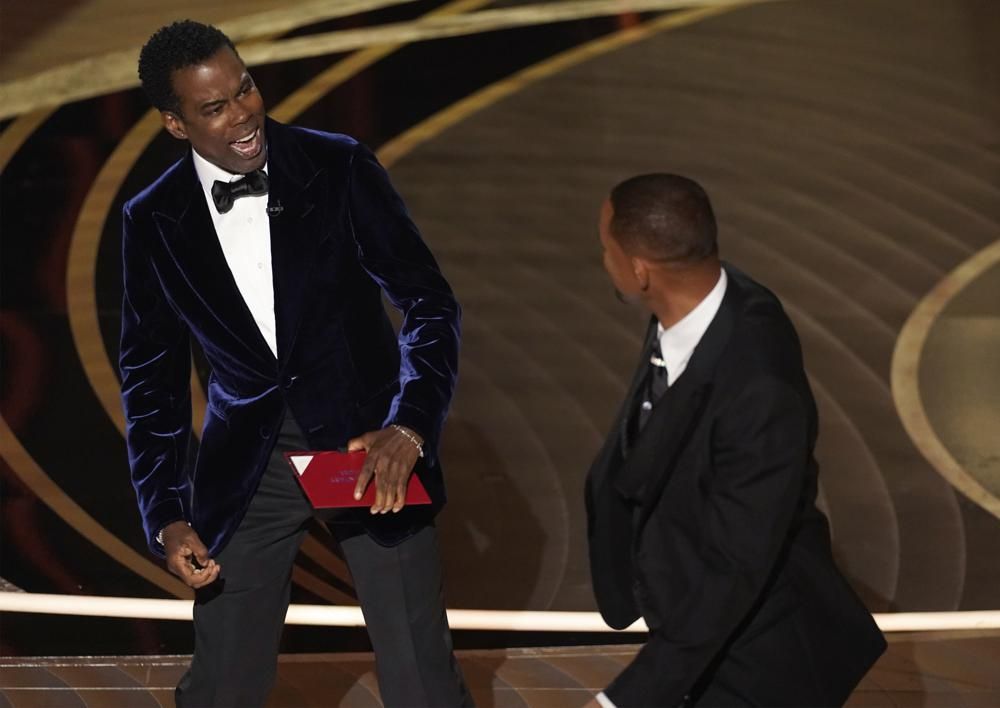 A lot has happened following "The Slap" at the Oscars: WillSmith just apologized to ChrisRock for slapping him onstage during the Academy Awards ceremony. Jada Pinkett-Smith breaks her silence with a message of "healing." Reports also now suggest the "G.I. Jane" joke Chris said was NOT vetted before the show and he may be in trouble with The Academy.
Everything inside…
Will Smith made his first public and formal apology to Chris Rock after Sunday's SLAP heard across the world. After initially defending his actions during his Best Actor acceptance speech, the first-time Oscar winner backtracked to condemn his own actions, saying violence is and poison. Previously, he apologized to everyone else, except Chris.
Now, he has apologized to Chris, as well as the Academy, producers, attendees and everyone watching.
"Violence in all of its forms is poisonous and destructive. My behavior at last night's Academy Awards was unacceptable and inexcusable," the King Richard star wrote in an Instagram post.
The 2022 Oscars took an unexpected turn when Will Smith open-hand slapped Chris Rock in the face after the comedian made a joke about Will's wife, Jada Pinkett-Smith before presenting the award for Best Documentary. He suggested Jada should star in "G.I. Jane 2," which was a dig at her bald head. Over the last few years, the "Red Table Talk" host has been open about her battle with alopecia and having to shave her head.
"Jokes at my expense are a part of the job, but a joke about Jada's medical condition was too much for me to bear and I reacted emotionally," Will wrote in an Instagram post last night. "I would like to publicly apologize to you, Chris. I was out of line and I was wrong. I am embarrassed and my actions were not indicative of the man I want to be. There is no place for violence in a world of love and kindness."
The veteran actor went on to apologize to the Academy again, everyone involved and watching the show, as well as his King Richard family.
"I deeply regret that my behavior has stained what has been an otherwise gorgeous journey for all of us," he wrote. "I am a work in progress."
Check it: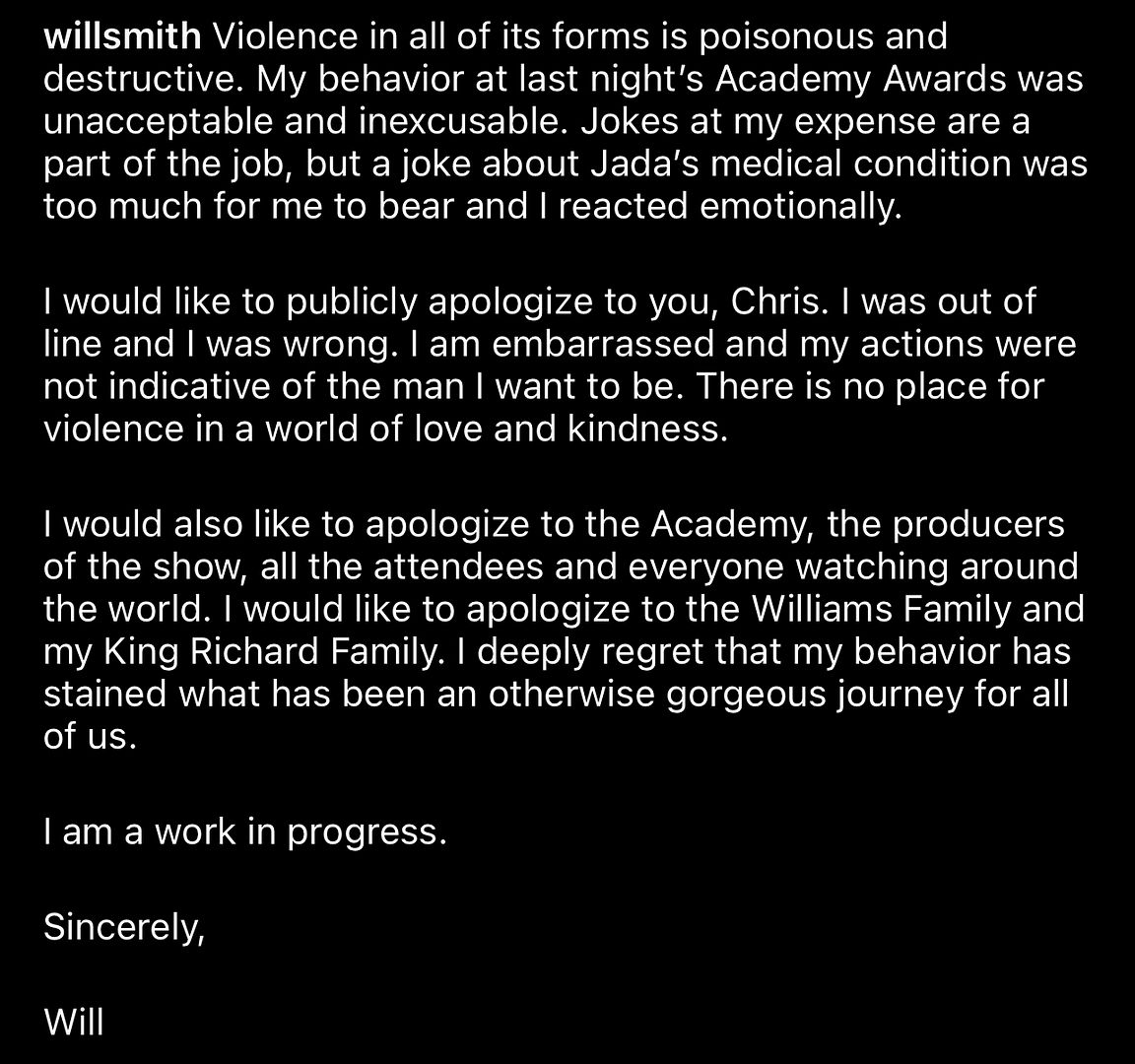 It's been reported Chris Rock will NOT press charges and decided not to file a police report. Power 105's "The Breakfast Club" co-host Charlamagne tha God said he spoke with Chris Rock after the Oscars and he told him that he wasn't aware of Jada's condition: 
Following Will's apology, his wife, Jada Pinkett-Smith broke her silence with a message of "healing" just an hour ago.
"This is a season for healing and I'm for it," Jada shared on her IG this morning, two days after "the slap." While she didn't specifically point out what she's referring to, it's safe to believe it's at least in part about the Oscars fiasco.
The Academy Awards condemned Will's actions and said they would be launching a full investigation. In a second statement, the Academy said: "The Academy condemns the actions of Mr. Smith at last night's show. We have officially started a formal review around the incident and will explore further action and consequences in accordance with our Bylaws, Standards of Conduct and California law."
The Academy's standards of conduct state that the organization can take disciplinary actions including revoking awards. The View co-host Whoopi Goldberg, who's also an Oscar winner and former host, voiced her own thoughts on the fate of Smith's Oscar.
Whoopi Goldberg said today that she accepts Will Smith's apology for slapping Chris Rock at the #Oscars Sunday, but that "There are consequences. There are big consequences because nobody is OK with what happened. Nobody, nobody, nobody."https://t.co/cmpaJ20fYP

— Deadline Hollywood (@DEADLINE) March 29, 2022
"We're not going to take that Oscar from him," she said during a "Hot Topics" segment about the Academy Awards."There will be consequences, I'm sure, but I don't think that's what they'll do — particularly because Chris said, 'Listen, I'm not pressing any charges.'"
Chris Rock may find himself in additional drama as show producers were reportedly not aware he was going to tell that joke. According to production sources, Chris did NOT tell that joke during rehearsals and they claim the joke was unvetted before the live show, according to US Weekly. 
BONUS:
Ha!  It was all good just a couple decades ago....
Photo: AP Photo/Chris Pizzello