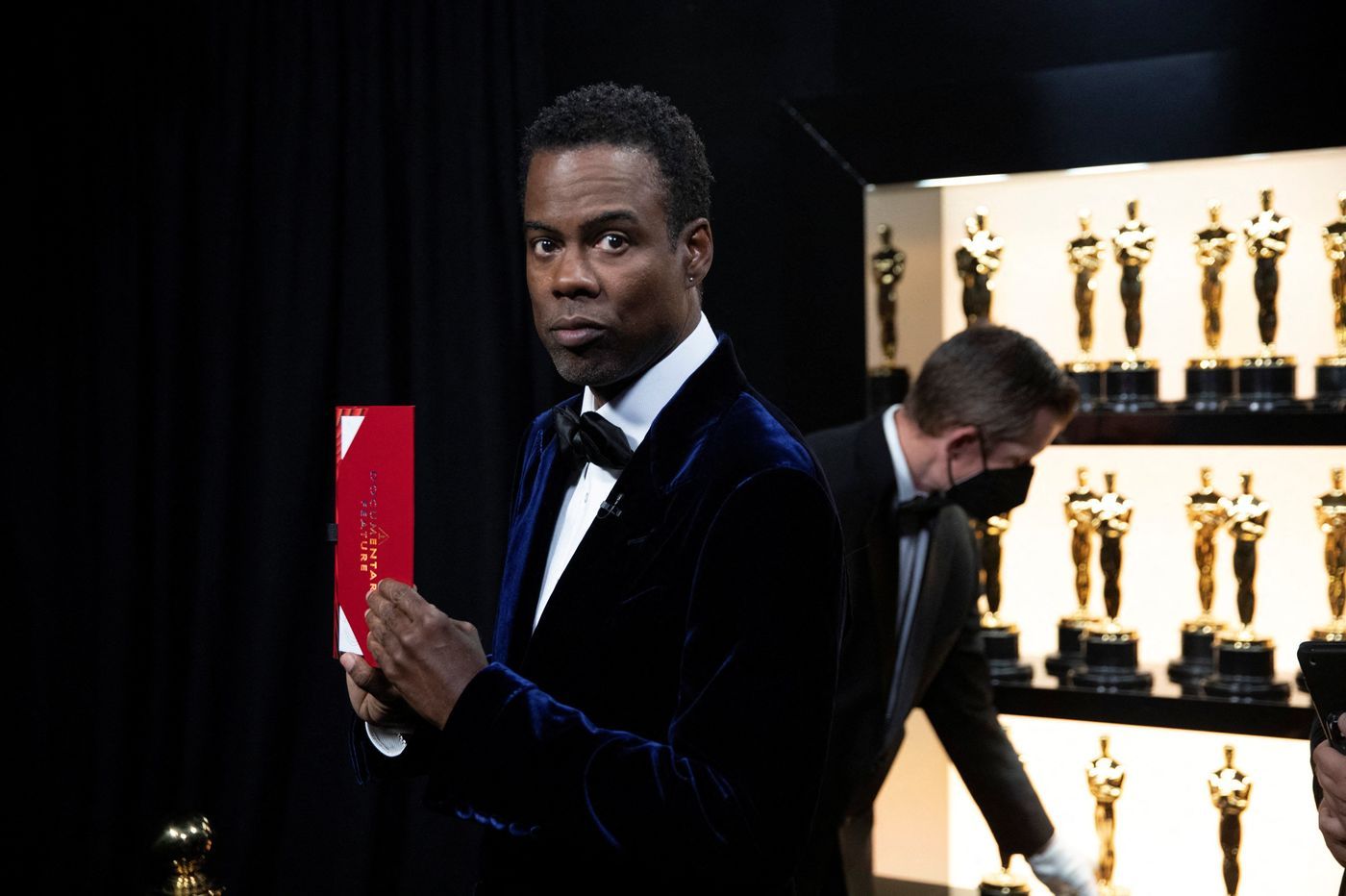 "The Oscars Slap" just earned Chris Rock a bigger bag as he's set to embark on his "Ego Death World Tour." Ticket sales have skyrocketed since Will Smith slapped the comedian in the face live during the Oscars ceremony. Deets on the booming ticket sales and more inside…
The world seems torn on who was right and who was wrong after Will Smith got up out his seat and slapped presenter Chris Rock at the 2022 Oscars in defense of his wife, Jada Pinkett-Smith.
Some people feel like the edgy comedian got exactly what he deserved for improvising the joke since it hadn't been vetted before the show. #TeamWillSmith feels the comedian should have known better:
This is why people aren't mad that Chris Rock got slapped and don't gaf about all the comedians crying about how violence over a joke is unacceptable. Y'all hide behind comedy to be disgusting and degrading towards people. https://t.co/5UGPlwIZQy

— Ed (@edmermaiden) March 29, 2022
If Chris Rock is gonna do one thing it's make fun of Black women for white dudes' approval. It's his calling card. pic.twitter.com/em1q6zBTLj

— David Dennis Jr. (@DavidDTSS) March 29, 2022
Chris Rock owes Jada Pinkett Smith and Black Women an apology. #TheViewpic.twitter.com/jNhC3kPEhi

— The Chanteezy For Real (@iamchanteezy) March 29, 2022
wild how will smith isn't allowed to be outraged and defend his wife without white people trying to cancel him and saying they're "uncomfortable" but they were fine with all the accused sexual predators in the industry

— diana (@caffekook) March 28, 2022
Chris Rock got what he deserved Black women will not be the butt of a joke to make a room filled with white people laugh. Will Smith should have given him both hands

— Tri da Villain (@THEEEhottie) March 28, 2022
Meanwhile, others felt Will Smith was out of pocket, calling Chris the victim who was just doing his job:
#CHRISROCK IS A GOOD GUY HE WAS ONLY DOING HIS JOB AND #WILLSMITH WAS WRONG AND WILL SMITH KNOWS HOW THE STAND UP COMEDY GAME IS PLAYED BECAUSE WILL SMITH IS ALSO A COMEDIAN WHO HAS DONE SKITS ITS NOT PERSONAL ITS A COMEDIAN DOING HIS JOB
ITS NEVER PERSONAL EVERYBODY KNOWS THAT. pic.twitter.com/pkQemjhiNv

— Chase1253 (@Roadmaster1253) March 29, 2022
Chris Rock did nothing wrong. He's the hero sef… such a class act.

Took an L on behalf of the Smiths.

— Alhamdu Yaro (@abbati) March 28, 2022
The iconic Laugh Factory has changed its marquee in support of Chris Rock in the wake of the Oscars debacle in which the comedian was slapped by Will Smith. https://t.co/gHbVSrAYCvpic.twitter.com/tIMZB7UShv

— CBS Los Angeles (@CBSLA) March 29, 2022
Whoopi is right that Chris Rock was the adult in this situation and I felt like people are victim shaming Chris instead of giving him his praise for staying calm during the ordeal. #TheView

— Ashley (@Ashcatcam) March 29, 2022
Will Smith isn't tough. Chris Rock is tough. He gets sucker slapped by a brooding egoist and then never even TOUCHES his face. Doesn't leave, doesn't lose it, doesn't hold a presser, simply carries on flawlessly, for the sake of the next winner. Amazing. pic.twitter.com/8CtZbHbdcZ

— Rick Reilly (@ReillyRick) March 29, 2022
Chris Rock is a professional. On top of not being talented enough he showed me why I can't host the Oscars. I would've walked Will's azz all over that stage. Don't care how mad you are over a joke. You ain't slapping me. Wish somebody that sang "Summer time" would slapped me!

— Ryan Clark (@Realrclark25) March 28, 2022
The Academy condemned Will's action and has launched an investigation. The "Good Hair" host may find himself in additional drama as show producers were reportedly not aware he was going to tell the "G.I. Jane" joke. According to production sources, Chris did NOT tell that joke during rehearsals and they claim the joke was unvetted before the live show, according to US Weekly. 
It's been reported Chris will NOT press charges and decided not to file a police report. Power 105's "The Breakfast Club" co-host Charlamagne tha God said he spoke with Chris after the Oscars and he told him that he wasn't aware of Jada's condition.
As the saying goes, any publicity is good publicity because ticket sales for Chris Rock's upcoming comedy tour, "Ego Death World Tour" are BOOMING following "the slap."
We sold more tickets to see Chris Rock overnight than we did in the past month combined.

— TickPick (@TickPick) March 28, 2022
Ticketing site TickPick tweeted they sold more tickets to Chris' "Ego Death World Tour" comedy show overnight (following the Oscars) than it sold over the past month combined. TickPick revealed the price for the tickets on the secondary market jumped over 200%, from $46 per ticket on March 18th to a minimum of $341 now.
Chris Rock performs at Wilbur Theatre on Wednesday...

$46: Cheapest ticket sold on March 18th

$411: Cheapest ticket currently available

(Data via @TickPick)

— Kyle Zorn (@Kyle_Zorn) March 28, 2022
Cray.
It's Chris Rock's first comedy tour in five years, which he promised "all-new material" and an "introspective" program that would be "very personal and very funny." The famed comedian is set to perform at Boston's Wilbur Theatre from March 30th - April 1st.
Do you think he'll address "The Oscars Slap?!"
He's also going on a mini comedy tour with Kevin Hart this summer:
By the way, the Oscars altercation is seemingly benefitting Chris Rock, however, it didn't help ratings. According to Deadline, the Oscars raked in 16.6 million viewers, which is the second lowest ratings for the show...ever. Bloop!
Photo: A.M.P.A.S./VIA REUTERS