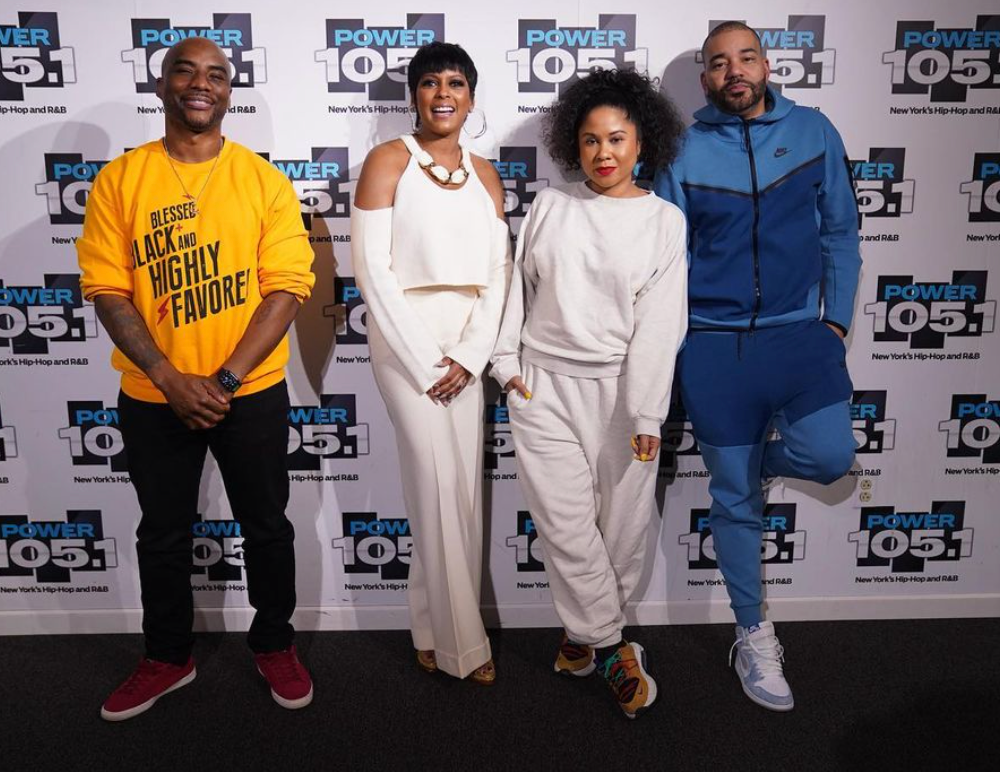 Tamron Hallshowed Wendy Williamssome love on her daytime talk show, praising the veteran talk show host's groundbreaking career. In a new interview with "The Breakfast Club," she explained why she did it and talked about black women being the standard of daytime television inside….
Whether you love or hate WendyWilliams, you have to give credit where its due!
With all of the money drama, divorce issues, health speculations and show cancellation, Wendy Williams has been going through it! Last week, the 57-year-old talk show host spoke out about her going health issues, money drama with Wells Fargo and her show during an interview on "Good Morning America."
After hearing Wendy speak out, daytime talk show host Tamron Hall decided to take a moment during one of her shows to give the veteran TV host her flowers for opening doors in media/entertainment for black women. Tamron saluted Wendy's groundbreaking career where she held down her self-titled daytime talk show for the last 13 years, which is a MAJOR feat for daytime.
"For me Wendy is another mom. Another woman who created, executive produced and hosted her show," Tamron said. "Wendy and I are currently the only two Black women who created, executive produced, and solo host daytime shows on right now."
Peep the clip below:
Tamron Hall appeared on Power 105's "The Breakfast Club" to explain why she publicly gave Wendy her flowers.
"It's not the show I would have done. I'm going to be very honest," Tamron told the radio hosts. "But she did it so brilliantly and did it for over a decade."
The former "TODAY" show co-host then went on to talk about how there is a double standard between men hosts and women hosts in daytime television. As we know, Wendy is the queen of cutthroat opinions and asking the shocking questions we all want to know. Well, Howard Stern built his career the same way, yet A-list celebrities would go on his show to do interviews, but refused to go on Wendy's show.
"And I would hear people say, 'Well I don't want to go on Wendy,' but they would go on his [Howard's] show. And I thought this is a double standard," Tamron explained. "[Wendy] is doing this shocking style of performance, which is exactly what he did. But she was somehow penalized in the eyes of some people. But she stayed on for 13 years. She survived."
While the 51-year-old host doesn't always agree with Wendy's style of how she delivered celebrity news, Tamron said it seems Wendy was alway unfairly dragged.
"Listen, there were a lot of things that I did not agree with. The Whitney Houston thing still bugs me till this day. And there are a lot of other things. With that said, I felt there was a level of unfairness directed at her style when a comparable peer who did a similar show was still seen as A-list."
And we'd have to agree.
You can check out Tamron's full interview below where she talks about black women being the standard of daytime TV, how former daytime talk show host Nick Cannon's personal life overshadowed his talent, the late icon Prince, her new book and more:
We love Tamron!
Photo: Breakfast Club's IG/Shutterstock