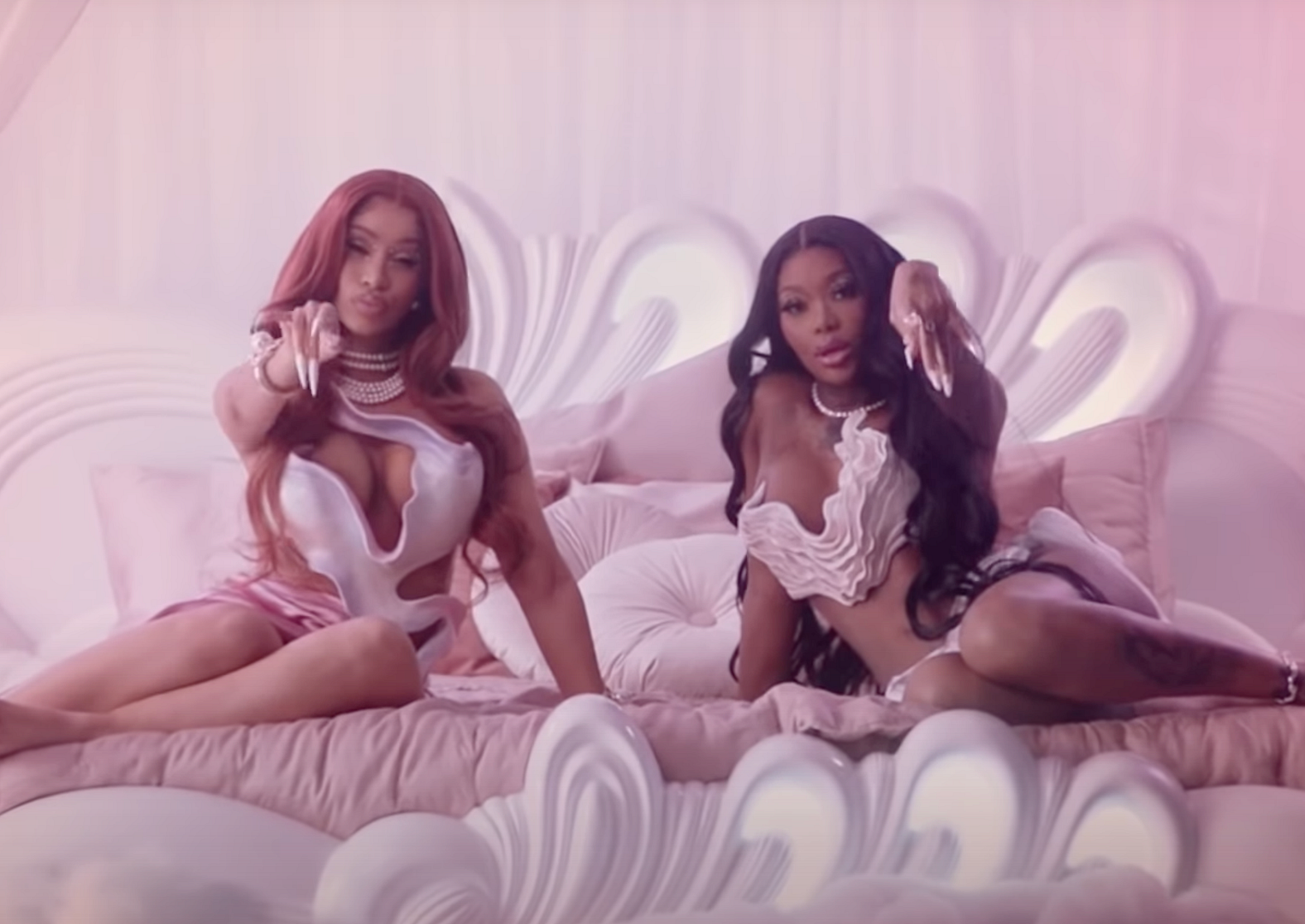 The video for Summer Walker's "No Love" remix ft. Cardi B and SZA is here where all three ladies step outside of the box flexing their vocals, zodiac-inspired visuals and choreography. Get into their sizzling new clip, plus go inside the birthday bashes for Summer & London On Da Track's daughter's first birthday inside…
As we swoop into Aries season, Summer Walker - who is an Aries - just released the music video to the extended version of her song, "No Love." The original single, which also features SZA, appears on Summer's new album Still Over It, which was released in November.
For the extended version, Cardi B joins the ladies on the sultry R&B track, softly sing-rapping new bars in the opening verse. Not only that, the South Bronx babe stepped outside of the box to flex her vocals. Yes, Cardi is singing on the track and she sounds good! She went back and forth between rapping and singing about how to make things work with her man.
SZA kept it seductive with her stripper moves on a pole while Summer did something she doesn't often do: choreography! Oh yes, the gworls showed out for the new music video.
We also noticed how each setting behind each artist coordinated with their zodiac signs. Summer is an Aries, which is a fire sign, so her backdrop included fire. Cardi is a Libra, which is an air sign, so she was placed in the clouds. Meanwhile, SZA is a Scorpio, which is a water sign, so she's placed in a world made out of water and ice.
"Now Love" was released in November, climbing to the No. 13 spot on Billboard Hot 100.
Get into the sultry visuals below:
You feelin' it?
In other news…
Following the online drama that popped off late last year, Summer Walker and her ex/producer London On Da Track hosted separate birthday parties to celebrate their daughter Bubbles' first birthday.
The Still Over It singer hosted a Cocomelon-themed birthday bash with her boyfriend LVRD Pharaoh where the kiddies enjoyed a huge ball pit and an inflatable bounce castle. Bubbles' sibling, Cairo (and his mother Dayybella) were also in the mix for the birthday festivities.
Swipe through the flicks above.
London On Da Track hosted his own separate birthday party for Bubbles where her siblings London Jr. and Cairo were in attendance. The producer has four children total. Mothers Dayybella and Erica Racine came out to celebrate Bubbles' 1st birthday at London's party for his daughter. Swipe through the flicks and videos above.
Speaking of kiddies...
A family affair!
Cardi B,Offset and their daughter Kulture get animated for Nickelodeon's hit preschool series, "Baby Shark's Big Show." The Grammy winning rapper lends her voice for animated character Sharki B in "The SeaweedSway" episode, set to premiere Friday, April 15, at 12pm EST/PST on Nickelodeon.
Offset will play "Offshark" and Kulture will lend her voice for character "KultureShark." In the episode, Baby Shark and William meet Sharki B and try to learn the dance craze she created.
In the special episode, Baby Shark and William meet the ferociously fun rap icon Sharki B, who is swimming into Carnivore Cove to perform her splash hit dance craze, The Seaweed Sway. Sharki asks Baby Shark and William to show her around town before her big concert and perform The Seaweed Sway with her on stage that night. As hard as William tries, he keeps messing up the final move of the dance. Luckily, thanks to the help of his friends and his musical icon Sharki, William learns that the true secret to great dancingis doing it his own unique way.
The song, "The Seaweed Sway" will be featured on Nick Jr.'s compilation album, Sing, Dance & Sway the Nick Jr. Way, available on all digital streaming platforms, including iTunes, Apple Music, Spotify, Amazon Music, Tidal, Pandora and more, on April 8th.
Peep the trailer below:
Fun times. The whole family gets a bag.
Photo: YouTube Screenshot