"Joseline's Cabaret" might get shut down after a brawl broke out during the taping of the reunion show. A cast member - Amber Ali - claims both Joseline Hernandez and her fiancé Ballistic physically attacked her during the taping and she says she's pressing charges!
Find out what Zeus Network is doing about it and more when you go inside…
We would say we are surprised, but nothing surprises us when it comes to Joseline Hernandez.
Whether it's a persona she likes to tap into or it's how she really is in real-life, the troubled reality star is more times than not serving up bad energy. However, fans seem to still love her because she's still on television cutting up.
After quitting "Love & Hip Hop: Atlanta" in 2017, the Puerto Rican princess nabbed her own reality show on the Zeus network titled, "Joseline Cabaret," which chronicles the everyday life of Joseline as she struggles to launch a cabaret show in different cities. 
For Season 3, Joseline jetted to Las Vegas and while her reality show is always turned up with drama, things allegedly went too far during the reunion taping this week.
Here's a short clip of Joseline's disgusting behavior on the show:
Amber rly got all that mouth & wanna fight everybody else but Joseline str8 btch'd her LMAOOO pic.twitter.com/O9GCwI2y5y

— Domooo (@idimeology_) March 14, 2022
On Wednesday (March 16th), "Joseline Cabaret" star AmberAli took to social media to reveal she was physically ATTACKED by Joseline and her fiancé, Ballistic (who is an executive producer of the show).
Streaming on IG Live from a hospital bed, Amber made claims that Joseline kicked her so hard that her ribs are bruised and that Ballistic pulled out some of her real hair during the brawl. She said she was good and plans to take all of the drama to court.
"Yes I'm in the hospital because Joseline kicked me and Ballistic attacked me, but I only came to the hospital because my ribs are very bruised because Joseline had some big a** boots on and she kicked me. My ribs look like this…," she said before showing off her injuries.
Check it:
Joseline and ballistic goin to jail why they jump the girl amber from joseline cabaret on the reunion 3 videos ( in comments ) pic.twitter.com/d5ywhqAGSO

— jerseynews_keith (@JerseynewsK) March 16, 2022
Detailing what happened, Amber said Ballistic "rushed her" and "cut up" her toes during the fight:
— jerseynews_keith (@JerseynewsK) March 16, 2022
"Yes, this was all at the reunion and it was all shut down. There is no more reunion and after this, there's going to be no more Joseline's Cabaret. I promise you. Mark my words," Amber said.
While sharing everything that happened, Amber got emotional while talking about how another woman, named ReRe, was also attacked unprovoked.
— jerseynews_keith (@JerseynewsK) March 16, 2022
Later in the live, Amber added fellow cast member Kay Kapri and they discussed what went down. Amber confirmed she's pressing charges against Balistic and that she will be taking legal action against him. Peep the clip below:
Amber & Kay Kapri telling what happened at the reunion. Ballistic and Joseline attacked amber at the reunion they might not put this episode out cuz this itsss teaaa . Joseline was high off coke & everything Omg #JoselineCabaretlasvegas#JoselineCabaretVegas#JoselineCabaretpic.twitter.com/W7yEAlhHf5

— (@NeiceyMonet) March 16, 2022
Joseline caught wind of Amber's IG Live and decided to respond sublimnally on Twitter, writing, "Keep crying from your hospital bed with your broken ribs one kik (sp) you flew into next day. Rotten mouth a** h*e."
In some deleted Twitter posts, Joesline wrote, "The same way I made y'all The same way ima break y'all Nobody owns me, though."
In another deleted tweeted, she said, "I'll be at u to our door Every 15 24 29 On sight On God."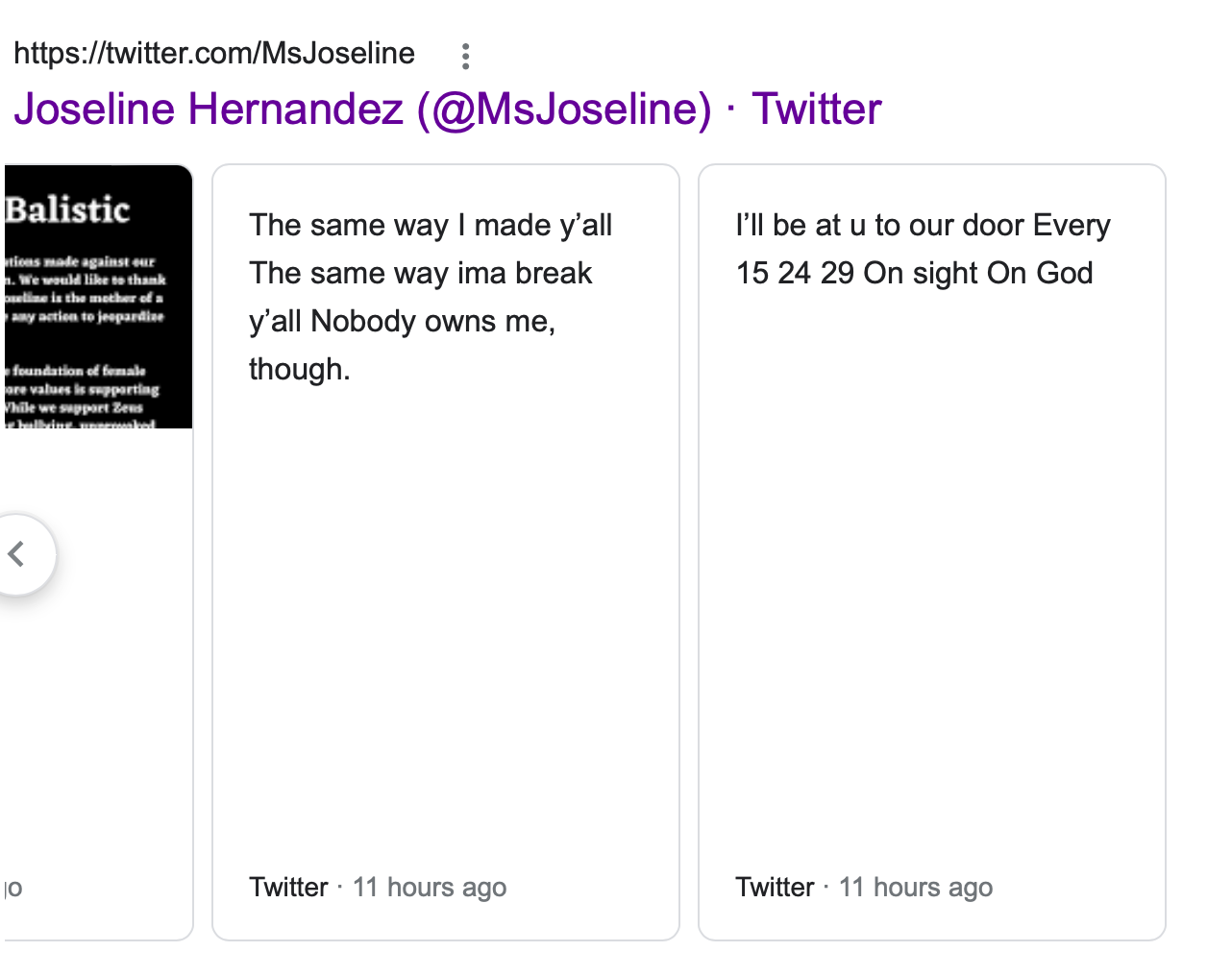 We're not entirely sure what she's saying hear, but it sounds like a threat.
Not only that, Joseline is seemingly taunting Amber while simultaneously admitting she kicked her. Joseline shared a gif of the "Mortal Combat" fighting game where one character is kicking the other. In the caption she wrote, "Your guts went to your a** after that."
Your guts went to your ass after that pic.twitter.com/55fPCAtPwo

— Joseline Hernandez (@MsJoseline) March 16, 2022
Y'all hoes stay out my dick n go get you some money
Mind you all you hoes forever my hoes. you work for me until uou die #JoselineCabaretlasvegas

— Joseline Hernandez (@MsJoseline) March 16, 2022
ReRe - the cast mate Amber mentioned in her videos - also took to social media to share she was attacked by Joseline and others. Fighting back tears, Amber said she's in so much pain after the reunion taping.
"I didn't do nothing to nobody," she said while sobbing.
Peep the clip:
Joseline's makeup artist seems to back up what Amber said about the brawl:
As the drama continued to trend on social media, Zeus Network ended up releasing a statement, saying they are investigating what happened and that they do not condone bullying, unprovoked violence and men attacking women.  That's interesting since clips from this show and upcoming shows feature PLENTY of fights and bullying.
Check it: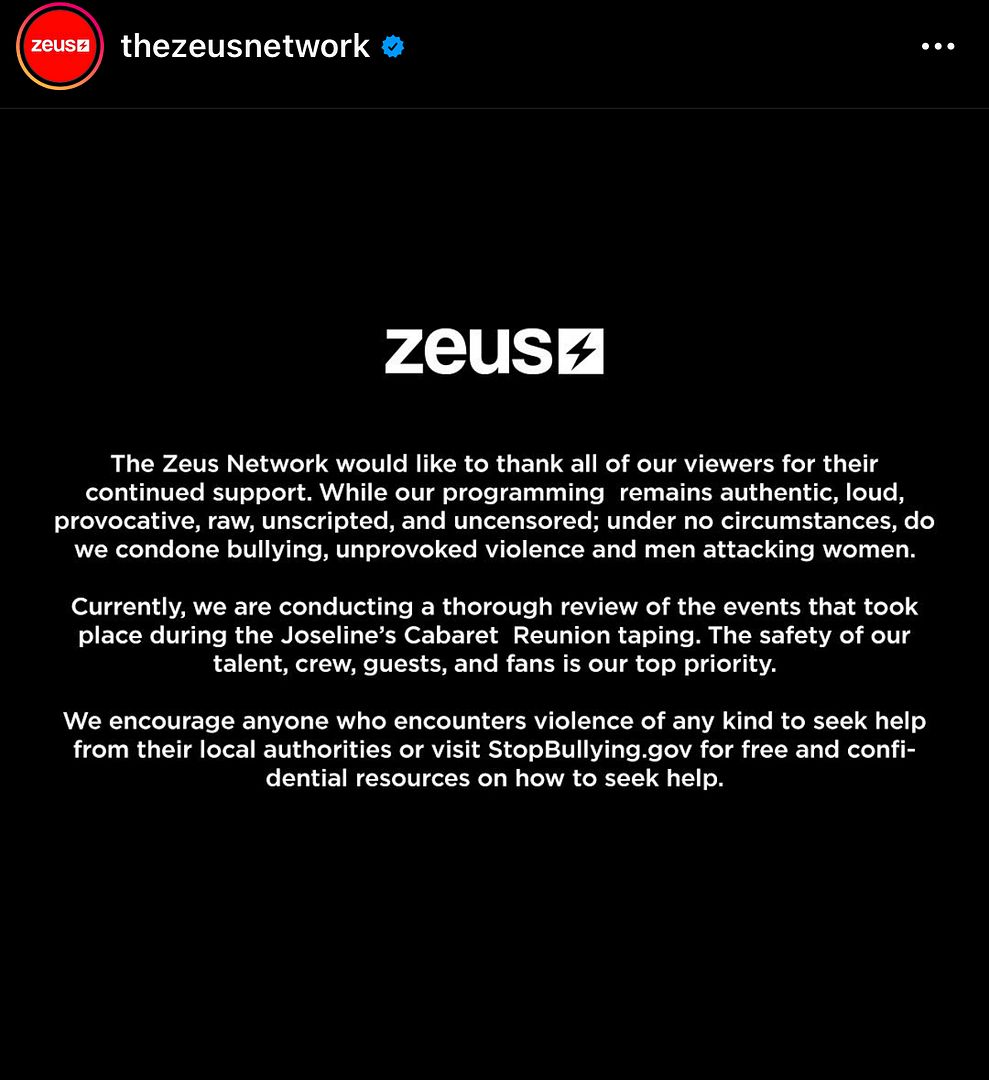 It appears Joseline's IG was either hacked or taken down…
New ig

Joselineslife

Go follow

— Joseline Hernandez (@MsJoseline) March 16, 2022
Balistic shared a joint statement from them both addressing the brawl, saying they are deeply saddened by the accusations made against them.
"Joseline is the mother of a five-year-old girl and would never take any action to jeopardize her family," the statement read before sharing how the show was created"on the foundation of female empowerment."
It's clear their definition of female empowerment is different than....everyone else's.
"While we support Zeus Network in its message in condemning bullying, unprovoked violence, and men attacking women, we strongly disagree with a correlation between these themes and the events that took place last night. There is footage of the events and we are confident that our position is made obvious."
"In a time when social media narratives easily get misconstrued, we believe our family's response is being silenced by the facilitated deletion of both Joseline's Instagram and Facebook accounts," the statement concluded.
Amber Ali released a statement from her attorneys, who plan to fight it out in court for their client:
"I am so embarrassed, mortified, and depressed. I can't stop replaying the events in my head over and over. Ballistic should be arrested! He and Joseline attacked me in front of cameras, crew, production and guests! This is wrong. I want justice. Please reach out to my attorneys with any questions," Amber wrote.
This is exactly how "Bad Girls Club" was canceled, so don't be surprised if this show never airs again. It's likely for the best.
Photo: Getty