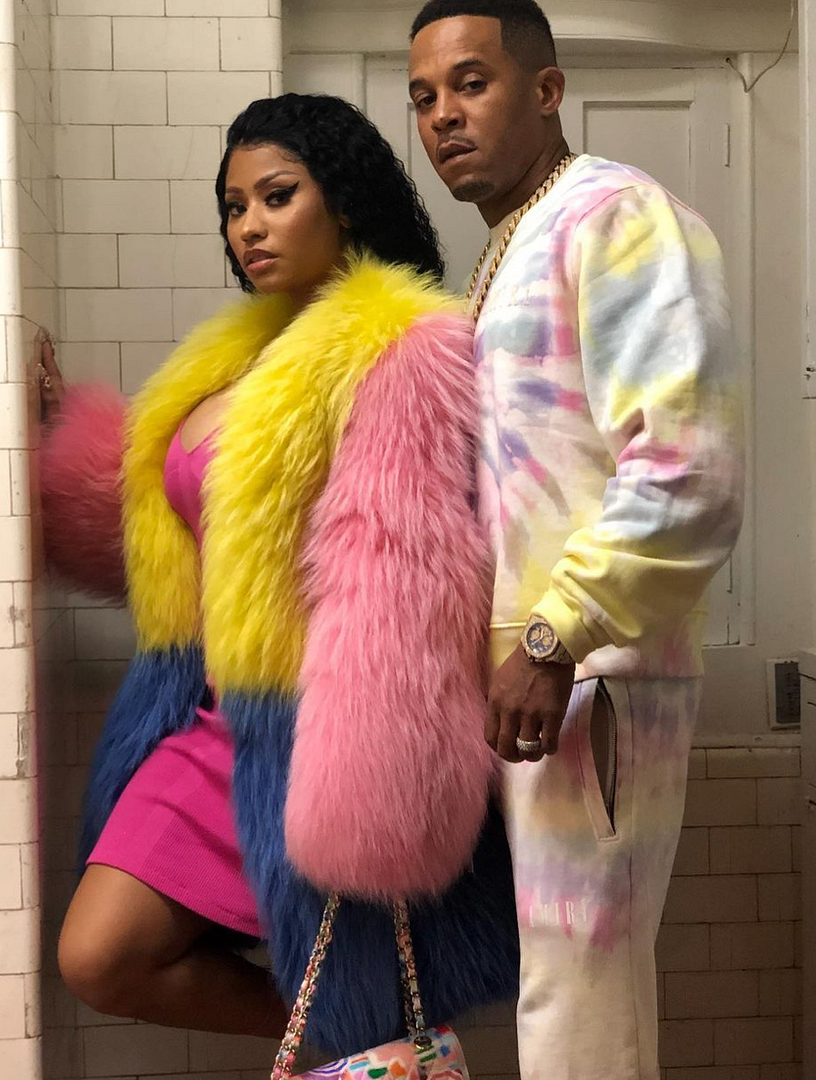 Nicki Minaj and her husband Kenneth Petty will be heading back to court after they were hit with another lawsuit. This time, the rapper's former head of security is suing her and her husband over an altercation that turned physical, resulting in the security guard having to undergo 8 jaw surgeries
Details inside…
Two weeks ago, Nicki Minaj was dropped from a lawsuit alleging she harassed and intimidated her husband's sexual assault victim. Now, she has been hit with with another lawsuit.
One of the QUEEN raptress' former security guards has pulled the trigger on a lawsuit against his former boss and her husband because he claims he was ambushed and PUNCHED backstage.
According to TMZ, Thomas Weidenmuller worked as head of security during one of Nicki's concerts in Germany back in March 2019. Apparently, a fan was able to make his way on stage and that really pissed Nicki off. So much so, she allegedly cursed a female security guard out, calling her a "f***** b****" and it was allegedly caught on video.
After seeing the female security guard brought to tears, Thomas approached Nicki about what happened. In the lawsuit, he alleged Nicki then started popping off on him, asking him "Who do you think you are?!" Before allegedly throwing a shoe in his direction. Yikes. Luckily, the shoe didn't hit him.
However, things went from bad to worse.
The security guard claims he was summoned back in Nicki's room backstage and that's when her husband, Kenneth Petty, "came out of nowhere and punched" him in the face, breaking his jaw! He said Nicki provoked him to attack him.
According to Thomas, he had to undergo a total 8 surgeries to fix his jaw. What's worse is that he now has 5 plates in his face and he STILL allegedly needs an additional 6 operations to fully heal.
Now, he wants The Petty to pay up. He's suing for damages, which includes his hospital bills. If he really has have all of these surgeries and need more, that bill will be insane.
No word from The Pettys…yet.
Just a few weeks ago, Nicki was let off the hook of a $20 million lawsuit filed by her husband's rape accuser, Jennifer Hough. She sued Nicki and Kenneth (who is still named in the civil lawsuit) for harassment and intimidation. Jennifer made claims that The Pettys harassed her in an effort to get her to recant her story that Kenneth raped her.
Nicki's husband accepted a plea deal and was convicted of first degree attempted rape in 1994. He served four years in state prison.
Speaking of court, Kenneth was reportedly set for a sentencing hearing this week (Jan. 24th) after he pleaded guilty a charge of failing to register as a sex offender in California in September. You'll recall, the 43-year-old, struck a plea deal with the feds last month. However, he could still end up behind bars.
Mr. Petty agreed to plead guilty to one count of failing to register as a sex offender in California. In return, the feds will reportedly seek a sentence towards the low end of the guidelines. The maximum sentence allowed for the crime is 10 years in prison and a lifetime of supervised release.
No word on if the hearing happened or not.
On the music front…
The rap mom has a new track titled "Do We Have A Problem" with Lil Baby set to drop next week (2/24/2022).
Photo: Nicki's IG