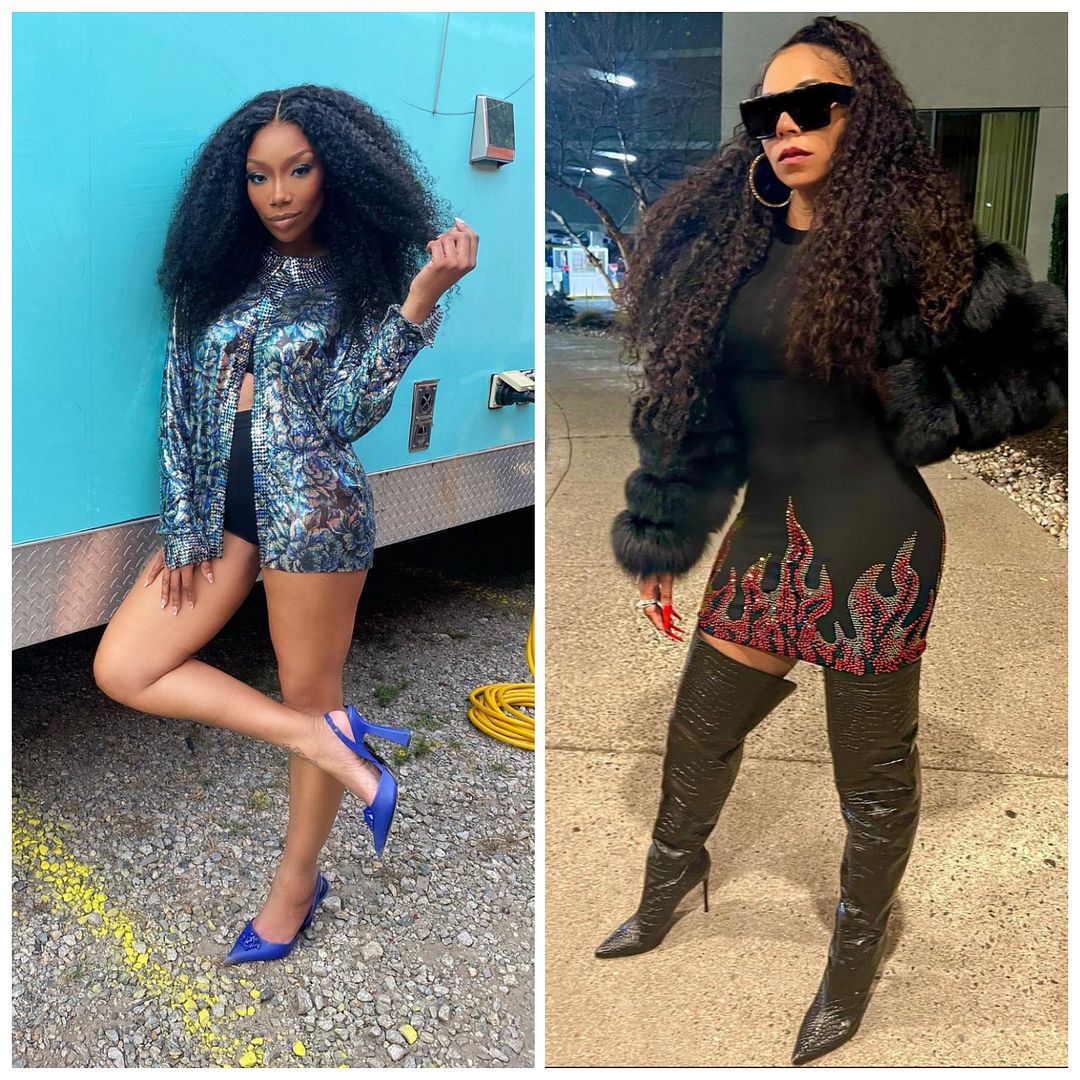 Brandy and Ashanti were tapped to perform the National Anthem during the NFC and AFC Championship games over the weekend. While Ashanti had technical difficulties, Brandy paid homage to Whitney Houston's iconic Super Bowl performance.
Deets inside…
The NFC and AFC Championship games went down yesterday as teams fought for a slot to play in this year's Super Bowl in Los Angeles next week.
The Los Angeles Rams capitalized on the San Francisco 49ers' mistakes, resulting in the Rams defeating the 49ers 20-17 to clinch the NFC Championship. Meanwhile, the Cincinnati Bengals made one hell of a comeback and defeated the Kansas City Chiefs, 27-24, in overtime to win the AFC Championship.
Brandy was tapped to flex her vocals for a rendition of "The Star-Spangled Banned" before the NFC Championship game at SoFi Stadium in Inglewood, California. And she made sure to pay tribute to her her idol, the late Whitney Houston.
The 42-year-old Grammy winner wowed the audience when she belted out a flawless version of the National Anthem. Destiny's Child singer Kelly Rowland took to Twitter to applaud Brandy for slaying the song:
AMEN BRANDY!!! pic.twitter.com/TbiMi6fCUl

— KELENDRIA ROWLAND (@KELLYROWLAND) January 30, 2022
Not only that, the "Queens" actress' 'fit brought feelings of nostalgia. Brandy wore a white, red and black Prada tracksuit, which resembled Whitney Houston's outfit from her iconic 1991 Super Bowl performances. Fans were quick to point out the resemblance between the outfits.
One thing about Brandy, she's gonna always find a way to pay homage to her idol. Whitney Houston. pic.twitter.com/gw7RxOGHvn

— (@writtenbytruth) January 30, 2022
Brandy and her ode to Whitney Houston with this jumpsuit is literally giving me the chills

— Christina Watkins (@CWatkinsWDSU) January 30, 2022
Y'all peep how Brandy paying homage to THE WHITNEY HOUSTON!!! #SFvsLARpic.twitter.com/qKa9xjKnTw

— Openly Black Naker (@misshuntley_) January 30, 2022
One thing about Brandy she gonna honor her Nippy pic.twitter.com/xBAPtMCwlG

— . (@IamKickz) January 31, 2022
We want BRANDY to sing the National Anthem at the #SuperBowl! pic.twitter.com/rYYL70suDj

— Brandy Charts (@BrandyCharts) January 31, 2022
One thing about Ray J…he NEVER misses Brandy's big moments. https://t.co/WNGHXbB37x

— you reading me, sis? (@TheGreatIsNate) January 31, 2022
Singers Monica and Jhene Aiko were also in the mix:
BRANDY AND MONICA OMG pic.twitter.com/uLnid23QFg

— (@brandyrayana_) January 31, 2022
Brandy with Monica and Jhene Aiko via IG pic.twitter.com/kLcN6z8b67

— BRANDY LEGION (@Brandy_Legion) January 31, 2022
You can watch and listen to Brandy SLAY her performance below:
Sheesh!
At the AFC Championship game…
Before the Chiefs and the Bengals hit the field at Arrowhead Stadium in Kansas City, singer-songwriter Ashanti was tapped to the singer the National Anthem. However, her performance didn't happen without some technical difficulties.
At the very beginning of her performance, there were audio issues with her microphone and her voice was going in and out. She kept it professional and continued singing. The Chiefs fans understood the assignment and started to sing the anthem along with with her almost drowning her out completely since the microphone wasn't working. Watch her performance above and peep some reactions below:
Don't think I've ever heard a stadium crowd sing a long to the national anthem this loudly before pic.twitter.com/42SNXVPp9N

— gifdsports (@gifdsports) January 30, 2022
Before the game started today, Ashanti's mic stopped working so the entire crowd sang the national anthem together. It was absolutely incredible. Rest the day sucked. pic.twitter.com/TVygQ8GzS3

— Eli Higgins (@EliTheTVGuy) January 31, 2022
Oh they screwed Ashanti with the audio pic.twitter.com/zmHKgG32EF

— Teyonah Parris Lust Account (@GAPhilterfish) January 30, 2022
They got Ashanti singing on a faulty church microphone.

— Charles J. Moore (@charles270) January 30, 2022
The mic Ashanti used during the national anthem #AFCChampionship#BengalsvsChiefspic.twitter.com/mzwpcpLhhM

— Colin Vedros (@_vedros) January 30, 2022
Twitter plays all day.
Peep her sound check below:
Ashanti sound check for the National Anthem. pic.twitter.com/guwi9exsFZ

— Joe Danneman (@FOX19Joe) January 30, 2022
Both ladies did an amazing job. Last year, Jazmine Sullivan and Eric Church performed the National Anthem during the Super Bowl. It has not yet been announced who is singing the Super Bowl National Anthem this year.
For the Pepsi Halftime Show, Mary J. Blige, Dr. Dre, Snoop Dogg, and Eminem will headline as the Cincinnati Bengals will face the LA Rams in this year's Big Game set to go down Sunday, February 13th at SoFi Stadium.
Photos: Instagram