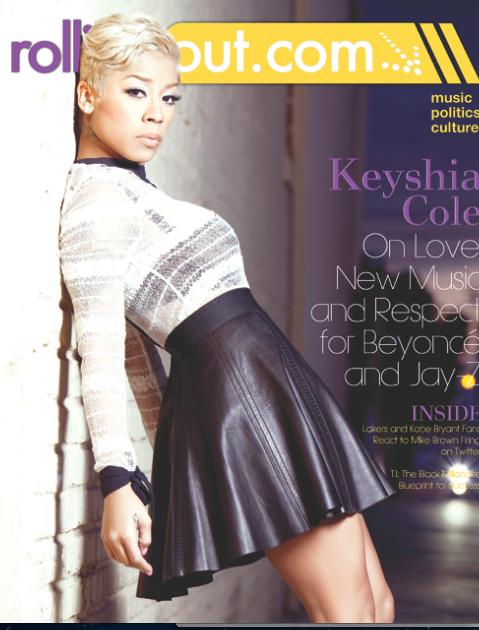 Singer Keyshia Cole covers the latest issue of ROLLING OUT where she reveals how she knew her hubby Daniel Gibson was "the one," and what famous couples she looks up to.  See the highlights inside....
As she promotes her Woman to Woman disc, pretty gal Keyshia Cole covers the latest issue of ROLLING OUT in a leather skirt and studded Louboutin pumps where she talks about balancing her successful career and raising a family.  She also reveals the message she hopes her music leaves behind for her fans and when she knew Daniel Gibson was the right man for her.   Here are the highlights:
Are there any couples in entertainment you admire for being examples of a strong family?

I respect Beyoncé and Jay-Z, because I know how hard it can be to stay in love in this business. In the beginning, it appeared as if Jay-Z knew Beyoncé had work to do. I respect that. You can't go into a relationship trying to change someone. You have to grow with that person and go through everything with them. That's one thing that I noticed and I respect about them. Of course, I'm not with them every day, but that's what I see from the outside looking in.

How do you balance family life with a hectic road schedule?

I can't do it alone. It takes a village to raise a child. I have family who help me when I need it. My son's grandparents have also been very helpful. [His grandfather] recently spent two weeks with us, and for him to see his papa was wonderful.

What do you want your overall message to be for those who relate to your songs?

I didn't have great examples while coming up in Oakland. I was able to look to examples in the industry such as Brandy. She was able to do a lot at an early age. In Mary J. Blige I saw strength. She never gave up. That's what I want to leave behind. I want young women to know that where they start doesn't have to be where they finish. You have to take it a day at a time. You go through things, you learn and you keep fighting.

Do you remember the day you realized Daniel was the one?

I thought he was beautiful the first time we met. We had been talking for months before we physically met each other. We had ups and downs in our relationship, and we grew from it. When you make a commitment to marriage, you have to be serious about it. You can love the person you are with, but you have to be sure that you're ready to make that commitment. This is not only for when times are good — marriage is for the remainder of our lives. [It's for] building a life and making the best life for your children.

 
BONUS:
On the title track to her "Woman to Woman" disc, Keyshia teams with R&B songstress Ashanti where the two battle it out for the love of the same man.  
Keyshia spoke about what Ashanti's vocals brought to the sog to ThisIs50 saying,
"It's her point of view against my point of view in a hypothetical scenario. I appreciate her realness and the gutterness that she brings to the table," she said of her collaborator. "I know she gets really glammed up, but she's still gutter. Her songwriting skills are off the chain, so I definitely wanted to incorporate that from a different woman's point of view."
Listen to the track above.
Photog: DeWayne Rogers for Steed Media