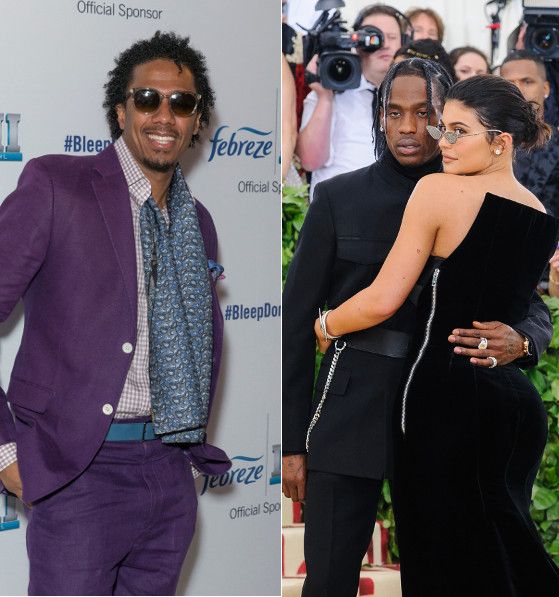 Travis Scott doesn't care what y'all are talking about. He's going to get these Super Bowl coins. Deets on his headlining pre-show, plus what Nick Cannon said about the ASTROWORLD rapper inside...
Everyone had an opinion when it was announcedTravis Scott would be hitting the stage during this year's Super Bowl halftime performance with Maroon 5 and Big Boi. But, the ASTROWORLD rapper could care less.
The 26-year-old rapper is after that bag and will get it by an means necessary. Even if it means pissing off folks who have been protesting the league alongside former 49ers QB quarterback, Colin Kaepernick.
It has been announced that the ASTROWORLD rapper, who's up for three Grammys this year, will also headline Pepsi's Super Bowl weekend party at Planet Pepsi in Atlanta on February 1st.
Billboard reports:
Scott, who will headline the event and will be joined by yet-announced special guests, recently announced a second leg of his popular Astroworld Tour. He'll already be in Atlanta that weekend, since he's joining Maroon 5 for their Super Bowl halftime show the following Sunday, along with Atlanta native Big Boi. Scott only signed on to the halftime show after the NFL agreed to join him in donating to a cause for social justice.

Leading up to the party, Pepsi is partnering with four Atlanta-based artists to create murals inspired by the city's local culture. Starting this week, clues will appear on Pepsi's social media channels to locate the four murals, and fans can potentially win tickets to the party if they share a selfie in front of one of the displays.
After it was announced that Travis was performing at the Super Bowl, it was reported that he "consulted" with Colin Kaepernick before accepting the gig. Folks from Colin's camp spoke out against the reports, revealing he NEVER approved the "Sick World" rapper hitting the stage for the Super Bowl.
Nick Cannon recently sat down with Raquel Harper for an interview on BET's "Raq Rants," where he explained why he has an issue with Travis performing for the Super Bowl, but not Big Boi. He said Travis doesn't have the "cultural equity" to perform at the Super Bowl, unlike Big Boi. He said Big Boi is FOR the culture, and Travis is not.
"I'm team Kaepernick all day," Nick said. "I call it cultural equity. So, we not mad at Big Boi for being on the Super Bowl. He's for the people. But for someone like Travis Scott, he's gotta walk gingerly."
When asked what Travis has to do to prove he's for the people, the "Masked Singer" host said he needs to have integrity. Oh, and having a baby by Kylie Jenner doesn't help either.
"It's more about truly having integrity to who you are in your music and your art form, the people you interact with, the people you choose to procreate with. ... That decision wasn't for the culture, but we not mad at you!" he said.
"I love white women!" he continued. "Let's set the record straight! But that's the thing: It's cultural equity at the end of the day."
Speaking of Kylie....
Following her big sister's blueprint, Kylie posted up an Instagram post, calling her daughter's father her husband, which is seemingly an attempt to bring attention to rumors about them being "married." In the caption, she wrote, "extraño a mi esposo," which means, "I miss my husband."
BONUS:
Folks have been cancelled Travis Scott after comments he made about Mike Brown, the unarmed teeanger gunned down by police in Ferguson, Missouri, in an interview from 2014. He was asked to share his thoughts about the situation, in which he responded, "I'm kind of angry, so many black people are acting like fake activists...I'm not saying he deserved to get killed. But I'm not saying that he didn't deserve to pay for consequences he probably inflicted."
Below are a few tweets addressing his comments:
Y'all know Travis Scott dgaf about black people. We all heard him blame mike brown for his own death so what do y'all expect?

— Killa Cam (@Cameeeyo) January 16, 2019
But, you know, Travis Scott is also the guy who said that Mike Brown "probably deserved to pay for the consequences." So making up a lie that he spoke with Kaepernick about Super Bowl performance is made even more egregious. https://t.co/eKJw8MAdWp

— Andreas Hale (@AndreasHale) January 16, 2019
did anyone realize that travis scott said that he "isn't saying that mike brown didn't deserve to pay for consequences he probably inflicted"???? he's also performing at the super bowl halftime show and said that black people need to stop putting themselves in these "positions"

— heroin lady. (@JROPdead) January 16, 2019
The fact that Travis Scott said that shit about Mike Brown is why can't fw him https://t.co/d3ua0nZqSE

— Tom Cruise (@SouljaRuss) January 22, 2019
Will you be tuning in for the Super Bowl halftime performance? Do you think Big Boi has something up his sleeve?
Photos: Shutterstock.com