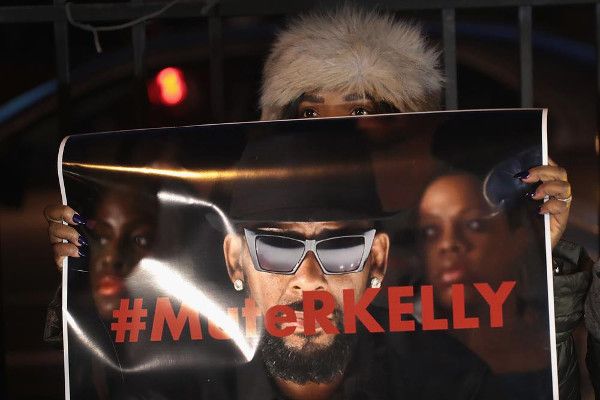 R. Kelly suporters and #MuteRKelly protesters came face-to-face outside of his Chicago studio and a heated discussion erupted. Plus, deets on Azriel Clary's alleged suicide attempt and an upcoming R. Kelly concert getting cancelled inside....
Emotions were at an all time high as R. Kelly supporters and #MuteRKelly protesters came face-to-face outside of the Grammy Award winning singer's studio in Chicago.
#MuteRKelly protesters marched up to Kelly's studio on the West Side in Chicago on Saturday (Jan. 12th) with signs while chanting things like, "Mute R. Kelly!" and "R. Kelly, you're time is up!"
They were met by R. Kelly supporters who were out there to defend him in a counter-protest. At one point, two white cars start playing Kelly's music loudly as the protesters and supporters went AT IT. They yelled back and forth through their megaphones at each other with one side calling for people to pray for Kelly while the other side calling for his arrest.
"He needs forgiveness! God is his judge!," yelled a man dressed in a suit.

"No, he needs accountability!," a #MuteRKelly protestor responded.
Check it below:
A sign with "R. Kelly We U" and a sidewalk full of #MuteRKelly: Protesters, supporters rally outside of R. Kelly's studio on Saturday morning https://t.co/mirLef2OWvpic.twitter.com/xstQZkeitm

— Chicago Tribune (@chicagotribune) January 12, 2019
Days earlier, a group of R. Kelly supporters stood outside of his Chicago studio to "pray" for him:
There were protesters out there on Wednesday (Jan. 9th) as well.
Unless the R. Kelly supporters are also condemning the singer's behavior, then they're harming victims more than helping anything. PERIODT.
The protests and support are a result of the airing of LIFETIME's explosive docu-series, "Surviving R. Kelly." It featured women who claim they were sexually, physically, and mentall abused by Kelly with most of them meeting him as minors.
Since the premiere of the docu-series, the Chicago PD has rolled up on Kelly twice. The first time they were called out to a club where he was celebrating his 52nd birthday early Thursday morning (Jan. 10th). There were tons of folks in the club, singing his music with him while partying the night away. After police showed up and realized there wasn't an active warrant out for his arrest, they left.
Police also pulled up on the "I Believe I Can Fly" singer at his Trump Tower residence on Friday after they received a tip that he was holding two women against their will. It was reported the two women were Joycelyn Savage and Azriel Clary, who were both featured in "Surviving R. Kelly."
Azriel's older sister A'Iceis Clary - who was featured in the docu-series - hopped on Instagram Live yesterday and revealed her sister Azriel, who just turned 21, was already in a bad space before she met R. Kelly.
Check it:
She revealed her sister tried to commit suicide, sharing that her parents found her "floating" in a bathtub after ingesting "some pills." During her chat, she also shared a small clip of video that showed her mother jumping on stage during R. Kelly's show in Tampa back in November 2018 after seeing her daughter on stage. A'lceis revealed her mother and brother were handcuffed and sent to jail that night. The reason? She claims R. Kelly pressed charges against them. The nerve. She also said Kelly stole her mother's phone.
During the live, A'Iceis was going back and forth with a person she believed worked with R. Kelly. The girl in the comments revealed she was a friend of Halle Calhoun (one of R. Kelly's former chicks who you can see HERE and HERE)  
On Friday (Jan. 11th), Azriel's parents, Alice and Angelo Clary, sat down with with community activist Jay Morrison and his wife Ernestine Johnson Morrison to chop it up about the "Surviving R. Kelly" aftermath.
During the interview, Azriel's parents also revealed she attempted suicide following a breakup with her high school boyfriend. Days later, they took her to R. Kelly's concert (per semi-doctor's orders) and that's when she first met him.
PEOPLE breaks down the interview:
Shortly after the breakup, Angelo said he got a call from his son claiming, "I think Azriel trying to do something to herself" inside the house. Angelo then rushed to their Florida home and found Azriel "submerged in the bathroom," he said. "She took pills. A father had to watch his 17-year-old almost take her life."

The parents say they rushed Azriel to the hospital. The day after Azriel's release, Alice had purchased tickets for her husband and her older daughter A'Iceis, who also appeared in the docu-series, to attend a nearby music festival, where Kelly would be performing. Daughter A'Iceis couldn't make it because of work, and Angelo and Alice didn't feel comfortable leaving Azriel home alone one day after she'd gotten back from the hospital.

Angelo claimed Azriel's doctor approved her parents' plans to take her to the concert where she first met Kelly. "We tell the doctor [and] he's saying she needs to be around music," he said.

Alice added that she has "documentation that will verify" the doctor encouraging Azriel, an aspiring musician, to fill her life with her passion amidst her recovery.
You can check out the full interview below:
Amid of the controversy, The Spring Break Jam (which was going to be hosted by Kelly) in Springfield, IL on April 6th had to be cancelled due to safety concerns.
As we told you, R. Kelly is said to be suffering panic attacks. Azriel's sister doesn't believe he's really having panic attacks. She said he probably just wanted the "news [stations] to be at the hospital."
In the Instagram Live, Azriel's sister talked about an IG account that was supposedly spilling "tea" before the LIFETIME docu-series. She said the person behind the account was NOT her sister's friend (as the profile claimed) and that she and her family have a good idea who the person may be - someone who was in Kelly's camp.
We noticed the account posted a picture of Joycelyn Savage's mother, Jonjelyn Savage,  snapping a picture in front of R. Kelly's Atlanta home in 2017 before the police did a wellness check:
Interesting...
Photo: Getty