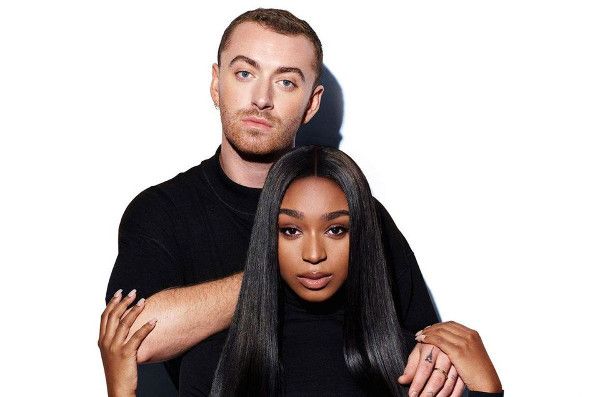 Normani and Sam Smith join forces on a sultry new track. The Weeknd also has a new erotic bop. Take a listen to their new music, plus watch Future chat about wanting more kids while on the promo trail for his new album inside...
Calling all R&B lovers!
Normani and Sam Smith team up on "Dancing With A Stranger," a sultry duet that you'll want to add to your playlist that set the vibe.
On the track, the songbirds croon about coping with loneliness and working to get over a lost love. Ugh. That's always the worst and hard AF.
The former Fifth Harmony singer slayed the track with her powerhouse vocals.
"I wasn't even going out tonight/But, boy, I need to get you off of my mind/I know exactly what I have to do/I don't want to be alone tonight, alone tonight, alone tonight," she sang before joining Sam on the chorus.
Take a listen below:
If you're a Spotify subscriber, check out the visuals to the track here.
Normani is currently working hard in the studio on her debut solo album. Also, she's set to join Ariana Grande on the North American leg of The Sweetener World Tour in March.
Speaking of Ariana...
The super fine 22-year-old YBF chick chopped it up with Billboard about the first time she met Ariana Grande and their sleepover, working with superproducer Pharrell Williams, and more.
Peep the clip above.
Future is currently on the promo trail after releasing his new documentary that'll accompany his new album, The WIZRD. The documentary gives fans a behind-the-scenes look at what life was like for the rapper during his 2016 'Purple Reign' Tour, along with performance clips, celebrity interviews, and rare footage of Future enjoying time with family, friends, and his colleagues. It's currently streaming exclusively through Apple Music.
The Atlanta rapper stopped by REAL 92.3's Big Boy's Neighborhood to talk about his new album (that'll drop January 18th), his rise to fame, and he even opens up about his personal life a bit. During the interview, Future reiterated that he had to sacrfice true love for his career. When asked if he thinks he'll ever find true love, he hesitently answered, "one day." He said it's hard for him to fall in love because "everyone has a motive."
"I can pick a regular girl and be like 'I want to be with her.' She already has a motive," he said.
And you don't, sir?
The "Mask Off" rapper claims his feelings get hurt over girls coming after him with pre-existing motives. He said he doesn't want a "high profile" relationship because he "wants something real." Oh.
Not only does he want something real, he also wants more children to add to the six he already has (5 boys, 1 girl).
"I gotta have more kids," he said. "I just want one princess. I don't want no girl. I got one girl. Me and my boys are like best friends."
Let's hope he doesn't make any more children. Check it at the 22-minute mark above.
The WIZRD - Future's 7th studio album - drops January 18th.
As for another new weekend bop...
The Weeknd teamed up with French DJ Gesaffelstein again for another banger.
The duo dropped an erotic single titled, "Lost In The Fire," their third collabo together after "I Was Never There" and "Hurt You" off Weeknd's last album My Dear Melancholy.  Get those headphones ready because he comes out the gate swinging NSFW style.
"I wanna f*ck you slow with the lights on (Lights on, lights on, lights on) / You're the only one I've got my sights on (Sights on, sights on, sights on) / Type of sex you could never put a price on (Price on, price on, price on)," The Weeknd begins singing on the track.
Weeknd said he's done with daytime music, and we see why.  *body rolls uncontrollably*
Then, there's a line on the song that has fans wondering if he was aiming shots at Canadian rapper, Drake.
"And I just want a baby with the right one / 'Cause I could never be the one to hide one," he sings.
Oop. People seem to think The Weeknd is referencing Drake having a secret son. As you know all know, Pusha T was the one who revealed to the world Drizzyfathered a son named Adonis Graham, whom he shares with French porn star Sophie Brussaux.
As for their beef...
You may recall, Drake and The Weeknd's girlfriend Bella Hadid sparked dating rumors (while she was on a break from The Weeknd) when he was spotted partying with her in LA in June 2017 and he even threw her a party for her 21st birthday in October 2017.  The Weeknd and Bella have since gotten back together. (Speaking of Bella, on the track, he references his chick possibly being bisexual and tells her what he's going to do about it.  Clutch ya everything.)
Watch the visuals, listen to the lyrics, and decide for yourself if Weeknd wants smoke.
Photos: Steve Schofield's Twitter