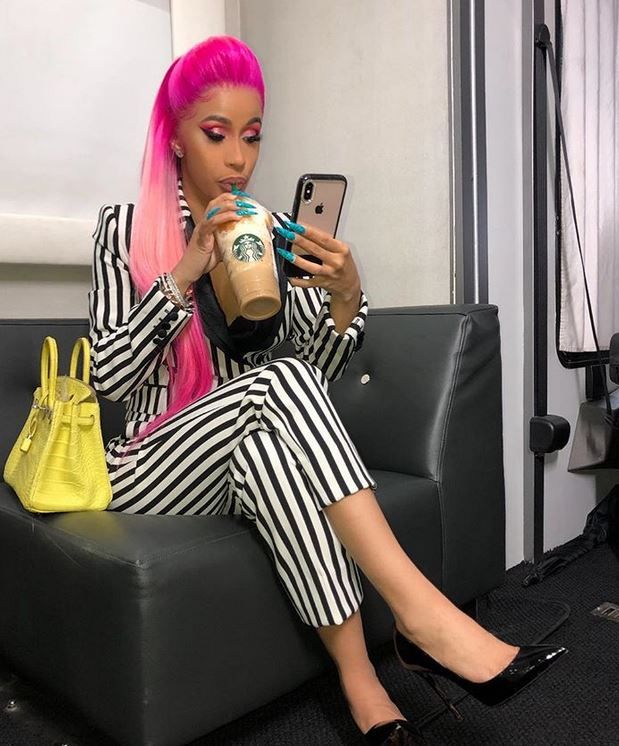 Cardi B is still racking up award nominations after a stellar year. She leads iHeartRadio Music Awards nominations with Drake following behind. Find out what she's nominated for, plus catch up on Frank Ocean's rare GQ interview inside...
Cardi B said there's nothing she likes more in this world than money. But we're sure she's loving all of the recognition she has been receiving in the music world since releasing her debut album, Invasion of Privacy.
The "I Like It" rapper rounded up the most nominations for the 2019 iHeartRadio Music Awards, clocking in 13 nominations for tracks from Invasion of Privacy and several features she hopped on last year.
Kulture's mom is up for Hip Hop Artist of the Year, Female Artist of the Year, Hip Hop Song of the Year ("I Like It"), Best Music Video ("I Like It"), Song of the Year for her feature on Maroon 5's "Girls Like You," and several more nominations for features.
Drake comes in behind Cardi with 8 nominations, including Song of the Year ("God's Plan"), Male Artist of the Year, Hip Hop Song of the Year ("God's Plan"), Hip Hop Artist of the Year and more.
Kendrick Lamar has been nominated for Male Artist of the Year and Hip Hop Artist of the Year. Bruno Mars is up for 4 awards for the "Finesse (Remix)" with Cardi B.
Ty Dolla Sign, Childish Gambino, Travis Scott, XXXTentacion, Lil Baby, Lil Pump, BlackBoy JB, H.E.R., SZA, Ella Mai, Tank, Miguel, Daniel Caesar, Queen Naija, and Post Malone are also up for awards. See the full list here.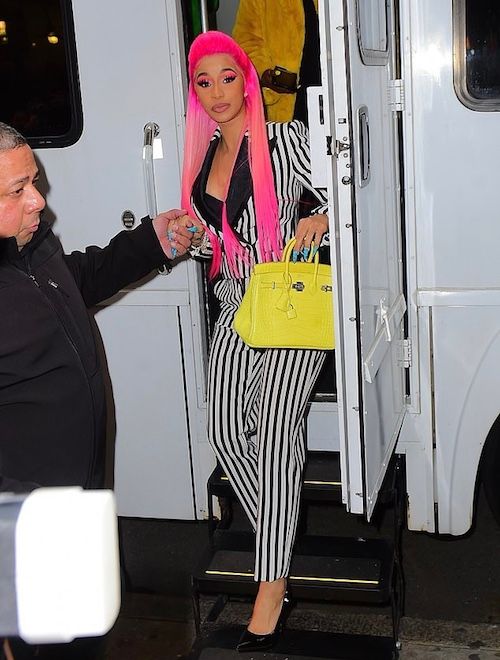 Even though baby Kulture is sick, the five-time Grammy Award nominee is still putting in work.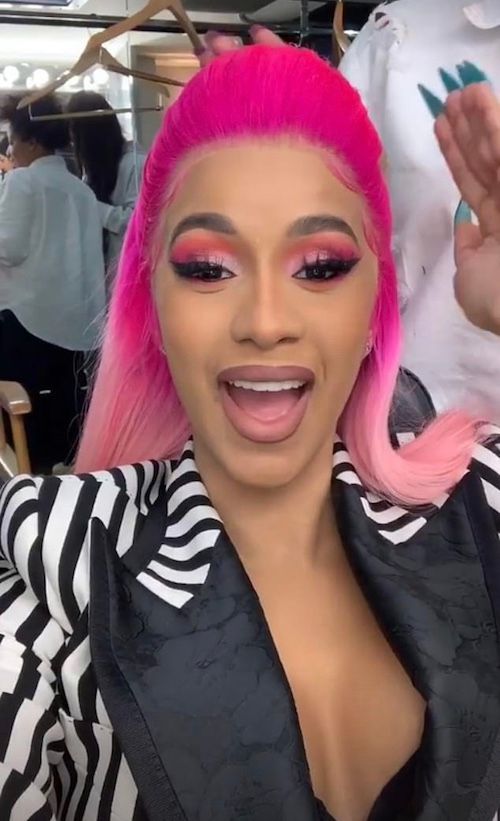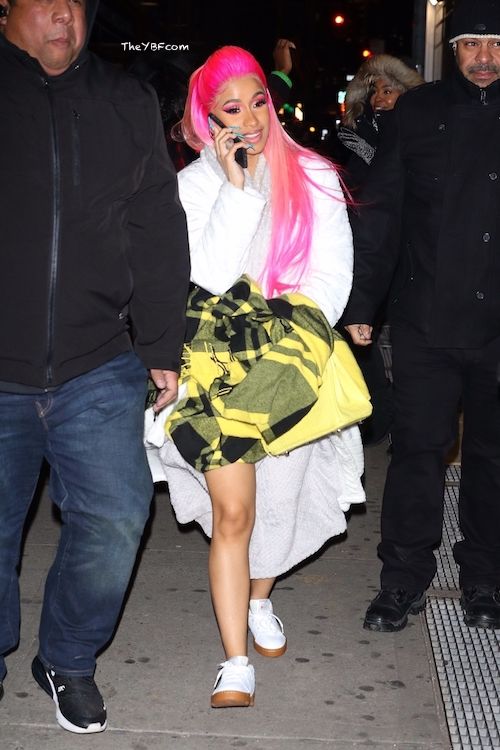 The Fashion Nova brand ambassador was spotted in NYC as she made her way to the studio to film her upcoming music competition show, "Rhythm + Flow." For yesterday's look, she rocked a black and white striped Dolce & Gabbana suit with Gabriel NY's 14k White gold stud earrings complete with pink wiggery. On Insta, Cardi said it took her hairstylist a while to get the hump right, but it was perfected before the taping.
A day before, she was spotted in this lavender concoction: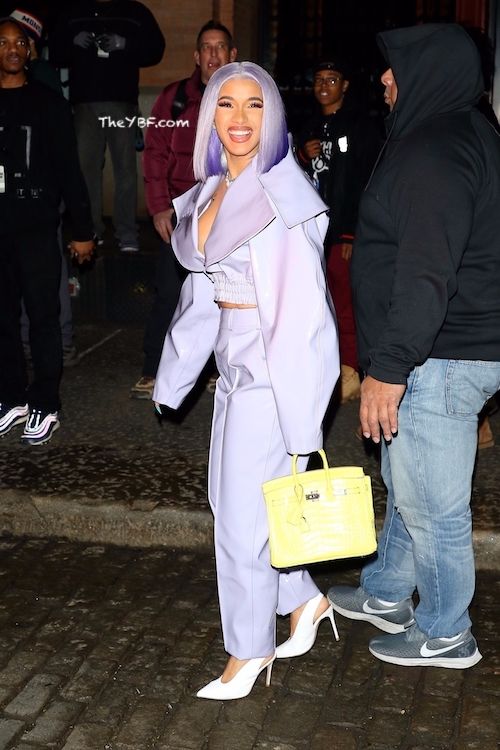 "Rhythm + Flow," is a new Hip Hop music competition series coming to Netflix where Cardi, Chance The Rapper, and T.I. will serve as celebrity judges. They'll be mentoring undiscovered hip-hop artists to help them pursue their dreams of making it big in the industry. It's rumored that Cardi will receive a seven-figure paycheck to serve as a judge on the 10-hour long episodes. Money moves!
On the magazine front...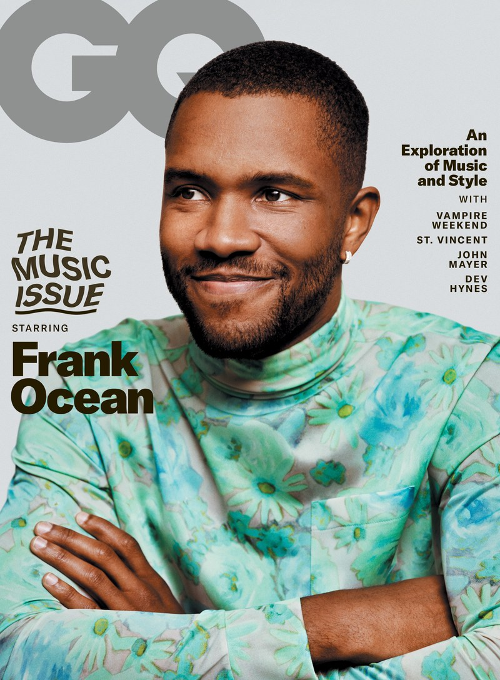 Well look who it is! 
Singer Frank Ocean has been keeping a low profile, but he resurfaced for a GQ cover and interview. In the rare cover story, the singer talked about making his Instagram public, politics, fashion tips, his vices, and he even shared his skincare rountine.
Peep the highlights below: 
EMMETT CRUDDAS: I wanted to start off by asking you about the gesture of making your Instagram public. I know you don't do a lot of interviews, but how do you feel about having the opportunity to say what you want to say when you want to say it without being mediated like that?

FRANK OCEAN: I feel like there was dissonance between how I was seen by the audience and where I was actually, so that contributed to the decision to make my Instagram public, for sure. But there's also the idea of dialogue and discourse and conversation—like theater where the audience can interrupt you versus the television.

VEGYN: With that in mind, do you think there's any misconceptions people might have about you that you're trying to confront?

OCEAN: I feel like between the numbers of zero to ten, in between every number there's infinity, you know? I would describe a person as the space between the symbols, beyond the language. That dissonance—the word being a big container for what I was feeling…the way I was seen was not even close to correct. It's still not correct, either.

EMMETT CRUDDAS: I wanted to ask about bringing Blonded back for the midterm elections and how you perceive your own cultural cachet. Do you think the stakes are higher for artists politicizing their output in 2018, interacting with actual politics?

OCEAN: The stakes feel higher now, yes. I was excited about the idea of incentivizing people to vote and to get excited about midterms, because people aren't usually excited about voting at midterms. Getting seven or eight thousand people who might not have otherwise voted to participate like that is a testament to what public figures can do or encourage with their voice. It feels responsible, especially at this time. Maybe also at many times prior, but it feels less like responsibility and more like a great opportunity that I had and still have.
VEGYN: Do you have any vices?

OCEAN: I used to love mezcal. That's like the adult/underground version of tequila. I was in Art Basel in Florida—not Switzerland, unfortunately—I was out having a few cocktails with friends, dancing, et cetera. I went to the fair the next day, and everything was okay. And all of a sudden I felt I was going down [laughter], I was about to pass out in the hallway of the convention center, so I took a knee and I had to sit against the wall.… Rocky passed out at a fashion show, and said they had him held up like a ventriloquist [laughter], and that's kinda how I felt as they put me outside. I sat outside in the fresh air for a couple of hours before I felt comfortable going back in. I haven't had a drink since, so it's not an answer to your question, but yeah.

Maybe my vice is that I watch way too much TV news. I know that I'm not getting real information, but I still watch it. I wish my vice was VH1 reality-TV shows, but it's not—it's MSNBC. MSNBC is Love & Hip Hop with better vocabulary and more range, but it's the same thing. Very much entertainment.

VEGYN: Are there any clothing trends you want to make a comeback?

OCEAN: I thought Marithé + François Girbaud was gonna come back, but it didn't. That would be nice.

CRUDDAS: Are you about to drop the skin-care routine?

OCEAN: Man, listen…some days, like today, I feel very beautiful. But some days, like in the winter, when I wear a lot of knit hats, my skin doesn't like that. My mom told me years ago that you gotta get somebody to stitch the silk inside the lining of the cap so it doesn't irritate your skin, 'cause your skin is sensitive. I didn't listen to my mom, but I really do believe in a night cream. I feel like men just go to sleep. They may wash their face or they don't even bother—they go to sleep with the day face on. You really need to do a gentle wash and put a night moisturizer on. You can't have the retinol in your creams in the day because it makes you more sun-sensitive, so you wanna throw that on at night. I need the night cream because when I wake up I feel very beautiful, moisturized and ready to have people making eye contact with me, ready to look above my eyebrow, below the eyebrow. [laughs] That's the life hack right there. It's been all these years, and Pharrell still hasn't given us the keys yet. He just says "exfoliate," but it's not just "exfoliate": We need more keys.
Take notes, fellas. Night cream is where it's at.
You can read his article here.
Photos: Backgrid/Splash/Cardi's IG/Alasdair McLellan via GQ/@ravieb